In April a group of beer enthusiasts booked a tour at Haandbryggeriet where we were shown around the brewery and tasted some of the beers. And since they knew of us from our blogs and from RateBeer they also let us taste some test brews of unreleased beers. Being real enthusiasts and raters we of course were quite vocal with our opinions, and apparently they appreciated that, because they invited us back this week to review some more test brews. Of course, we didn't need to be asked twice. ...
Read | 2008-09-03 21:44 | 0 comment(s)
The new compact textual syntax for Topic Maps being standardized by ISO, CTM, is now approaching stability, and so I thought it would be good to provide a little tutorial on it to show people what the syntax looks like in the current draft. With a little luck we might even get some feedback, which would be nice. ...
Read | 2008-08-31 15:02 | 1 comment(s)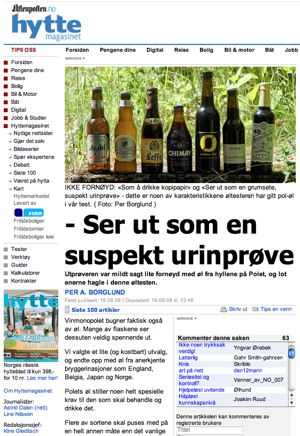 The state of the Norwegian beer scene never ceases to amaze me, and given that I'm a native Norwegian, I thought international readers might enjoy a look at what goes on here. If nothing else, it might have some entertainment value. The occasion for this blog entry is a beer test, initially published by a Norwegian magazine about cottages (as in summer houses, mountain retreats, etc). This magazine is owned by the media conglomerate Schibsted, which also publishes the main Norwegian daily, and so the test has now made its way onto the site of said daily. So the unwary reader could be forgiven for assuming that it was published by the most prestigious newspaper in Norway. ...
Read | 2008-08-20 21:04 | 9 comment(s)
I did another post on this subject back in May 2006, but since then I have done lots more ratings of Norwegian beer, and a number of new breweries have appeared, and so it seems about high time to revisit the subject. The basis of this overview is 320 ratings of Norwegian beers, starting in September 2005 and ending yesterday. ...
Read | 2008-08-02 15:52 | 2 comment(s)
Michael Sperberg-McQueen wrote a blog post on RDF and Topic Maps where he brought up some interesting questions. I started trying to reply in a comment on his blog, but after writing two full pages I decided to instead turn it into a blog posting here. ...
Read | 2008-07-29 16:54 | 1 comment(s)
After buying my DSLR camera I've developed symptoms of beginning camera-geekiness, and have on and off looked at all kinds of camera-related equipment, without actually buying anything. I was, however, given a polarization filter as a get well present by colleagues at work, and in return promised to write a blog entry about it. I actually find this an interesting subject to write about, and as I've now spent a few months playing with it, here we are. ...
Read | 2008-07-27 11:05 | 2 comment(s)
I never thought it would happen to me, but I guess they all say that. I knew I was pushing my luck, but I thought I always stayed on the right side of the line and that I'd be able to stop in time. What I didn't realize is that long-term stress wears you down gradually, and that if the effects don't get you while you're going at full speed they'll strike when you slow down. ...
Read | 2008-07-19 21:10 | 13 comment(s)
I wrote about the performance problems the tmphoto application had suffered from, and my failed attempts to fix them. I decided that the problem was that I'd set out to solve the problems without really knowing what the cause was, since reducing traffic by 55% obviously wasn't going to rescue the site. So the solution must be to do some proper research first, and then try to solve it. ...
Read | 2008-07-06 14:49 | 1 comment(s)
I've written before about the importance of beer temperature, and creative ways of getting it right, such as using my laptop or a digital thermometer. I've been frustrated with the temperature at which beer is served in many places, and so dreamed of some kind of micro-wave based heater that would solve the problem for me. ...
Read | 2008-07-02 20:56 | 3 comment(s)
Now that I've passed 2000 beers I figured it would be interesting to go back and look at which of these beers were the absolute worst beers. Many craft beer lovers think the worst possible beers are the mass market brands like Budweiser or the local national giant, and pour scorn on any industrial beer that is low on taste. I'm no fan of these beers myself, but there are things that are worse than having no taste, or some hints of off-tastes. ...
Read | 2008-07-01 18:41 | 8 comment(s)