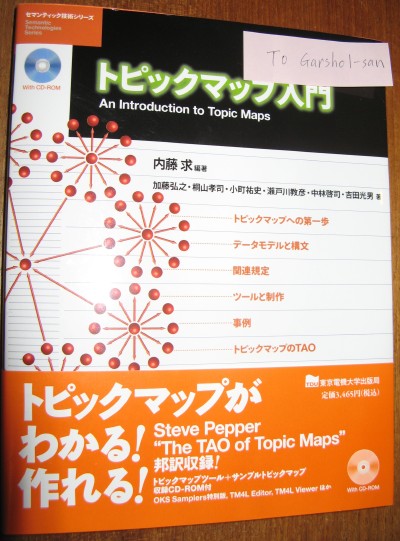 Those of you who have been waiting for a new Topic Maps book will be happy to hear that one has just been published. It was edited by Naito-san with the contributions of several Japanese people (Komachi-san, at last, but also others), if I read the cover correctly. And, yes, it was written in Japanese, so if, like me, you cannot read Japanese you'll have to settle for looking at the pictures. ...
Read | 2007-01-01 20:15 | 2 comment(s)
The concept of identity is at the heart of both Topic Maps and RDF, and consequently it has been much discussed over the last few years, but I've seen very little writing on what identity itself actually is. This posting offers some thoughts on that. ...
Read | 2006-12-31 16:26 | 0 comment(s)
In the post office today I learned something unexpected about how people use their internet bank accounts. I was going to post some cards and letters, and this being just before Christmas there was quite a queue. I spotted a computer in the office that was obviously set up for customers to use, and started fiddling around with it. ...
Read | 2006-12-20 20:43 | 5 comment(s)
Many people have asked what the changes between versions 1.0 and 2.0 of XTM are, and what the rationales for the various changes are. The actual list of differences can be found in the standard itself, but the standard says nothing about why they were made, and so I thought I would give a quick overview of that here. ...
Read | 2006-12-16 19:17 | 6 comment(s)
Various people have asked for an introduction to XTM 2.0, since the actual standard is not very easily readable, and so I thought I would provide that. This posting is just a simple walk-through of the syntax with examples. People have also asked for an explanation of the differences with version 1.0, and I'll do a separate posting on that later when time allows. ...
Read | 2006-12-09 14:17 | 0 comment(s)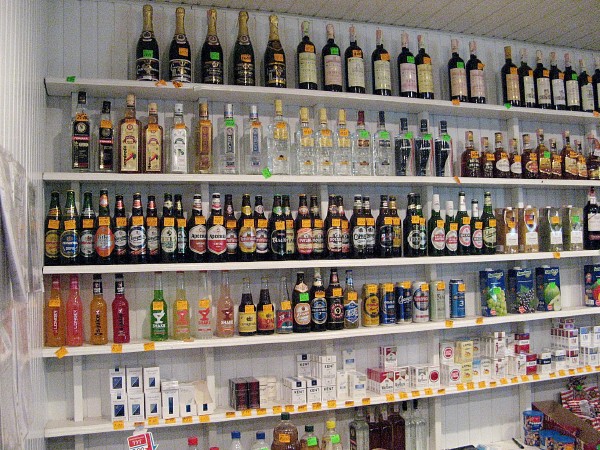 During the Russian/Ukrainian holiday I took a number of beer photos specifically for use when blogging about the beer, but then they were lost, so I did the blog posting with new photos taken at home. Now, of course, most of them are found again, and so I decided to do a piece with just beer photos. I thought about calling it "Ukrainian beer porn", but decided that pictures of industrial pale lager wouldn't be desirable enough to warrant the name "porn". ...
Read | 2006-12-02 12:53 | 13 comment(s)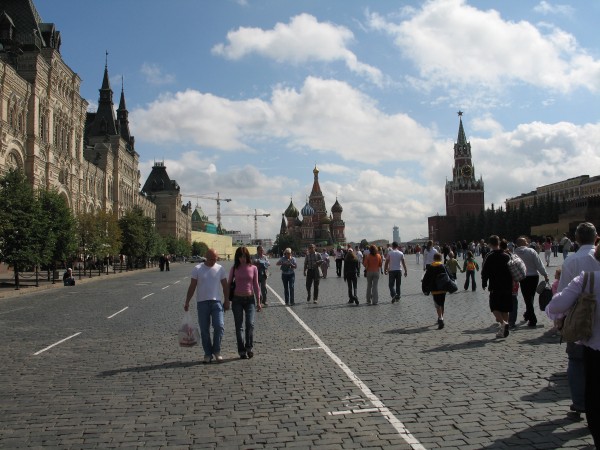 I was rather surprised to find that the largest European city is neither London nor Paris, but rather Moscow. With a population of 10-12 million it is easily the largest city in Europe. And of the great European cities it must also be by far the least visited. I think pretty much every person reading this would recognize the names "Kremlin", "Red Square", and the outline of the St. Vassiliy cathedral, but very few have actually seen these things. ...
Read | 2006-11-18 14:03 | 4 comment(s)

I thought my holiday photos were lost forever, when suddenly it occurred to me that there was a way to get them back. I was reading a local IT newspaper in the office kitchen, waiting for my tea water to boil, when I spotted an ad for Ibas. Ibas is a Norwegian company specializing in data recovery. I mostly associate them with really spectacular recovery operations after fires and shipwrecks, and so on. However, the ad said they also did this for private individuals who had lost their digital photos. ...
Read | 2006-11-17 21:08 | 4 comment(s)
There are some simple, common terminological mistakes people tend to make when they first encounter Topic Maps, and I thought it might be useful to write up a simple guide to help people. ...
Read | 2006-11-14 19:19 | 0 comment(s)
Following the laptop theft I decided to put together a backup solution for myself to avoid getting into trouble in the same way if something similar should happen again. ...
Read | 2006-11-12 13:28 | 2 comment(s)