Beer temperature: getting it right
Posted in Beer on 2006-07-13 17:33
Getting good beer in Norway is hard, but possible; getting well-tempered beer in Norway is nearly impossible, unfortunately. Most pubs and bars will serve the beer at refridgerator temperature, which ranges from too cold to much too cold. The problem with this is that the taste of the beer is subdued, which means that a lot of the more subtle flavours become impossible to detect, and the main flavour is weaker.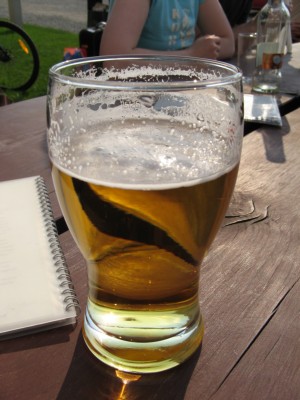 Sun-heated beer
To normal people this probably makes me sound like a real beer snob, and that's what I used to think myself a couple of years ago when I heard people talking about the importance of getting the temperature right. At the same time I used to notice that the same beers would sometimes have lots of flavour, and sometimes next to none, and I couldn't work out why. Eventually I realized that a lot of it had to do with the temperature. If you serve the beer too cold it will "flatten" the taste, and make the beer seem boring. The effect is strong enough that I think anyone who really pays attention to the aroma and taste will notice it.
So what's the right temperature, then? Well, normal people don't put thermometers in their beer, and in this respect I am decidedly normal, so I won't give you a number in Celsius. The rule of thumb in the beer community is that the beer should be at cellar temperature. This means noticeably warmer than in your fridge, and noticeably colder than room temperature. Letting the beer wait for 20 minutes after you take it out of the fridge works for me.
But what about if you get it served in a pub? I usually feel the glass with my hands. If it feels gently cool it's about right, and if it feels freezing cold I'll start ordering the next beer early so that it gets some time to heat up. Of course, being impatient I usually try to speed the process up by heating the beer with my hands. My girlfriend teases me for this, and keeps saying she's going to buy me a beer heater for Christmas.
I've been thinking about this, and a beer heater strikes me as an excellent idea. I'm thinking that the perfect design would be something like the Guinness surger (review), but using microwaves for heating instead of ultrasonic waves for releasing bubbles. The trick is to come up with a device that doesn't have to enclose the beer, but still heats only the beer, and not the drinker. I'll leave it for real engineers to figure out how to do that.
In the meantime, I think it's worth the effort to pay a little attention to the temperature of your beer. And needless to say, Guinness Extra Cold is for people who don't actually like Guinness.
JInie Min - 2006-07-14 17:48:51
Lars Marius - 2006-07-15 15:17:11
Erde - 2006-09-01 08:35:28
Luis - 2006-09-08 05:24:53
juk - 2006-12-10 11:14:26
Lars Marius - 2006-12-19 15:20:07
Svein - 2007-01-26 23:39:06
George Shute - 2007-09-24 06:46:27
Knut Albert - 2007-11-18 13:24:42
Gartnteich Blogger - 2008-06-30 15:27:11
Steffen Wolff - 2008-11-04 07:06:25
Chuwy - 2010-01-03 02:02:24
Bebop X Lateef - 2010-10-19 22:57:04
Simen K - 2012-12-22 12:16:50
Steve R - 2014-02-20 21:29:39
Add a comment