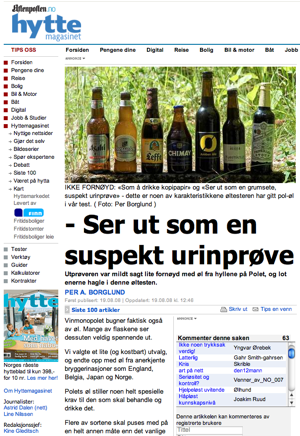 The state of the Norwegian beer scene never ceases to amaze me, and given that I'm a native Norwegian, I thought international readers might enjoy a look at what goes on here. If nothing else, it might have some entertainment value. The occasion for this blog entry is a beer test, initially published by a Norwegian magazine about cottages (as in summer houses, mountain retreats, etc). This magazine is owned by the media conglomerate Schibsted, which also publishes the main Norwegian daily, and so the test has now made its way onto the site of said daily. So the unwary reader could be forgiven for assuming that it was published by the most prestigious newspaper in Norway. ...
Read | 2008-08-20 21:04 | 9 comment(s)
I did another post on this subject back in May 2006, but since then I have done lots more ratings of Norwegian beer, and a number of new breweries have appeared, and so it seems about high time to revisit the subject. The basis of this overview is 320 ratings of Norwegian beers, starting in September 2005 and ending yesterday. ...
Read | 2008-08-02 15:52 | 2 comment(s)
I've written before about the importance of beer temperature, and creative ways of getting it right, such as using my laptop or a digital thermometer. I've been frustrated with the temperature at which beer is served in many places, and so dreamed of some kind of micro-wave based heater that would solve the problem for me. ...
Read | 2008-07-02 20:56 | 3 comment(s)
Now that I've passed 2000 beers I figured it would be interesting to go back and look at which of these beers were the absolute worst beers. Many craft beer lovers think the worst possible beers are the mass market brands like Budweiser or the local national giant, and pour scorn on any industrial beer that is low on taste. I'm no fan of these beers myself, but there are things that are worse than having no taste, or some hints of off-tastes. ...
Read | 2008-07-01 18:41 | 8 comment(s)
On Saturday I finally passed a milestone I've been looking forward to for a while: beer rating number 2000. That's right. I've now tasted 2000 different beers. Or, to be more precise, I've written ratings of 2000 different beers on RateBeer, which is how I can be sure of the exact number. I tasted lots of beers before I started rating which I've never seen again since, so these are not counted. ...
Read | 2008-06-04 23:17 | 0 comment(s)
When I discovered that besides being the birthplace of the beer style Gose Goslar was also a medieval town so well-preserved it's been UNESCO-listed it was clear that our German Interrail holiday would have to include a stop there. In retrospect I can say that this was definitely one of the high points of the holiday. ...
Read | 2008-06-03 16:25 | 3 comment(s)
In Tokugawa-era Japan (1600-1868) travellers had two main roads to choose between when travelling between the official imperial capital of Kyoto and the seat of power, which was Tokyo (then called Edo). One was the Tokaido, which followed the coast and required the fording of several large rivers. Another was the Nakasendo, which crossed the mountains of central Japan without crossing any major rivers. These roads were much travelled by, as the Tokugawa shogunate required all daimyos (feudal lords) to reside alternate years in Tokyo (so it could keep an eye on them), and both became very important parts of Japanese national culture. ...
Read | 2008-05-24 12:52 | 1 comment(s)
Beer Palace is one of the top three beer pubs in Oslo, but I've never written about it before, because quite frankly it's not that interesting. However, last night a number of things happened which are worth relating, because I think they give a good picture of the Norwegian pub scene, at least as seen by people who are into beer. ...
Read | 2008-05-21 15:15 | 11 comment(s)
"Cantina," the sign said, next to a staircase leading up to the first floor. We looked at each other, wondering what sort of place this might be. Not knowing what to make of a place from the facade had been a constantly recurring problem for us in Japan. In other parts of the world this was not an issue, but Japan is different. Eventually, we shrugged, and decided to give it a try. ...
Read | 2008-04-01 12:58 | 1 comment(s)
I'm still not quite done with the subject of Japanese beer experiences, and have a few postings left in that series. This will most likely be the shortest of them all. It was prompted by Stonch's recent posting on dodgy pump clips. This isn't a pump clip, but it's still dodgy enough to merit a mention. ...
Read | 2008-03-16 12:38 | 24 comment(s)