On Saturday I finally passed a milestone I've been looking forward to for a while: beer rating number 2000. That's right. I've now tasted 2000 different beers. Or, to be more precise, I've written ratings of 2000 different beers on RateBeer, which is how I can be sure of the exact number. I tasted lots of beers before I started rating which I've never seen again since, so these are not counted. ...
Read | 2008-06-04 23:17 | 0 comment(s)
When I discovered that besides being the birthplace of the beer style Gose Goslar was also a medieval town so well-preserved it's been UNESCO-listed it was clear that our German Interrail holiday would have to include a stop there. In retrospect I can say that this was definitely one of the high points of the holiday. ...
Read | 2008-06-03 16:25 | 3 comment(s)
In Tokugawa-era Japan (1600-1868) travellers had two main roads to choose between when travelling between the official imperial capital of Kyoto and the seat of power, which was Tokyo (then called Edo). One was the Tokaido, which followed the coast and required the fording of several large rivers. Another was the Nakasendo, which crossed the mountains of central Japan without crossing any major rivers. These roads were much travelled by, as the Tokugawa shogunate required all daimyos (feudal lords) to reside alternate years in Tokyo (so it could keep an eye on them), and both became very important parts of Japanese national culture. ...
Read | 2008-05-24 12:52 | 1 comment(s)
Beer Palace is one of the top three beer pubs in Oslo, but I've never written about it before, because quite frankly it's not that interesting. However, last night a number of things happened which are worth relating, because I think they give a good picture of the Norwegian pub scene, at least as seen by people who are into beer. ...
Read | 2008-05-21 15:15 | 11 comment(s)
"Cantina," the sign said, next to a staircase leading up to the first floor. We looked at each other, wondering what sort of place this might be. Not knowing what to make of a place from the facade had been a constantly recurring problem for us in Japan. In other parts of the world this was not an issue, but Japan is different. Eventually, we shrugged, and decided to give it a try. ...
Read | 2008-04-01 12:58 | 1 comment(s)
I'm still not quite done with the subject of Japanese beer experiences, and have a few postings left in that series. This will most likely be the shortest of them all. It was prompted by Stonch's recent posting on dodgy pump clips. This isn't a pump clip, but it's still dodgy enough to merit a mention. ...
Read | 2008-03-16 12:38 | 26 comment(s)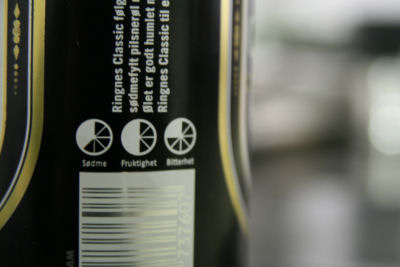 The biggest Norwegian brewer, Ringnes, a while ago introduced taste indicators on their beers to help consumers judge the taste of a given beer before trying it. The indicator system describes the taste in terms of sweetness, fruitiness, and bitterness, using for each a circle divided into eight sectors to show how much there is of each of these. ...
Read | 2008-02-14 11:22 | 2 comment(s)
We went to Milan on a weekend trip to visit my youngest sister. Milan is not really a tourist city, being much better known as an industrial and financial centre, so we didn't expect too much from the city itself. The initial impression was even worse, though. We arrived in darkness and the famous Milanese fog, getting off the airport express train in a suburb before reaching the city centre. It was not the nicest part of Milan, and the fog was not kind to it. ...
Read | 2007-12-16 15:17 | 3 comment(s)
To my surprise, Geir Ove asked me whether I wanted to be one of the judges for the annual Norwegian Christmas Beer Homebrewing contest. Geir Ove is a board member of the Homebrewer's Association (Norbrygg), and has taken the beer judge course, so I was not really surprised that he was involved, but that they'd want me as a judge was really unexpected. It turned out they were short a judge, and given my RateBeer merits they thought I'd be up for the job. Well, it sounded interesting, and I wanted to help, so I said yes. ...
Read | 2007-12-04 19:50 | 3 comment(s)
The first item on the RBNAG'07 agenda was a visit to the Nøgne Ø brewery in Grimstad for a tasting of their Christmas beers. I guess this is a good time to say something about Nøgne Ø, before I go on to talk about the tasting itself. ...
Read | 2007-11-27 20:13 | 0 comment(s)