Nude beer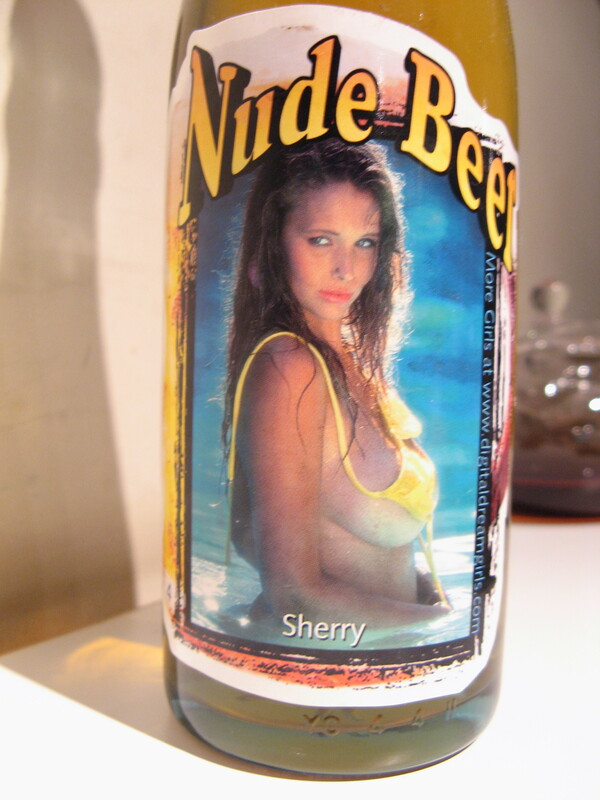 Nude beer
I'm still not quite done with the subject of Japanese beer experiences, and have a few postings left in that series. This will most likely be the shortest of them all. It was prompted by Stonch's recent posting on dodgy pump clips. This isn't a pump clip, but it's still dodgy enough to merit a mention.
This was in Matsumoto, which lies on a plain between the mountain ranges of central Japan. We had popped into a kind of cool, artsy student bar to relax a bit with a cup of tea. Always on the lookout for new beers I quickly spotted one I hadn't seen before when ordering my tea, and got that, too. This was an oddly named product called Brewry Excellent Beer Taste.
They had misspelled "brewery", and also gave it a name that seems to imply that it's not really a beer, only a drink with beer taste. This wasn't entirely wrong, as it was almost alcohol-free, but still probably not their intention.
This wasn't the only beer surprise, however. Stacked on top of the bar, and shelves over the bar, was several rows of bottles labeled "Nude beer", one of which you see in the photo. Each bottle had a picture of a different girl with a different fake name, but they all presumably had the same contents. They were only on display, and it was not possible to order the beer.
I tried asking about the beer and was told "It is joke", by the giggling barmaid. I wasn't able to get any more information out of them. I still don't know if this is a real beer product, or whether someone connected to the bar just made it for fun.
Similar posts
We went to Milan on a weekend trip to visit my youngest sister
Read | 2007-12-16 15:17
To my surprise, Geir Ove asked me whether I wanted to be one of the judges for the annual Norwegian Christmas Beer Homebrewing contest
Read | 2007-12-04 19:50
Arnoud Haak - 2008-03-18 07:06:37
Lars Marius - 2008-03-26 11:42:13
It does seem like it's some kind of collaboration with them, yes. Why that would show up in a beer bar in Japan I'm kind of confused about.
sean - 2008-04-05 23:39:54
this is real beer I am 36 now and I have known about this beer since I was 15 or 16 years old when my friends brothers used to buy it..we used to get a kick out of scratching off the silver bathing suits so we could see boobs....this is not a joke..
Todd - 2008-10-01 14:21:50
there actually is a product called drink nude beer, which is a an american made micro brew. our product is currently on hold but you can expect to see drink nude beer on the shelf of your local conveniant store within the next year. Cheers!
David - 2009-05-31 12:01:12
I have a six pack of nude beer still in the container it came in on the bottom of the packageing it says Eastern Brewing Corp. of Hammonton, NJ. Hope this helps
donna carter - 2009-06-28 20:59:24
what year was nude beer made in
jeff(Canada) - 2009-10-03 03:09:14
I have a different one called "Drink Nude Beer"(www.drinknudebeer.com) that I picked up while I was in Las Vegas about 4 years ago. You peel off a sticker on each 12oz. bottle revealing a different nude girl from the breasts up. To my surprise,the beer was really good! I had expected that the bottle was just a marketing ploy to sell some sub-standard beer,but thought it was funny,and bought the beer anyhow. Fortunately,I have kept 4 of the bottles on my shelf(empty,of course). I couldn't find anything by using Google to search the web-site above. Hope the brewery hasn't since gone bankrupt! The bottle also says:"Mfg'd and bottled for:Nude Beer by Coast Range Brewing Co.Gilroy,CA". Guess I'll try and Google Coast Range and see what I come up with....
Cheers,JEFF
joshua - 2009-12-02 18:08:40
nude beer is very real i have some and can send pics
David - 2009-12-06 12:32:35
I do know a bit about the origin of the beer. I knew the owner and worked for the company. It was founded by a man (first name Bill) in Santa Ana Ca. in the early 80's. The first brewing company was in fact "Eastern Brewing Co" of Hamilton NJ. as stated by another "David". This company was found to be shorting the bottles by one once and stopped brewing the beer. The company then went to a brewing company in Mexico. The beer from Mexico was a better tasting beer, I do say. They had Beer nuts as a product also. The scratch off label was created because the state of Calif said you couldn't have a woman's breast exposed to be seen by children that were able to enter liquor stores. Funny though they had no say so over the nuts. They didn't have the scratch off labels but were displayed right next to the beer. I left the Santa Ana area in 1985, and didn't keep up on the product. The company had other promotional products as well. Mirrors, Beer mugs, T shirts. I wish I had some of them, but don't. I do have one of each of the first two original bottles though. I, as does Joshua, can provide pictures of these bottles. Josh, I would like to see the bottles you have.
carl garland - 2010-06-28 22:40:01
I have 8 bottles of the Nude Beers. Would like to get more. Any one know how much they are worth now?
carl
rich - 2010-08-06 17:18:43
i have a full six pack and several empty bottles of a nude beer imported by Cibco Importing CO. Inc. Woodlands Texas, lower right on bottle below the nude beer name they say Hencho en Mexico, Marca Registrata, reg. S.S.A. NO 129832 "B" Cervecia Cruz Blanca, S.A. Cd. Juarez Chih, Mexico, i wonder about value. Probably made in mid 80"s
Mark - 2010-11-29 19:28:40
I have one unopen 12 fl oz bottles of nude beer with the scratch off label no# 129832"B" I would be willing to let it go,looks good on the bar.mdgrif@yahoo.com
ryan nerby - 2011-01-16 11:33:49
looking to buy nude beer for my collection please e mail me if intterested il take full or empty bottles
JIM - 2011-02-23 18:35:51
I have a unopened beer bottle collection of 4000 with over 2000 of them 20 t0 60 yrs old and I have 1 real old nude beer short 12oz from Eastern brewing corp Hammonton, NJ,1 long neck Mexico and 6 different short 12 oz numbered with the highest #57 from Golden Beverage company Wilkes Barre PA.Cheers.
Chuck - 2011-04-05 13:54:50
I have two unopened 12oz. Bottles of nude beer numbers 41 &17 golden beverage co, wilkes-barre, pa 18705 in amazing condition wondering how much there worth and id anyone was intereasted in buying them trying to help my mom shes in some financial truble please email me thank you
Sam Vaughns - 2011-04-12 14:27:51
I have a 12fl oz (354 mil) unopened bottle of Nude Beer 1 in a Series Eastern Brewing Corp Hammonton, NJ 08037 I can let it go for the price of $50.00 e-mail or call (626)375-9116
justin Rescorl - 2011-04-22 20:58:24
I have a six pack of full unopened, unscratched, in box (its damaged) I'm willing to part with, given proper incentive. email jrescorl@yahoo.com with an offer and or pictures
Beryl - 2011-07-03 14:06:38
I have a full 6 pack of12oz bottles of Nude Beer plus 3 more full bottles. Eastern Brewing Corp Hammonton, NJ 08037. If interested feel free to email me at ambie802@yahoo.com. If you are interested I will be happy to email some photos of them. In great condition and the 6 are still in the original carton and have had them for approx 40 years.
knows - 2011-08-01 07:37:25
yep its a fact n they were real i dated one of the girls that wus on the the bottles
mike - 2013-01-18 17:50:06
I have a fl12 oz(354mil)Empty Bottle Of Nude Beer 1 In A Series Eastern Brewing Corp Hammonton NJ 08037 If Interest Feel Free To Email At mikebeebe4@att.blackberry.net
mark - 2013-12-17 21:50:36
I have one six pack unopened unscratched in carton make me an offer
James - 2015-03-20 20:03:30
I have one very nice unopened bottle of nude beer "one in a series", eastern brewing corp. The label is nearly mint, with only a very tiny wrinkle on one corner. the label is unscratched and features a pretty blonde with a flower in her hair. If you scratch off her skimpy black bikini top, you would reveal her breasts. It is for sale. Please contact me at jfairlane9@aol.com if you are interested. I would accept paypal, or cash and local pickup. If you want it shipped, I will send it fedex with you paying the shipping.
Linda - 2015-11-24 08:10:44
I have 6-12 Oz. Bottles in Carton
- ONE IN A SERIES - Nude Beer in Excellent to Mint condition. Brewed and Bottled in Mexico by Cerveceria Cruz Blanca, S.A. Juarez, Chih, Mexico Features a beautiful platinum blonde on carton
Nude Beer Brewed in the old world manner from only the finest natural ingredients, our "Full-Bodied Brew" comes to you in a very special way. The exclusive scratch off label means your pleasure never ends.
The local package store owner insisted I buy this many, many years ago saying it would be really valuable some day. The store and owner have long since passed. Will sell to serious collector and I can be contacted at ljcres@gmail.com
Riek kooper - 2019-07-03 14:52:46
Dear Sir
Can you help me please , mine husband collect beer labels from the hole world. He collect also collect beerlabels from the fust. ( Barrel ) He can also trade labels
Do you have something for me .
I have send already emails to you , but I get no answer , but I still trying , because its for mine husband
Many Thanks regards Riek
F.W.P.Kooper Burg.Stemerdingl. 124 4388 KB Oost-Souburg The Netherlands
Rusti Weaver - 2019-08-23 21:44:43
I have one nude beer short brown bottle, empty, no cap, with the blonde gal on it, the black bikini is gone, she is definitely nude. It belonged to a collector friend of mine who died in 2008. Wondering where I might sell it? I sell things on eBay but apparently they will not let you sell a nude beer bottle. Would love to find a good home for it. I only have the one.
RyansRust - 2019-12-22 03:25:26
Have the 1st series bottles, hat and unopened peanuts for sale that David mentioned above. My gmail is my name.
Bucky Sowards - 2021-11-30 22:02:04
Yes I have a nude short brown bottle with cap what are they worth can anyone tell me what it worth it one in a series I would like to see it value and a new home if it worth anything let me know if you know it value thanks
Add a comment