2K: The five best beers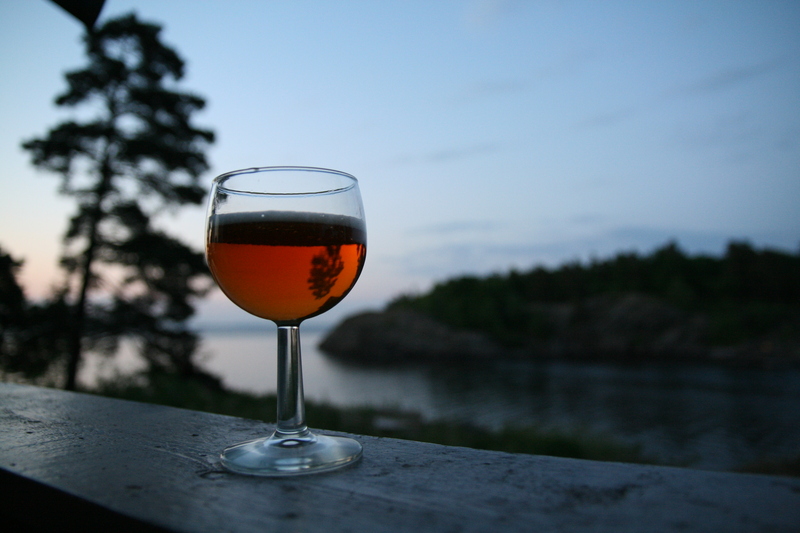 Good beer, Løvøya, Norway
I wanted to make the 2K series quite long, with various lists of beers selected by different criteria, but I never managed to find any selections that inspired me enough to actually write the pieces, so we'll round off with the obvious one instead.
Picking the five best out of the (right now) 2149 beers is actually harder than picking the five worst, because there's more competetion for this spot. These all have ratings that are so close that I can't really say now, up to three years later, which ones really are the best out of the five. And I can only get hold of two, so comparing them again is not going to be possible, either. So the order of presentation here is basically random.
Ølfabrikken Porter
This beer has a sad story attached to it, unfortunately. Ølfabrikken is Danish, and my favourite Scandinavian brewery, started by Christian Skovdal Andersen. He's a fantastic brewer, but seems to have made some business decisions that had unfortunate consequences. He entered into a partnership with another Danish brewery, Gourmetbryggeriet, which eventually resulted in Ølfabrikken being taken over by them, and Christian being evicted. I don't know the ins and outs of the story, but by all accounts it's a sad and acrimonious one.
The beer is now made by Gourmetbryggeriet, and distributed in cans instead of the original bottles. People tell me it's still as good as it was, and when I go to Copenhagen on Friday I intend to check this for myself.
4.4
Aroma
Appearance
Flavour
Palate
Overall
8/10
5/5
8/10
5/5
18/20
Biggish dark brown lasting head, almost black. Creamy with larger bubbles. Body is pitch black, without a glimmer of light. Deep, sweetish harmonic chocolatey coffee aroma with notes of toffee, chocolate cake, and maybe a touch of wild berries. Deep, smooth burnt chocolate taste with notes of wild berries and pine needle hops. Extremely harmonic, and smooth as velvet. Dryish, chocolatey aftertaste. Leaves coating of complex sugars on the lips. Fantastic! (0.5l bottle, at Cardinal, Stavanger.)
Rochefort 10
Rochefort 10, at home
This is from one of the six breweries in the Low Countries where the brewing really is done by monks, and unlike some of the others, these guys have not sold out. The brewery is actually inside the Abbey of Notre-Dame de Saint-Rémy. The monastery has been brewing since 1595, but not continually. The French revolutionary armies closed down most of the monasteries in the region, including this one, and it was only in the late 19th century that they started brewing again.
This beer has been one of my absolute favourites since the first time I tasted it, but it seems that since then they've started sending out the beers without giving them enough storage time. If you subtract 5 years from the best before-date on the bottles you have the time it was brewed. Wait until at least six months after that date before drinking the beer, so that it gets time to develop the proper mellow flavour and wear off the sharp high alcohols and grapefruit.
I'm told that the beer will continue to improve for at least the first 10 years, but few people have the patience to wait that long. I have put away some bottles in my cellar, so check back in 10 years, and maybe I'll have a report for you then.
4.4
Aroma
Appearance
Flavour
Palate
Overall
8/10
4/5
8/10
5/5
19/20
Medium beige coarse head over dark brown body that's seemingly opaque black, but through which a little light brown can be spotted at the edges. Intense, sweet licorice and anise aroma with notes of chocolate and bready yeast and a touch of vanilla. Taste is deep, intense spiciness, mostly anise and licorice, but also pepper, cinnamon, chocolate, and some burntness, and god alone knows what else. Toffee, sweetness. The aftertaste is bitter chocolate anise, with lingering anise. What can I say? This is an undying classic. (0.33l bottle.)
Great Divide Oak Aged Yeti Imperial Stout
I brought this one home from the US and had it at a tasting at home with friends. My girlfriend still vividly remembers coming home to find that I've left a bit for her, just so she could share the excitement. As I remember it, I didn't offer it to her, but more or less forced her to taste it.
I must confess I don't know too much about Great Divide. They are from Denver, Colorado, and brew a number of excellent beers. In fact, they have no less than 8 beers in the top 5% on RateBeer, which is quite an achievement. They also have pretty good distribution to Denmark, so chances are I'll be able to taste more of their beers.
4.4
Aroma
Appearance
Flavour
Palate
Overall
9/10
5/5
8/10
4/5
18/20
Medium dark brown creamy head with larger bubbles. Utterly opaque black body. Deep, sweet aroma of burnt licorice, coffee, and wild berries, with notes of bread and oil. Very harmonic; I could just sit and smell this for ever. Deep, sweet, burnt taste of chocolate, hops, and roastiness. Burnt marzipan flavours linger. Huge amounts of hops can be detected, but they blend in nicely with the rest. Caramel, nicely, vaguely burnt. Velvety, oily, seductive mouthfeel. Mellow. Lovely! Fantastic! One of the best beers I've had.
De Dolle Dulle Teve
De Dolle Brouwers is a rather unusual Belgian brewery. The name means the mad brewers, which they aren't really, but their bottles are highly distinctive with their polka-dotted bow ties on the bottle neck. The beers are similarly distinctive with a clear house character which I assume is imparted by the yeast strain they use. My general advice is that if you see a bottle from this brewery, just buy it, regardless of which one it is.
4.4
Aroma
Appearance
Flavour
Palate
Overall
9/10
5/5
8/10
4/5
18/20
Huge, creamy white head, which takes forever to subside makes a nice contrast with the dark-orange opaque body. An aroma of yeasty bread hangs around it before I even lift it up to smell properly. Up close it smells more of spicy fruit with the signature de Dolle yeast aroma profile. Powerful, broad taste of bread, coriander, yeast with quite a bit of alcohol heat and a good deal of bitterness at the end. The bitterness is mostly overpowered by the taste, however. Very harmonic, yet complex. An extraordinary beer! Very, very good. Has to be one of the best trippels I've had, mad or sane. (0.33l bottle.)
Nøgne Ø Dark Horizon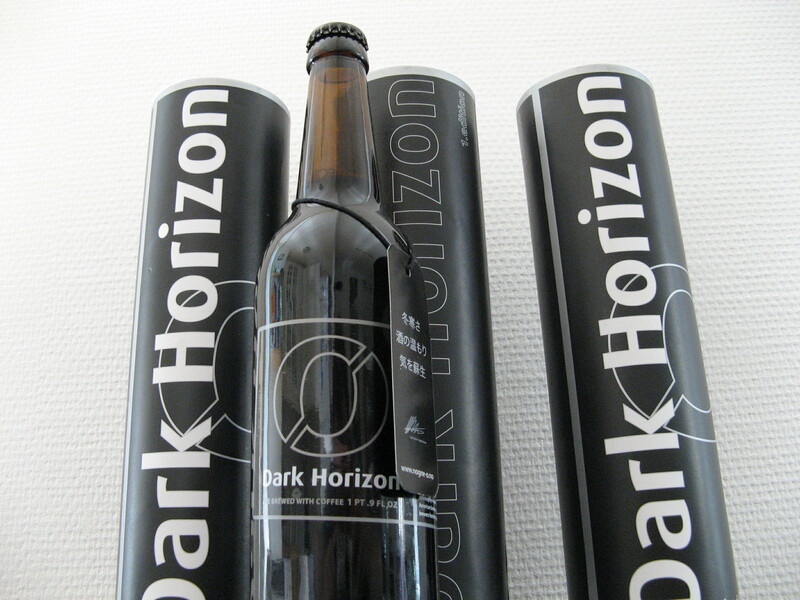 Dark Horizon
There was considerable excitement when Nøgne Ø announced that they'd brewed their strongest beer ever. There's always excitement when Nøgne Ø announces a new beer, but this was clearly something special. Wild rumours were circulating that the head of the Tokyo Porter Lover's Association had tasted the beer and loved it so much that by next morning he'd written a haiku about it, titled Dark Horizons. There is no such association, but the story is otherwise accurate, the author of the haiku tells me. And a haiku is indeed printed on the little cardboard slip that hangs around the beer bottle:
In winter's cold
alcohol's heat
refreshes the spirit
And indeed it does.
The beer itself is a modified version of their imperial stout, with lots of added sugar and coffee, fermented a second time with wine yeast to take it all the way up to 16%. It was released a bit early, so when I tasted the first bottle I bought the taste still felt a bit raw or unblended. However, I had the good sense to buy seven bottles, and five of those are still in my cellar. It's a year old now, and has improved fantastically, blending much better, and developing sherry-like notes from oxidization.
Unfortunately, this was the First Edition, which was brewed only once. So if you don't already have a bottle, chances are you never will. It's still sold in some places (like Olutkellari, Helsinki), but it's not going to last, and you'll have to pay dearly. Fortunately, they have already brewed the Second Edition, which is not yet released. This time around they've increased the alcohol a bit, and used better coffee. When I tasted it it was still immature, but very promising. Now I'm told that the alcohol has taken over and become too sharp and dominating. I still believe in the beer, though, and very much look forward to trying the released version.
4.3
Aroma
Appearance
Flavour
Palate
Overall
8/10
4/5
8/10
5/5
18/20
Small dark brown head doesn't last, but shrinks into a thin ring. Opaque black body goes dark brown at edges. Intense sweet toffeeish chocolate liquor aroma with notes of coffee, bread, and ripe fruit. Very harmonic and balanced, despite the clear alcohol presence.Deep, intense sweet chocolate and toffee taste with licorice and alcohol notes. Bready, yeasty presence, too. Very harmonic. Mouthfeel is initially thick and oily, then goes intensely warm from the alcohol. Also a kind of muddy, coarse feel to it. No real aftertaste, but bitter orange-peel and chocolate taste lingers. The beer is still a bit sharp and edgy; I imagine it's likely to mellow and improve a lot with age. It feels a bit too powerful in the first couple of sips, but then settles into a sweet chocolatey toffee character, which is intensely pleasurable. A pity I had to share this with my girlfriend; would have preferred to drink it all myself. :-) Fantastic! A king among beers, indeed. (0.5l bottle from the wine monopoly.)
The end
This week I'll be off to the European Beer Festival in Copenhagen. The program tells me that three of these beers will be available there. Nøgne Ø will also release Dark Horizon Second Edition, in effect making it four. I guess you can say that I'm looking forward to the trip.
Similar posts
Samuel Adams Utopias is the world's most expensive beer in regular production, costing about USD 100 in the US
Read | 2008-11-15 21:40
Now that I've passed 2000 beers I figured it would be interesting to go back and look at which of these beers were the absolute worst beers
Read | 2008-07-01 18:41
I don't usually do beer reviews on this blog, but I got "reviewer copies" of the BrewDog Paradox Smokehead and Isle of Arran, and thought they were worth writing about
Read | 2009-02-15 13:35
No comments.
Add a comment