How to find good pubs in London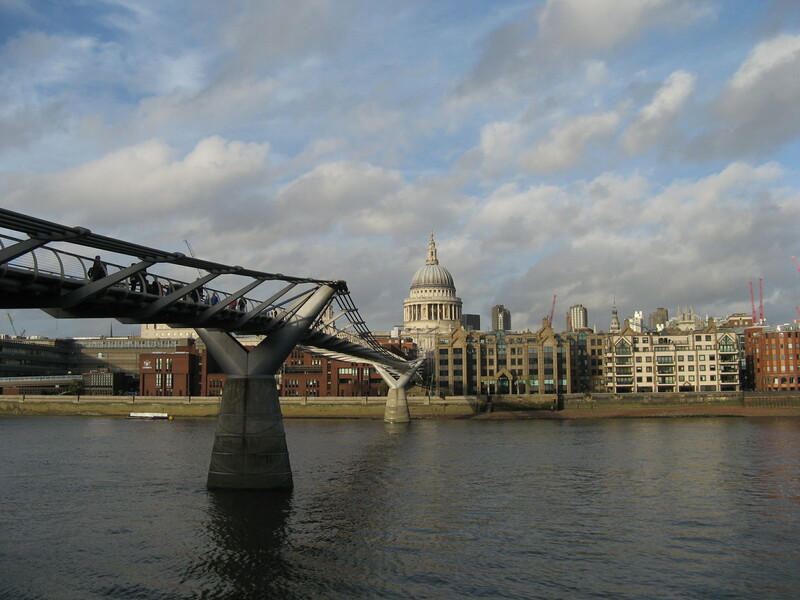 Millennium Bridge and St. Paul's
It's hard to find the really good pubs in most places in the world of any size, but London presents special challenges, for a number of reasons. First, there is the sheer size of the city, which has a population larger than many countries. Second, there is the enormous number of pubs (about 4000, according to many sources). And, third, there is the vast difference in quality between the average pubs and the really good ones.
For most places in the world, I consult RateBeer, BeerAdvocate, and (in Europe) EuropeanBeerGuide.net, and perhaps do a bit of Googling on the side. For London, this just doesn't work. The first two focus on beer selection, meaning you mostly get places that have lots of Belgian or German beer, and not the good pubs. The third doesn't cover the UK at all. And while there are many web sites dedicated to pubs in London, working through them is going to take you a good long time.
And there is a final challenge, which is that if you come up with a list of, say, 10 pubs that you want to visit, these places are bound to be so far apart that visiting them all is likely to take half a week. Finding clusters of pubs close to each other is crucial unless you want to spend most of your London visit on the tube.
So, what to do? Well, that depends to a large degree on how much effort you want to invest. Let's start with the tips that don't really require any effort at all, beyond remembering some simple things.
Simple rules of thumb
Good pubs are not located in obvious places, such as on the main thoroughfares or where tourists congregate. The good pubs are, if not exactly hidden, at least tucked away. Usually, you need to go up at least one side street, and then into another. Sometimes they really are hidden. So try to walk the less busy streets and note the pubs there. These are usually the places to try.
Good pubs often sport the Cask Marque sticker, or, even better, We're in the Good Pub Guide. They'll tend to have a proper pub sign, and an English pub-y name. Always look at the bar: if it doesn't sport a cask ale handpump, but only has swill like Foster's, Peroni, Magners, and so on, then go somewhere else. Pubs owned by Fuller's (and to a lesser degree Young's) tend to be at the very least decent, and are often outstanding. The J. D. Wetherspoon's chain will have cheap beer and a good selection, but their pubs tend to lack much else of interest.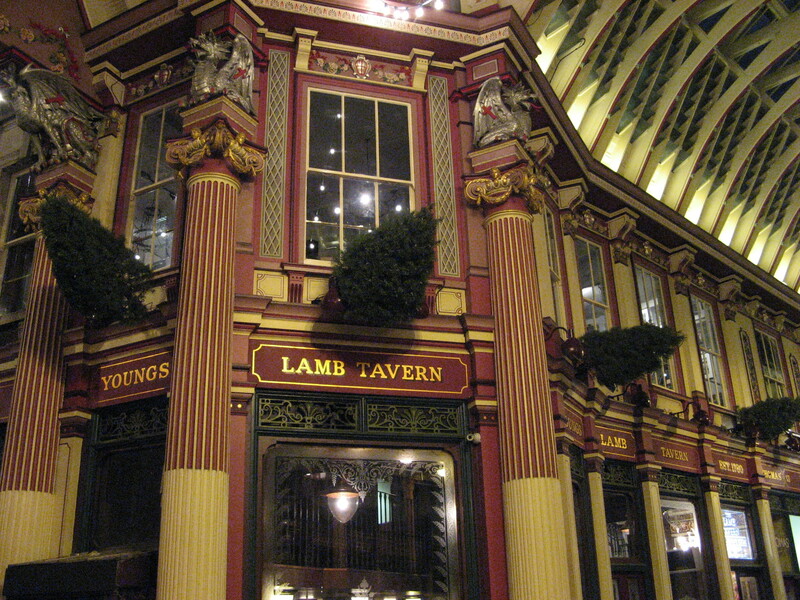 The Lamb Tavern
Doing some research
If you really want to get the most out of a visit, what you need to do is to prepare a little, by doing some research. Apart from the obvious benefit of helping you pick the right pubs, it's quite likely that doing some pub research is going to lead you to discover parts of London that you might not otherwise have visited. Soho, Notting Hill, and Kensington are quite nice in their own ways, but London has much, much more to offer, and traveling a bit further afield is often much more rewarding than staying in the most central parts of London.
The simplest, and in many ways most effective, thing you can do is to buy Bob Steel's London Pub Walks. It's a slim little volume listing 30 separate walks of differing lengths, covering not just the obvious parts of London, but also areas such as Richmond, Greenwich, Clerkenwell, and Little Venice. All the pubs have cask ale and a good athmosphere, and many are also architecturally interesting. Each walk has its own impressively clear map, making it easy to follow the walks. The pubs are quite well described, so that you get a little background on the places you visit, and some hints for which ones to skip.
Another useful thing to do is to buy The Good Beer Guide, CAMRA's UK-wide guide to good pubs with good cask ale. It's a big, hulking book, and not terribly user-friendly, but a treasure-trove of information on pubs, and more than worth the price. Checking the area around your hotel in the Good Beer Guide is always worth doing, because usually there will be several quite good pubs within a few hundred meters of your hotel which you would otherwise be very unlikely to find.
After these two books, finding information gets a little harder, but there are a few more sources of useful information. One is Stonch's London Pub Map. Some useful web sites are pubs.com, BeerInTheEvening.com, and FancyAPint.com, but I'm not sure I would use them to find new pubs. As sources on pubs you are not sure of, however, they can be very useful.
If you feel really dedicated, you might want to read some of the beer blogs that focus on the London pub scene, such as Boak and Bailey and Jeffo's Beer Blog. These will often contain tips about new pubs, interesting areas to visit, beers to look out for, and so on.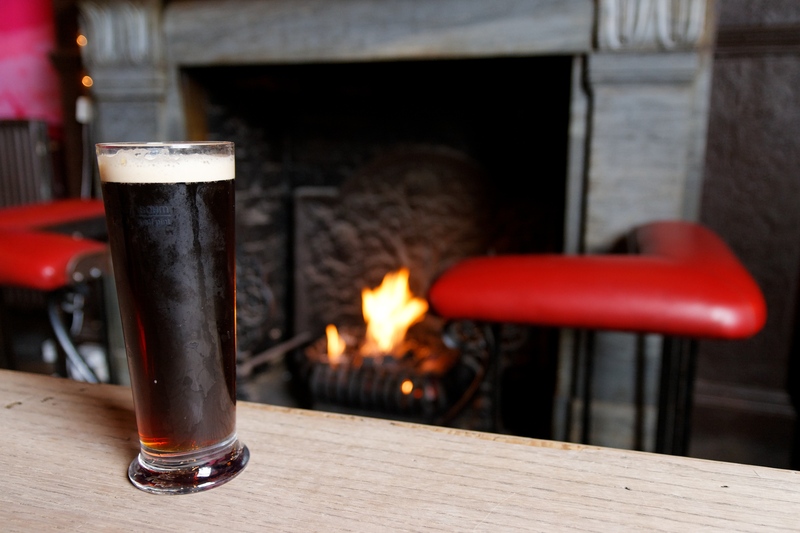 Beer by the fire, The Bridge House
Keeping track
With all these sources of information, keeping track of the information you've found is often the hardest part. In the end, I decided that what I needed was a map showing the approximate locations of the pubs I might want to visit. At the moment, I'm using Ontopia's Topic Maps editor to maintain lists of pubs, and then display them on a Google Map. You can easily do something similar, by just creating your own map on Google Maps and putting the pubs and any descriptions you want there. This can then be printed and taken along on paper.
This was just my personal tips, but I'm sure there are people out there who know much more on the subject than I do. Tips in the comments below are more than welcome!
Similar posts
It's odd that the pub should in one sense be the ultimate English tourist attraction, since all countries have their own bars and cafés, but somehow the English pub has become part of international culture
Read | 2009-02-10 12:34
The summer after finishing high school a friend and I set out on an interrail trip through Europe
Read | 2009-01-25 15:07
The subject for this month's The Session was: "What are the up-and-coming beer locations that you see as the next major players in the beer scene?" Well
Read | 2015-03-06 18:04
Jason B. Standing - 2009-10-22 06:43:59
I've knocked together a top 10 list at:
http://jasonbstanding.com/2009/09/top-ten-tuesday-pubs-in-london/
Although of course it might not mean much to anyone, as it's just the opinion of one non-beer-blogger ;)
kolorowanki - 2009-11-05 17:25:02
When i was in England I drink in Harrords in Londyn, nice pub:) reccomend
Mike Portson - 2009-11-06 08:04:55
You are right I've been to London last spring and I must say that finding a pub that is not making me leave was difficult. I visited "The Tweed", "King's Leg" and "Monarch" but all of them was... Let's say they was not a real pubs. Good to know that this problem is well known and I can get here some advices for the future.
Briefgold - 2010-03-15 05:39:35
I guess for me its getting out of the major tourist sites, and getting more into the particular areas - a good example is camden town, rather than going straight for the middle where all the tourists hang out, to venture just on the outskirts. Its always hard going to a new city, and London in particular is exceptionally hard! Church Street in Stoke Newington always has a few good options!
Thomas - 2011-07-28 17:05:57
Hi Lars, try out the Piano Bar at Kensington Road. Last weekend i visited a friend of mine in London and we went together in this bar. Nice people and a great atmosphere.
Nadjau - 2014-05-19 11:02:37
Nice article! A clarification, if I may ...
The Good Pub Guide should not confused with The Good Beer Guide ("GBG" as it's commonly known).
The former accepts payment in return for entries in the guide and does feature nice pubs, but there is no guarantee that the beer will be anything special.
The latter is published annually by the UK Campaign For Real Ale (CAMRA) which never accepts payment from pubs. All pubs in a given area are assessed on the availability, quality and variety of real ale and, following a vetting process controlled by the local CAMRA group, only the best are included in that year's guide.
The idea is that you might not be drinking in the best pub in town, but you will be drinking the best beer.
The book is quite bulky, however The Good Beer Guide is now available as an app for Android and Apple phones - I've been using the app for 4 years now and it works well, particularly as GPS and mapping are included It's also cheaper to buy than the book.
Admission: I am a member of CAMRA, but do not benefit in any way from sales of the GBG!
I would urge visitors to London prepared to stray away from Leicester Square to take the plunge and visit GBG-accredited pubs in places like Borough Market, Kentish Town, Crystal Palace, Clapham Junction (actually Battersea but the area is known for the train station - which is not near Clapham itself!), Dulwich and Carshalton. All are easily reachable by Tube or train. Also try to visit the real ale mecca that is St. Albans, a lovely small city only 20 minutes by train from London St. Pancras.
Add a comment