In search of lost time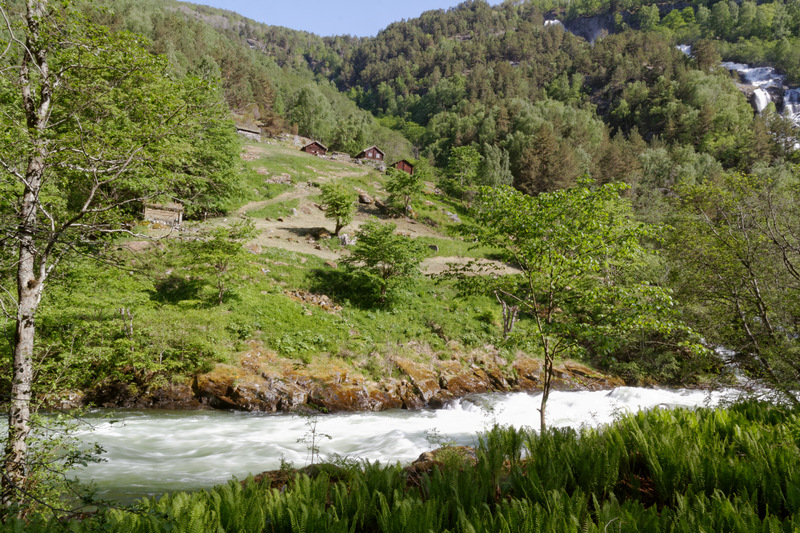 Galdane, Sogn og Fjordane
After I came back from the Lithuanian tour I had a discussion with Martin Thibault about doing the same in Norway. After all, why go to Lithuania to explore traditional brewing when the same thing exists in my own country? As I started to look more seriously into it, it seemed that there was a lot of traditional brewing still going on in Norway, but nobody had done any real research on the subject since Odd Nordland's famous book. Published in 1969. Clearly, it was high time that someone made another go at it.
We started doing initial research by reading Odd Nordland's book and googling a lot. That was the basis for last year's two posts on Norwegian farmhouse ale and kveik. Based on this initial research we decided we'd have to visit Voss, Sogn, Sunnmøre, and Stjørdal. That first step was easy enough.
The difficulty was that none of the commercial breweries made true traditional beer, and so we would have to find home brewers. That is, we'd have to find private individuals on the other side of the country, willing to accept camera-toting, notebook-wielding beer writers into their homes. This proved to be difficult. At one point it looked like I would have to go to Voss and stand in the local post office with a banner saying "I seek traditional brewers".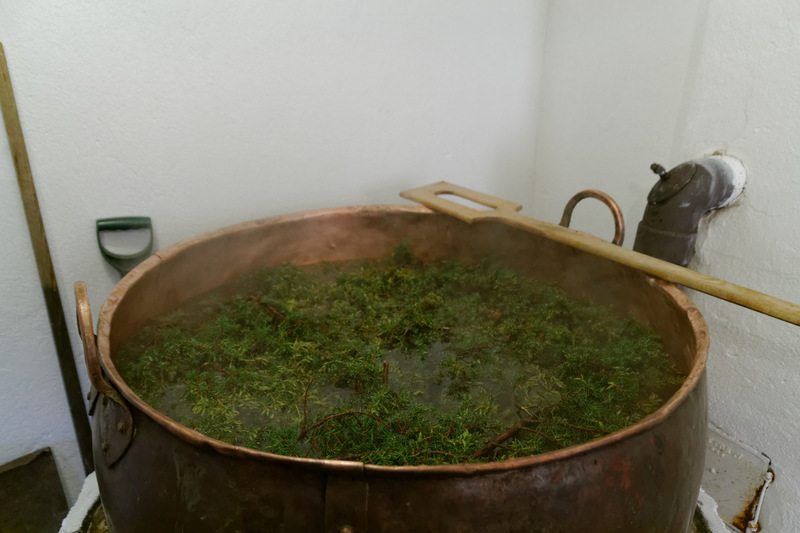 Making juniper infusion, Voss
We were stuck here for quite a long time, until a Reddit user commented on one of my blog posts. His best friend's father lives in Voss and is a traditional brewer. Not only that, but he has kveik (an ancient family yeast strain). After some back and forth we had an invitation to come brew with them. And since that process goes over night, with only six hours of sleep, that included an offer to stay at their house. I'll repeat that: these lovely people invited some people they didn't know, to stay with them for 24 hours, simply because we are interested in beer.
At this point, we knew the trip was going to happen, so we booked our tickets. For Martin and Francis there was quite a bit of trust involved here. They were flying from Canada to Norway simply because some random Reddit user none of us knew said he'd secured invitations from his friend's father. Over the months to come I had some moments of nervousness over this. What if it didn't come off? I would have asked my friends to fly half-way round the globe for nothing. But it worked out splendidly, as you'll see in the next blog post.
Tasting Vossaøl
Having booked the main event we then hammered out the rest of the itinerary. Eventually, we settled on this:
Voss

Three days here in order to brew, try a few home brews, and talk to people. As it turned out, we could easily have spent the whole week just here.

Flåm

We managed to find a small farm here which receives visitors and serves them traditional food and beer. Also we had to stop by Ægir.

Stranda

I had great difficulties getting in touch with people in the Sunnmøre area, despite there being lots of traditional brewers here. Eventually, I called Stein Langlo, who has a small business selling homebrew supplies, and within five minutes we were invited to come to Stranda and meet him.

Oppdal

Commenting on my map of traditional brewers, Knut Albert suggested Oppdal should be added to the map. A quick trip to Google found a farm that seemed to sell traditional beer in Oppdal, and so it was added to the itinerary.

Stjørdal

This area is famous in Norway for home brewers, and the Beer Trotter had already found a brewer and maltster who receives guests, so this was relatively easy to solve. Later, Klostergården Brewery did a commercial version of the local home brew, and so we arranged a visit to them as well.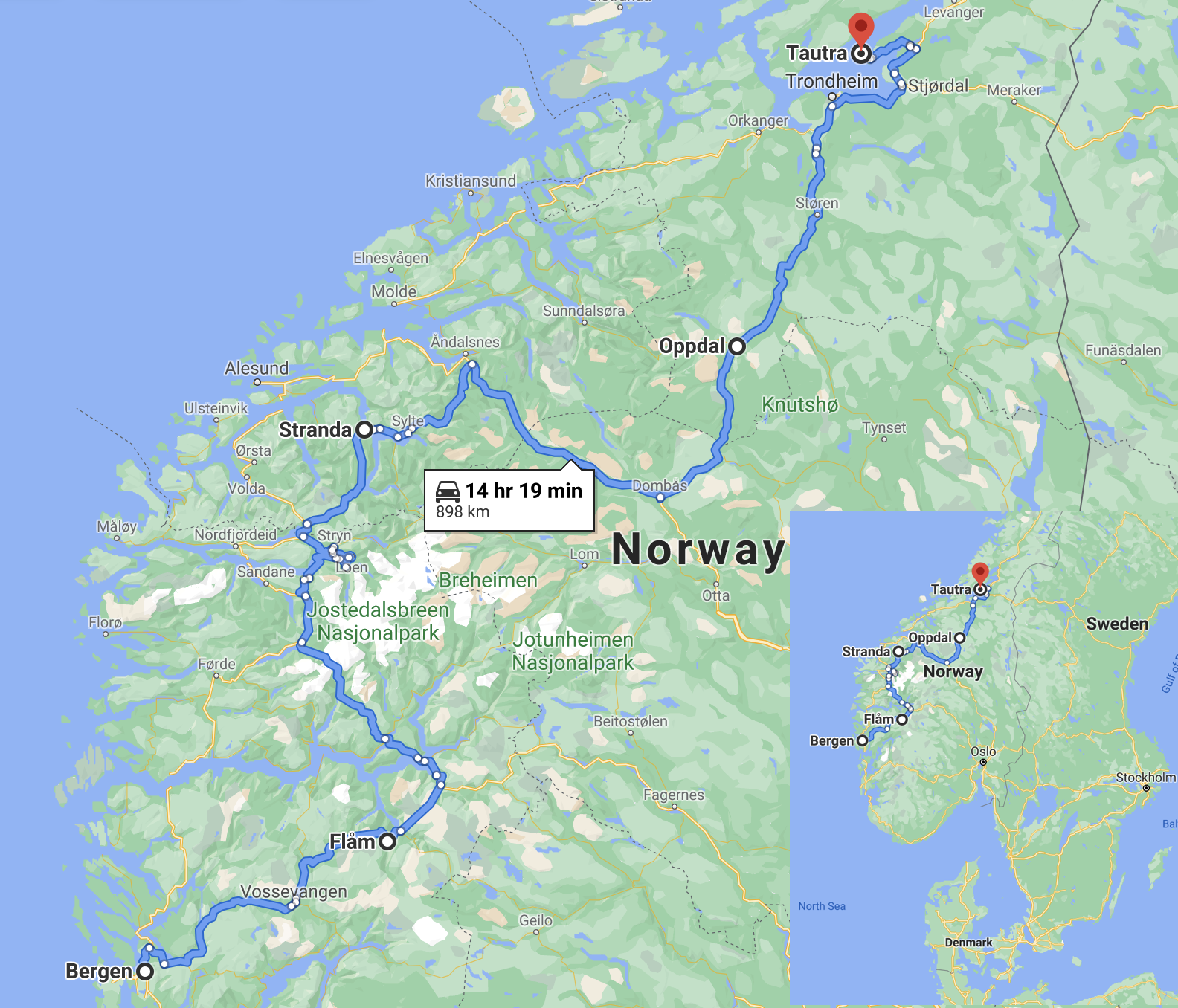 Our route
Listing it like this it sounds simple, but we really spent a shocking amount of time over nine months researching and planning this in detail. Martin and I were constantly googling, reading, calling, and emailing, and this went on right up to the last evening before we left. To keep track of it all we kept a shared document on Google Docs, bristling with names, times, dates, addresses, and phone numbers of all the people and places we were going to.
Finally, in late May, we set off from the airport in Bergen. Three people and lots of beers in a rented car. Late May is the perfect time to travel in western Norway. Everything is green, the flowers have just come out, and the snow is still on the mountain peaks. And, as luck would have it, we had sunshine all the way. It was really spectacularly beautiful, even to me who's been to western Norway at least once a year all my life.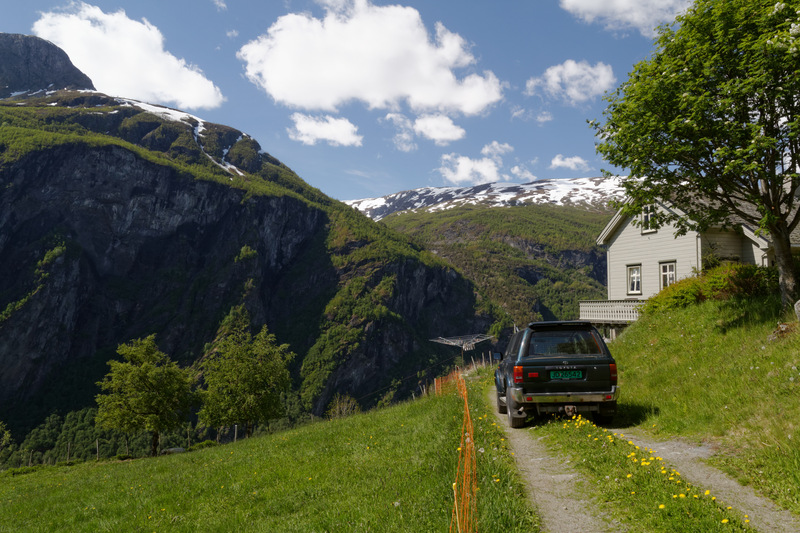 In the Flåm valley
When we handed in the car at Trondheim airport the odometer on the car read 1350 kilometers, but by then it was clear that we'd barely begun exploring the traditional beer scene. We found that traditional beer is still going strong in western Norway, in even more places than we thought. People are still using kveik in several places, and kveik is a lot more interesting than we'd realized. Not only that, but so many of these traditional brewers make excellent beer, totally unlike the beers known to beer enthusiasts in the rest of the world.
We were all astonished that this isn't better known. As Martin put it, "this isn't exactly the Congo." Indeed, we're talking about one of the richest countries in the western world. It's more or less overrun with tourists every summer, and Norwegians travel all over the globe. And still, in the middle of a global craze for beer that's good and different, the traditional beer remains almost secret, in places even in danger of dying out completely. And, despite how many people would be dying to try it once they learn of it, you can't actually buy the beer at all.
So we must do something to spread the word, and convince people that the tradition must live on. This series of blog posts is meant to be the first step.
Looking down from Vøringsfossen
For ease of reference, here's a table of contents:
(See also Martin's blog post in French about the trip.)
Similar posts
It's a well-kept secret that in Norway there exists a homebrewing tradition completely separate from the modern homebrewing that's taken off in the last few decades
Read | 2013-10-27 13:24
People are confused over what to call Norwegian farmhouse ale and what styles there are
Read | 2017-01-19 19:23
We'd booked a camping cabin in Voss, but because of confusion over the booking, we were moved into a huge house with lots of rooms instead
Read | 2014-07-20 15:32
yngvar - 2014-06-20 16:47:41
Reuben - 2015-01-16 16:24:47
What a great trip! Thanks for documenting everything.
Martin Warren - 2015-08-24 03:10:27
Lars, I just want to say how much your various blogs have intrigued me and I am reading them again. I want to brew with kveik. I can of course, because you so kindly lodged some at the NCYC near me at Norwich. Quite a lot has happened since we last corresponded but that is water under the bridge now and so before the summer is over and before I attempt to use kveik I thought I ought to pay Norway a visit. My wife booked me on to a cheap flight arriving at Olso on 22 September, so I had better get cracking and make some plans to get some Norwegian craft beer and if possible some maltøl. First thoughts are to head to Voss and Flam (and Oslo of course). Any tips or contacts welcome.
PS juniper is as rare as hens teeth in Norfolk!
lxbfYeaa - 2023-01-17 18:58:27
e8udmCJM
lxbfYeaa - 2023-01-17 18:58:27
1*
Add a comment