Dundulis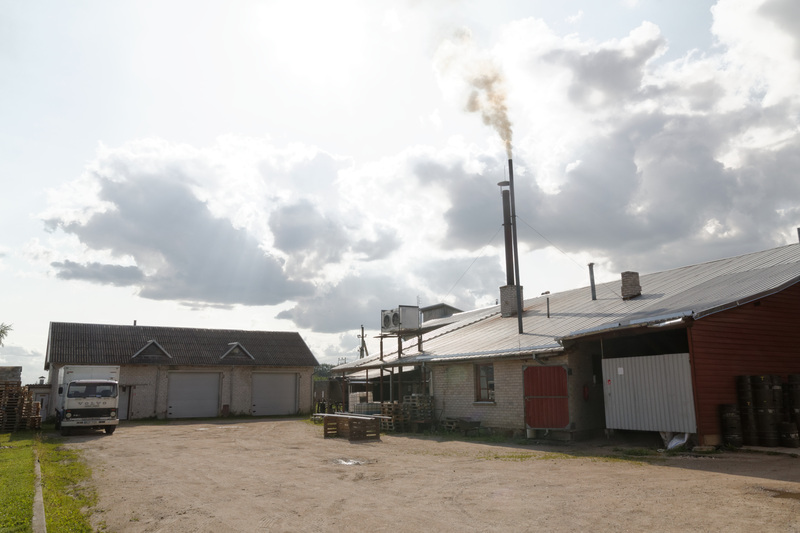 The brewery yard
From Panevežys we drove to Biržai to visit a completely different type of brewery. This was Širvėnos bravoras, one of the two breweries producing the Dundulis brand beers. We got out of the car and poked around, trying to find someone to talk to. Eventually we entered the brewery and found the brewer, Simonas Gutautas, busy measuring out juniper berries for a beer they were brewing. It turned out to be the festival beer for the Mėnuo Juodaragis culture festival. (This is part 4 of the Lithuanian brewery tour 2015.)
Originally, the festival beer had a different herb each year, but everyone is so happy with the juniper berry flavour that now they just stick with it. The recipe, however, is a little different each year, says Simonas. The guy next to him jokes that this is because nobody can remember it, so they have to reinvent it every year.
Measuring up juniper berries
The brewery started in 2010, taking over the premises from another brewery that went bankrupt a few years earlier. The original brewkit was produced in the DDR in 1983, but has since been extensively modified and extended using local craftsmen. "Everything here was built by Lithuanian hands," says Simonas.
They have 25 employees, and tell me they have difficulty keeping them, because their employees keep leaving Lithuania in search of higher-paid work elsewhere, for example in Scandinavia. This is a general problem in the Lithuanian countryside. The young are in the big cities, studying, and the adults are abroad, working. It's mostly the children and the old who are left. So the Lithuanian breweries actually help keep the countryside alive by giving people jobs, and also something unique to be proud of.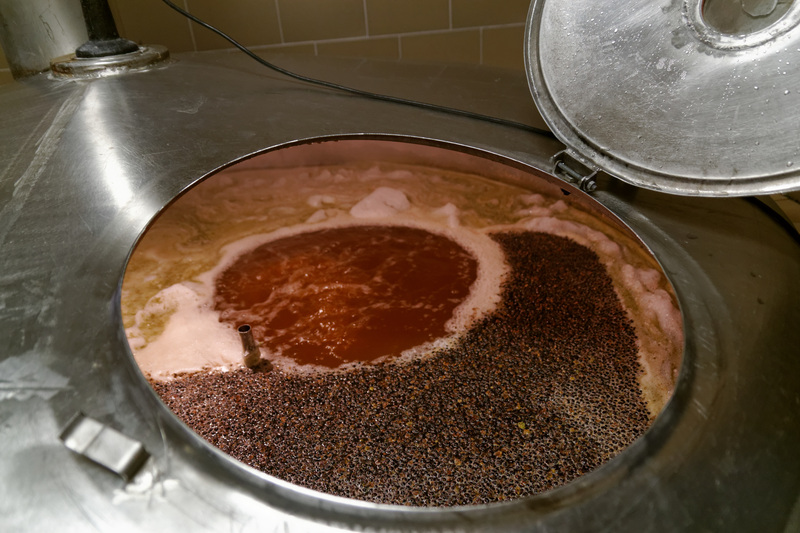 Inside the boiler
Simonas takes us on a tour of the brewery. First we see the mashtun, which is bigger than at Su Puta and Piniavos, and more sophisticated, with double jacketing and steam heating. The filter in this case is not raspberry stems, but a false steel bottom with little slits in it. Next up is the boiler, because this is a craft brewery, not a farmhouse brewery. Down in the boiler I can see the juniper berries Simonas just added, plus a strange roiling circle on the surface of the boiling wort. Simonas explains that the boiler is heated by a "rocket" of steam, and this is where it hits the surface. He likes the "rocket", because it keeps the wort moving and circulating.
Then he shows me the boiler room. It turns out that this brewery is also wood-fired. Later on I see big stacks of firewood. In addition, they use wood chips from a nearby furniture factory, which they get cheap. This is the reason for the slogan "Dundulis - brewed on wood," which they use in their marketing.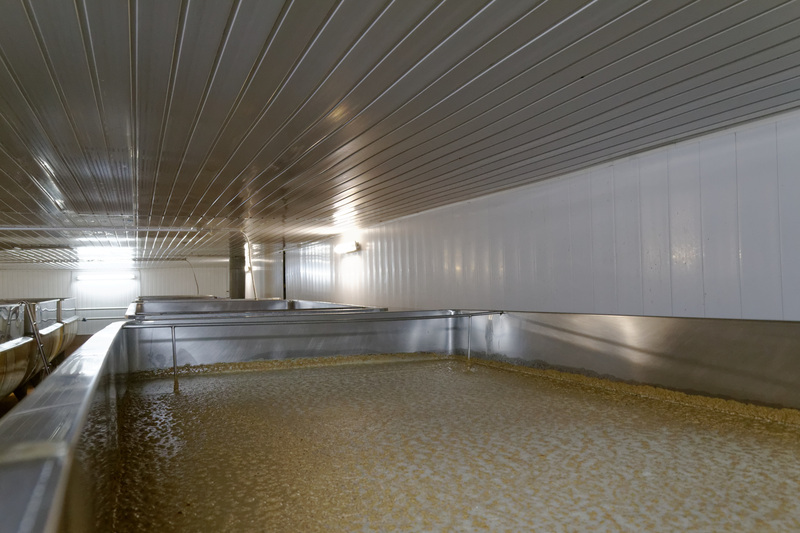 Open fermenters
We go on to the fermenters, of which there are lots, crammed into various rooms and even hallways. They're open fermenters, of a type I recognize from many other Lithuanian breweries. Originally this was dairy equipment, but now repurposed. There are also rows and rows of maturation tanks. It's very clear that this is a much bigger brewery, and a more modern brewery, than the small farmhouse breweries.
We go outside and sit on a wooden bench in the sunshine, and taste some beers. Simonas starts talking about some projects he has in mind. They've brewed a kvass, a traditional low-alcohol rye beer, for the summer. He also wants to make a keptinis, a very rare farmhouse style made with malts baked in the oven. We had this conversation in July 2015, and now in July 2016 the beer is on the market in Lithuania. I haven't yet tasted it myself.
Simonas also has a fascination with a legendary home brewer from Joniškelis, named Julius Simonaitis. Strangely, this is the same brewer who sparked my own obsession with farmhouse brewing. Simonaitis grows his own barley, which he malts himself. He grows his own hops. And the village community where he lives has its own yeast which they share, just like they always did.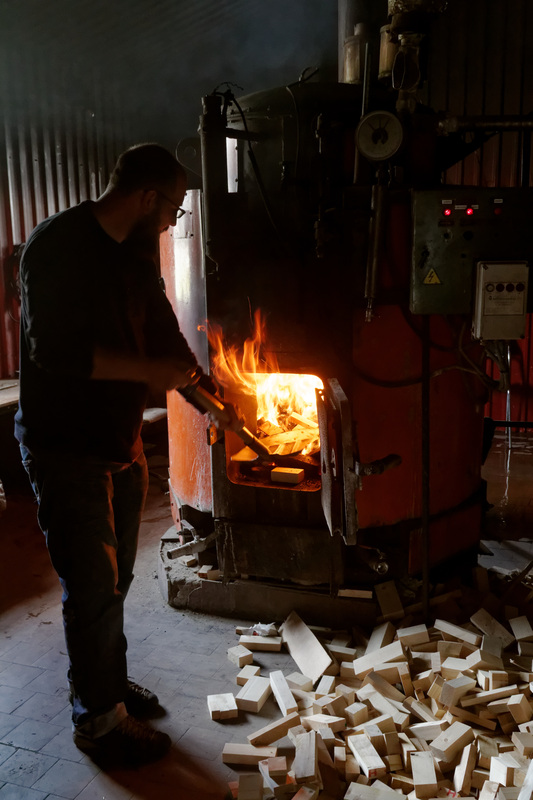 Simonas feeding the boiler
Simonas has visited him many times and says Simonaitis's beer is excellent, and very strongly hopped. Simonas got a rhizome of Simonaitis's hops and wants to grow a hop garden at the brewery so that he can eventually brew a beer with Lithuanian hops. It will be a single batch, obviously, but still. I tell him he should also get a sample of the yeast so that we can send it to the NCYC for analysis and safe keeping. A few months later a small plastic bottle arrived in the mail, so the yeast is now at NCYC. (No analysis results yet.)
This spring Dundulis brewed a beer with Simonaitis's yeast, called Sulos. So named because they used quite a lot of birch sap in it, and "sula" means birch sap. Dundulis sadly doesn't get much international distribution, so I haven't tasted this beer.
Still, for those outside Lithuania who want a taste of the Lithuanian brewing tradition, Dundulis is probably their best chance. Dundulis has more production capacity than the true farmhouse breweries, and they boil the wort, which means the beer will last longer. Unfortunately, even Dundulis is still very little known in the international beer community. Their keptinis wasn't even on Ratebeer before I added it just now, and Sulos has a single rating, which is crazy for so unique and interesting a beer.
Eventually, we drain our glasses and head off to the car. It's getting late in the day, but we still have one brewery visit left.
Similar posts
I was invited to the Žmogšala beer festival in Vilnius to present my book on Lithuanian beer, but the flight times meant I had to spend a long weekend
Read | 2015-04-06 15:10
Farmhouse ale styles are known for being messy, sprawling, ill-defined categories to the point where it can be questioned whether they really are styles at all
Read | 2015-04-20 12:36
bob rafferty - 2016-07-31 13:48:51
Lars Marius Garshol - 2016-07-31 14:02:54
@Bob: Yes, they are.
Gints - 2016-07-31 15:01:44
Untappd is the way more popular nowadays compared to Ratebeer. And the above mentioned beers have good number of ratings there.
Lars Marius Garshol - 2016-07-31 15:06:49
@Gints: Yes, Untappd definitely has more users. I checked now, about 100 ratings for the keptinis and 33 for Sulos is encouraging, but if we look at, say, Cervisiam Jungle Juice (a Norwegian double-IPA I had yesterday), it has almost 2400 ratings. A relatively obscure Norwegian beer, Lindesnes Havets Øl, has more than 750 ratings. So I'd still say these beers are far less known than they should be.
Mika Laitinen - 2016-08-04 02:22:30
I think it is just question of time when we begin to see more Dundulis beers outside of Lithuania. These beers are far more interesting than the generic pale ales or IPAs we have now in the craft beer bars. I tasted Dundulis keptinis few weeks ago, and it had a similar nutty dark bread taste than the classic keptinis of Ramūno Čižo. Good and drinkable malt-forward beer.
Lars Marius Garshol - 2016-08-04 02:33:45
@Mika: I hope you're right. There's nothing wrong with IPA and porter, but Lithuania has more exciting things to offer. I'd much rather see Dundulis in the craft beer bars than more straightforward IPAs.
Add a comment