My new book, in English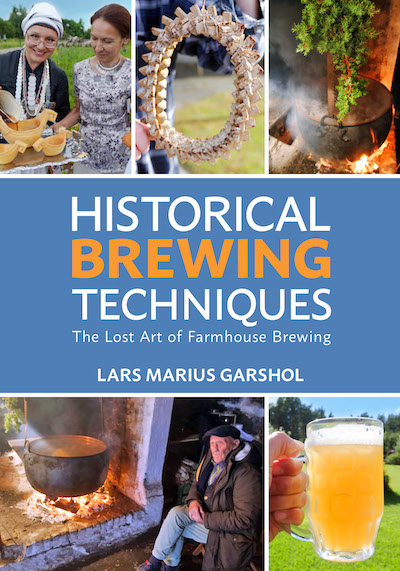 The cover
Somehow it seems to have happened for real. I've been slaving away at this farmhouse stuff for almost a decade now, and now a summary of all that labour is going to appear in the form of an English book written by me. Somehow it seems at the same time both inevitable and almost unbelievable. But here we are.
I started diving into the world of farmhouse ale more than 9 years ago, and as I've learned more and more I've completely changed my view of what beer is and can be, how it's made, and why. I've come to see the world of beer as having two parts: modern brewing and farmhouse brewing. Farmhouse brewing is the older and the more varied half, and it certainly had the largest number of brewers. But it's a world that has been almost entirely overlooked, and largely misunderstood.
The purpose of my new book is basically to change that, by introducing modern brewers to the world of farmhouse ale. This is one reason I'm very pleased that the book will be published by Brewers Publications, since their audience is exactly the people I want to reach. Another reason is that I'm delighted to have a publisher that not only understands the book I've written and what I'm trying to do, but also is willing to go the extra mile to make the best book possible. This thoroughness is why the book is still a good ways off: planned publication date is April 1st 2020.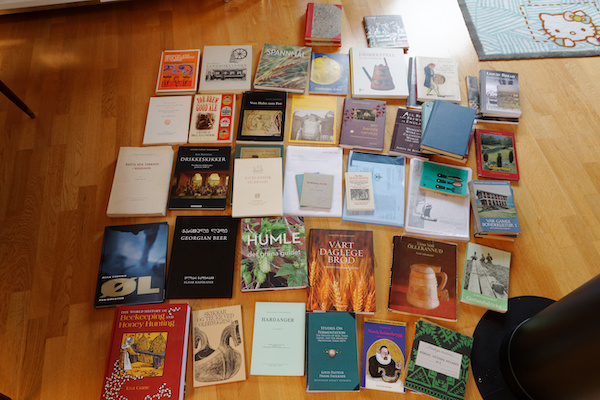 Some of the printed sources the book is based on
In case anyone wonders: this is not a translation of my Norwegian book (Gårdsøl), but a new book. The structure is similar to the Norwegian book, and I'm reusing some of the stories, but other than that it's a completely new book. The benefit of three years of additional research has given me much deeper insight in the subject than I had when I wrote that book, and has allowed me to present the material much better than I was able to do in 2016.
Also, the scope of that book was Norway only, but this time I'm also covering Sweden, Denmark, Finland, Estonia, Lithuania, and Russia. There are also some looks at Latvia, Belarus, Germany, the UK, and Georgia. So essentially most of northern Europe plus a bit.
What is the book trying to achieve? Several things, actually.
I want to show modern brewers that farmhouse brewers have masses of techniques, methods, and ingredients that can be adopted into modern brewing to produce exciting "new" flavours. So the book explains about raw ale, keptinis, kveik, juniper, and several techniques and ingredients I haven't covered on this blog yet.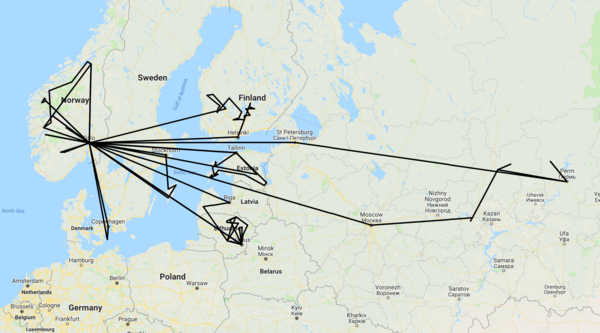 Farmhouse ale journeys, 2013-2018.
You can't understand a beer by reading about it, so I had to travel and meet the brewers, taste their beer, and watch them brew. In several cases it was only by actually seeing the process and tasting the beer that I was able to work out what was going on, so that I could explain the point of the process. And in some cases I had to travel simply to learn how people were brewing. Over the years it's been a few trips.
I think presenting these methods without context makes them seem very alien, and rather pointless. My goal is to make modern brewers understand and accept these concepts that, I assume, must seem very strange to them. For that reason, much of the book is about why farmhouse brewers brew this way, and how these methods came to exist in the first place. I'm also trying to give an insight into the beer culture of the farmhouse world, which is a very different place from the city-based culture of modern commercial brewing.
To do this I've had to go quite deep into the background history, and while doing that I'm trying to drive a stake through the heart of many myths about the history of beer. Farmhouse brewing was not unusual, but something basically everyone did, not long ago. People did know how to use yeast millennia before Pasteur. Stone beer is not about boiling the wort with stones (historically, that makes no sense). Pale, unsmoked malts are not new; they have existed for millennia. Yes, in many places people really did drink beer every day, not just in the Middle Ages, but into the 20th century. And so on.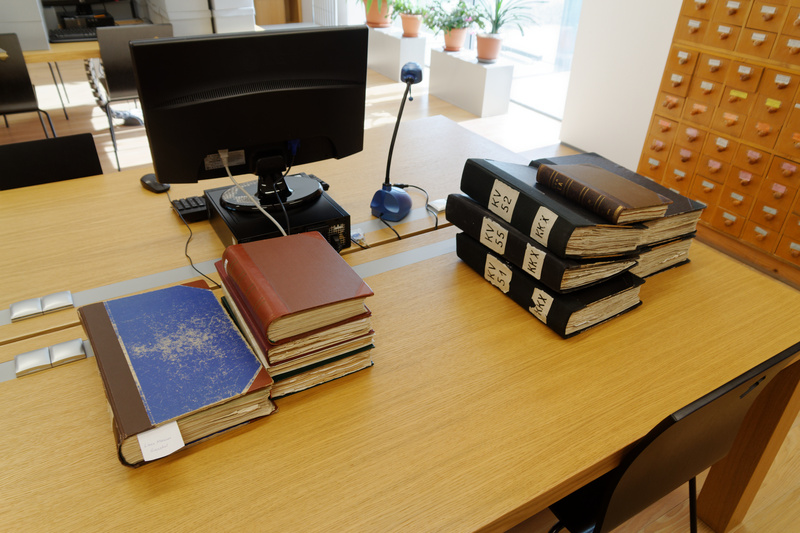 Ethnographic documentation from the Estonian National Museum in Tartu, Estonia
What I'm trying to do is basically to present a new view of beer and brewing. Coming up with that took a lot of research, to put it mildly. To accurately grasp centuries of brewing in an area as large and diverse as northern Europe is very challenging, so I've taken to using quantitative methods. I hesitate to glorify it with the name of statistics, because it's not really that advanced. We're mostly talking about simple counting.
So in this book, when I say "wheat was very rare in farmhouse brewing" that's not a guess, or a claim I found in some authoritative-sounding book. I came to that conclusion by analyzing 692 individual accounts of farmhouse brewing in specific places, and noting that only 12 say wheat was used in the beer. I've tried to extend this type of method to as many aspects of farmhouse brewing as I can, in order to put the work on a firm foundation.
Where can one find 692 individual accounts of farmhouse brewing? In ethnographic archives. Ethnographers in the Nordics and Baltics studied traditional culture by means of questionnaires on many, many different subjects. The answers to these questionnaires are still sitting in the archives, and so I've collected them from Norway, Sweden, Denmark, Finland, Estonia, Germany, and Lithuania. On top of that I've added published sources from books, journals, and so on. And my own travels and interviews.
The result is a rather sizable database:
| Dataset | Accounts | Pages | Triples |
| --- | --- | --- | --- |
| NEG | 182 | 1233 | 5444 |
| KM | 23 | 60 | 205 |
| EU SP98 | 37 | 108 | 325 |
| NEU | 104 | 1428 | 1956 |
| LUF | 23 | 723 | 402 |
| VOKO | 11 | 169 | 144 |
| AFD | 64 | 491 | 874 |
| EU | 216 | 1955 | 4443 |
| DOTS | 123 | | 807 |
| ERM | 271 | 1260 | 2633 |
| SLS | 35 | 191 | 482 |
| Own collection | 278 | | 4341 |
| SM | 8 | 19 | 73 |
| ULMA | 2 | 15 | 14 |
| Total | 1377 | 7652 | 22143 |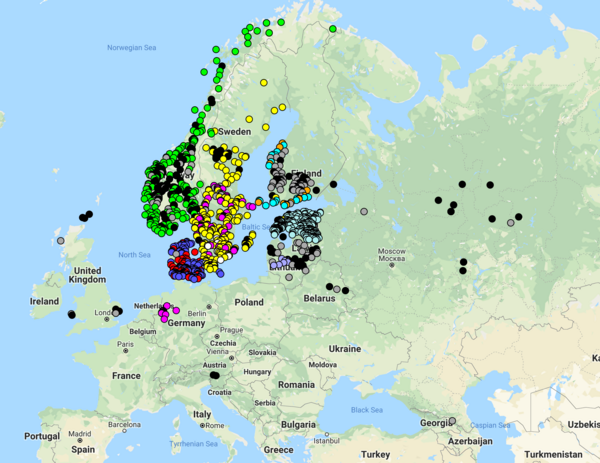 The database plotted on a map of Europe. The colours indicate which dataset the accounts come from.
When I started this book it was with a kind of relief that now I would have as much space as I wanted, unlike on the blog, or in the rather slim Norwegian book. Now I would at last be able to present the full picture, I thought. That turned out not to be the case. I've really stuck to just the highlights and compressed the text as much as I can. The result, with photos and so on, is 450 A4 pages. Roughly 300 of pure text. 130,000 words.
My own feeling is that it's rather superficial, and that quite a lot of important material is passed over very rapidly. Unfortunately. If I had more space I could have both covered more of the material, and also presented it better, but I think that's how it has to be for now, because I think this is as much as I can expect any publisher to accept in 2019. (I have to say I'm impressed with how supportive and understanding Brewers Publications have been. I have absolutely no complaints on that score!)
And clearly this is going to be one massive mouthful for the beer community to digest. If, that is, the community at large actually takes notice. To be honest, I wonder how it's going to be received. As you can tell, it's a very ambitious piece of work. Will it really persuade beer historians and change their view of beer history? Will commercial brewers really adopt these techniques? Will people actually read and understand it? Time will tell.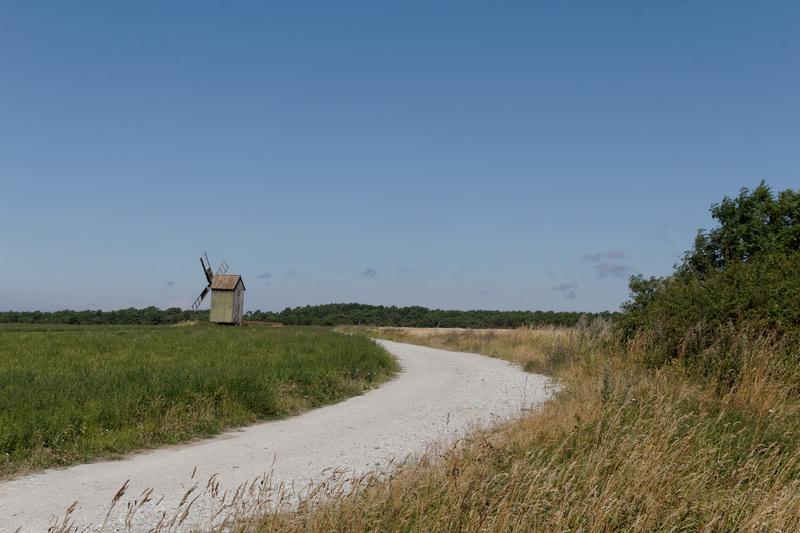 Windmill. Hablingbo, Gotland, Sweden.
As for me, I consider this a report on work in progress. For three reasons.
One is that there's still masses of evidence I still haven't managed to get hold of. I know a Swedish institute that has a set of questionnaire answers I haven't yet seen, probably a thousand pages at least. Simonas Gutautas recently found 1000 pages of extremely detailed hand-written notes on Lithuanian farmhouse brewing. I know of one Latvian cache of material that I haven't tried seeking out yet. And there has to be piles more in the UK, Germany, Austria, Switzerland, and Russia. Probably many more places, too.
The other reason is that I haven't even been able to present everything I know now, because of the space limitations. To do everything in depth would probably have taken 3-4 volumes.
The third reason is that I'm not finished digesting even the material that I have so far. I'm constantly coming up with improvements to how I structure the database, new questions to research, and new explanations. Quite a few of the issues haven't yet been thought through as much as they should.
In short, even if Brewers Publications (or someone else) let me publish a 4-volume work on farmhouse brewing today, I'm not ready to write it. And I probably won't be for another 5-10 years.
So what to publish next? I don't know. That doesn't worry me. There's more than enough to research, and a break from the stress of book writing is quite appealing right now.
Update: It turns out you can already pre-order the book on Amazon.
Update: You can register at Brewers Publications here. Then you'll get an email and a link to the pre-sale when that goes live in March/April.
Similar posts
The most common question I get in interviews is "what do you consider to be a farmhouse ale?" and since the answer is a little involved I decided to write it up more fully
Read | 2020-07-26 14:52
The definitive book on Norwegian farmhouse ale is Odd Nordland's "Brewing and beer traditions in Norway," published in 1969
Read | 2014-09-15 15:38
András Borbíró - 2019-09-04 10:52:48
Rich Carbonara - 2019-09-04 13:24:31
Looking forward to it. So luckily stumbled upon your blog prior to going to the Baltic states.
Derek Walsh - 2019-09-04 21:22:27
Just pre-ordered it on Amazon. I can't wait to read it. Your workshop last year was totally enlightening. Keep up the great work!
Jeff Alworth - 2019-09-05 14:40:59
Congrats! I for one am looking forward to it with great excitement. No one knows whether a book will succeed in commercial terms, but you've been engaged in the most important project in beer writing since Michael Jackson. That is a huge thing on its own.
Zach Christensen - 2019-09-06 18:03:42
Is there a way to preorder the book? I really want it, but fear that I will forget in 9 months when it's available.
Leif Takacs - 2019-09-06 21:29:26
Cant wait to read your book. If you do a book tour in the states you should check out Skĺl beer hall in Ballard Seattle it would be a perfect place to host it and has had one prior by Mika Laitinen of his sahti farmhouse ale and was well received. Skĺl Leif
Lars Marius Garshol - 2019-09-07 14:42:21
@András, Rich, Derek, Jeff, Leif: Thank you so much. :-)
@Zach: Just look at the end of the blog post, for the two updates.
Lawrence Nyberg - 2019-09-08 03:01:02
Really awesome Lars! I will buy it.
Fer - 2019-09-08 19:12:06
Congrats on the book! Really looking forward to read it and to try some of the methods at home.
Thanks!
Harry Wentland - 2019-09-11 17:47:20
Thanks for the amount of work you've done to preserve and highlight farmhouse brewing in Scandinavia, the Baltics, and beyond. It upsets me that we have lost so much brewing information in Germany and other places that got taken by storm by macro-brew techniques. I second @Jeff in that this is probably the most important beer education project since Michael Jackson.
It was great meeting you at GTA Brews. Now to come up with a brew for the Laerdal kveik I picked up... something that's not another kveik IPA.
Erica Jones - 2019-09-17 05:43:00
Where can I buy this book please? I live in Australia but am prepared to buy from overseas.
It would make the best Christmas gift for my son,
Lars Marius Garshol - 2019-09-17 05:54:22
@Lawrence, Fer, Harry: Thank you!
@Erica: See the two paragraphs marked "Update" at the bottom of the article.
Earle Douglas - 2019-09-20 01:47:02
@Lars and @ Erica
The wufoo link for Brewers Publications doesn't seem to work anymore but this link will let you add your email address to get notification when the book is available. https://www.brewerspublications.com/products/historical-brewing-techniques-the-lost-art-of-farmhouse-brewing?_pos=2&_sid=b8f542bd7&_ss=r
I am also in Australia and can't wait to read the book. Like other places around the world we're pretty keen on kveik strains down here.
Thanks to Lars for all his work in this field.
John - 2019-09-20 16:42:30
The world moved on, considerably. Rural Norway (a tiny bit of it) and a few other tiny places haven't. Poverty being the driver. What 'joy'!
Ben - 2019-10-02 23:32:37
Really excited to read your book! I also hope you continue to do the research and definitely expect there will be an audience for it as well!
Niklas Ramsberg - 2019-10-03 12:04:38
Really looking forward to getting my hands on the book! On a related subject, I've wanted to brew a beer using kveik since I first came across your blog a few years ago, but it's only now I've been able to find any of the commercially available kveiks here in Gothenburg, Sweden. My local homebrew shop finally started stocking Sigmund's Voss strain that's been available across the Atlantic for quite some time but not here, a mere 8 hour drive from Voss.
Aaron Brussat - 2019-10-04 22:41:44
Congratulations on the publication! I don't hesitate to say (to myself or others) that I think your work, and the dissemination of and excitement about these farmhouse brewing traditions is the coolest and most important thing to happen to beer this decade. It's been a pleasure to read your blog over the years. Cheers!
Tim Webb - 2019-10-16 22:28:16
Hi Lars. This is Tim Webb from World Atlas of Beer, Good Beer Guide Belgium and others.
I spotted your new book in English but Amazon says it only comes out in April 2020. That is fine for me but I was hoping to feature your research and the book in the next World Atlas.
Can you give me any useful information?
Tim Webb
Sakari - 2019-11-03 19:17:19
Hello, I couldn't wait for the English-language book and bought the Norwegian one (no, I don't know Norwegian, but I learned Swedish at school).
I just finished it, and I really like it, that is, your "old" book. Well done!
Now I'm going to try some of the recipes at the end of the book. Not having any kveik, I'll use Finnish baker's yeast from Suomen Hiiva. Interestingly, the recommended temperature for baking is 37°C. So, considerably higher than the 25°C you cite for Idun Blĺ.
Phil Pesheck - 2019-11-23 05:49:51
Lars! Thank you for all of your work! I can't wait to read this book!
Neil - 2020-05-03 22:30:09
Hi Lars,
I have had this on Pre order with Amazon UK for several months. Any idea when it might be available? Appreciate much has changed in the last few moths.
Lars Marius Garshol - 2020-05-04 07:20:22
@Neil: The book was published on April 30th, so it should have shipped now. If it hasn't shipped I don't know what has happened. I looked on Amazon.co.uk and it looks like maybe it has sold out. I would contact Amazon.
David - 2020-06-07 17:35:47
I've just started reading your book - it's fascinating and a bit of a page-turner. I find that on the one hand I don't want to put it down and on the other hand I want to rush out and try brewing differently to have a go at some of the techniques you describe.
Steve D - 2020-06-14 21:31:07
Hi Lars,
Finally, I have your book nearly in my hands - it should be here within a week or so. I have followed your blog for the last 4 years and was on the point of trying to resurrect my very basic Norwegian and buying your Gardsol book to both learn ab out beer and the language! But now I will stick to your new book - I know it will be great - your blog is excellent, and I cannot imagine your book will be anything but great.
PS - I am also about to see if my 4 year old strain of Sigmund's Voss Kveik is still healthy enough to go through another summer's brewing season. So one way or another, its another thank you for helping to further the brewing lifestyle!
Add a comment