Beer-hunting in Lviv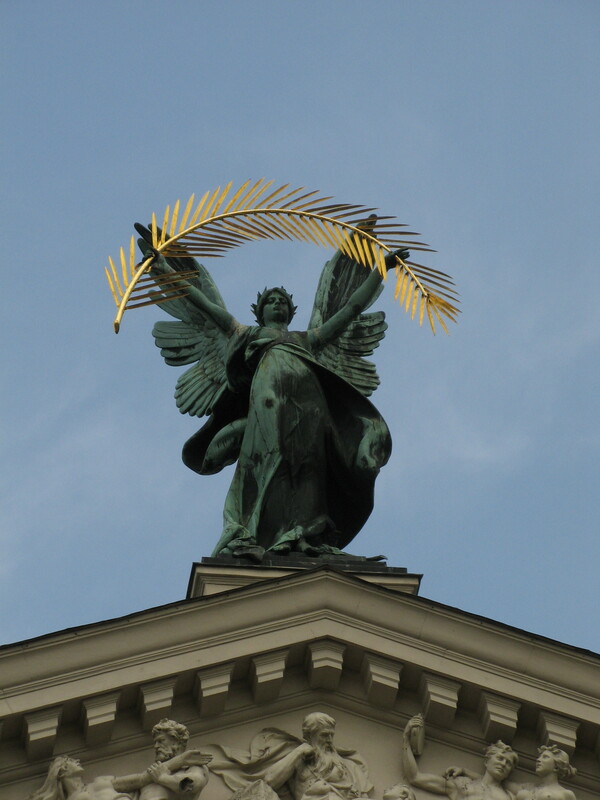 Statue on top of Lviv opera house
First there was Prague, but it was overrun by tourists. Then there was Krakow, but it suffered the same fate. Lviv, however, does not have this problem, and if you read the posting on how we got there you know why.
The city has a rather checkered history. It was Ukrainian when founded in 1256, at a time when the rest of Ukraine was overrun by the Mongols. In 1349 it was taken over by the Poles, and it remained Polish until it became part of Austria in 1772 after the first partition of Poland. I won't attempt to recount how many times the city changed hands in the period 1914 to 1920, but suffice it to say that after 1920 it was again Polish. Then the Germans arrived in 1941, only to be driven back by the Red Army in 1944. Stalin made use of the opportunity to place Lviv in the Ukrainian Soviet Republic inside the Soviet Union, which then in 1991 became Ukraine.
Today it's part of western Ukraine, which is rather more western-oriented than eastern Ukraine, and more nationalistic. For someone who's visited eastern Ukraine the difference is noticeable in that Lviv feels much less Russian than, say, Kyiv. It's said that people here don't like to speak Russian and insist on speaking Ukrainian. That doesn't seem to apply to people whose Russian is very, very limited, like us. It's also noticeable that people speak much more English here.
But, is it really the new Prague or the new Krakow? It's hard to say how other people will see it, but we certainly enjoyed our time there very much. Lviv is really just a quiet, relaxed city of 800,000 people with an amazing abundance of fine old buildings. It lacks the big, imposing castles of Prague (Prazky Hrad) and Krakow (Wavel), but on the other hand there is a seemingly never-ending sprawl of fine architecture.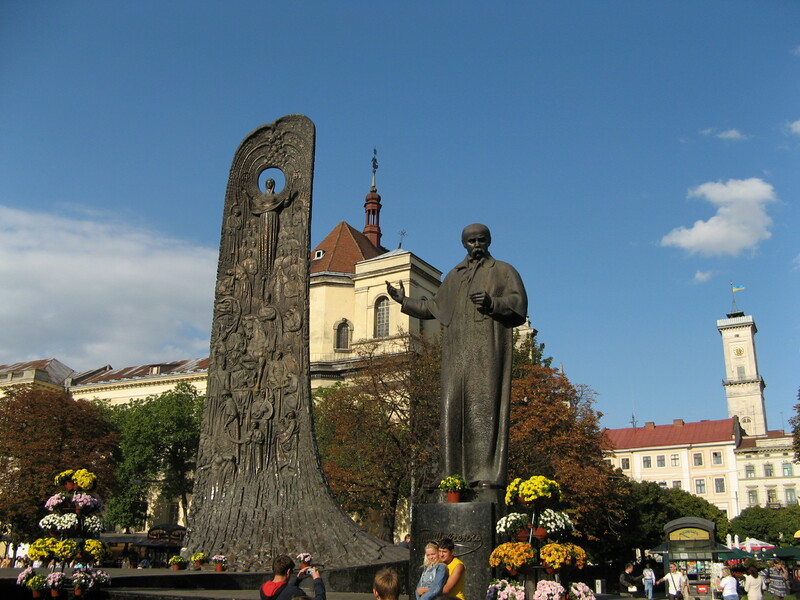 Prospekt Svobody, Lviv
An attractive aspect of the city is that you can wander around at random and be assured that you'll find nice surprises everywhere. The central square, the university, the opera house, Palats Pototsky, the castle hill, the Armenian cathedral, the Boyim chapel, and the local cemetery are all worth seeing, and there is lots more. Basically, the city itself is one big tourist attraction.
Transfiguration church interior, Lviv
It may sound strange to list a cemetery as a tourist attraction, but Lykachivskiy cemetery is more than just another cemetery. It's basically a huge necropolis full of graves of all styles, sizes, and ages, some dating back centuries. The graves are much more personal than what's common in the west, often showing portraits of the dead that are clearly intended to convey something of who they were. The graves are surprisingly touching, and it's an odd feeling to walk among stone angels, Red Army officers, ballerinas, bishops, pilots, and nameless beauties, all randomly jumbled together for their final rest. And then you discover that some just don't care.
The city is also refreshingly free of any of the usual touristic annoyances, but on the other hand you can't expect western levels of service. Some places you get it, other places the service is more Soviet-style. Don't be too surprised if the cashier starts rolling her eyes in exasperation when you fumble for your change, because she's impatient to get back to watching soap opera on TV. Don't be surprised, either, at how many places there is just one guest when you arrive, and where that guest seems to be just drinking coffee, smoking, and bossing the waitresses around. This is the owner, making sure the waitresses give the customers proper service.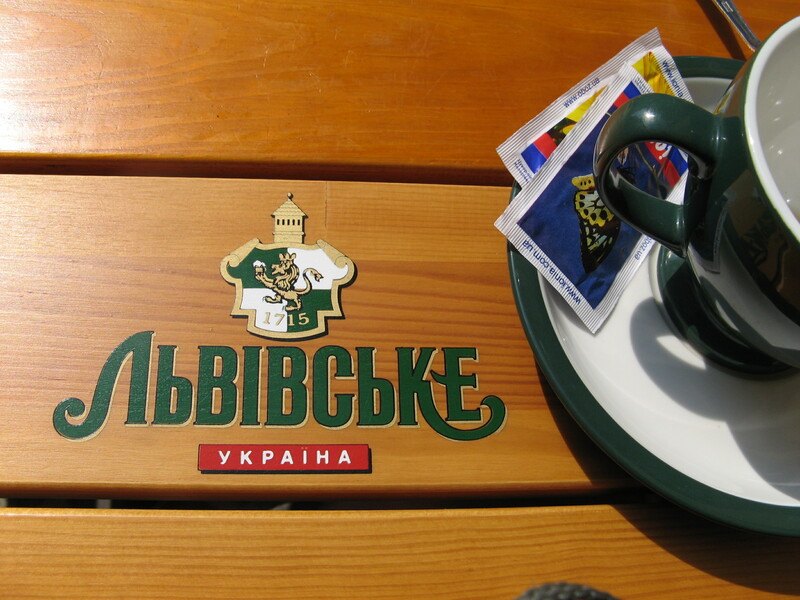 Lvivske
In terms of beer Lviv is actually a quite good destination, since Lvivske Brewery is, unsurprisingly, located here. It was founded in 1715, and grew into a giant, industrialized brewery distributing beers to much of Europe. On Kleparivska street you can visit Robert Doms beer house, located in the old Lvivske storage cellars, which in the 18th century were the largest in Europe. They have jazz concerts every night, and even serve a special unfiltered lager on tap. In the Soviet period Lvivske was recognized as the best brewery in the Soviet Union, and the bigshots in the Kremlin made sure they were well supplied with beer from Lvivske. Today they are probably the best brewery in Ukraine, and Lvivske Porter is definitely the best Ukrainian beer. There also another, smaller, brewery in Lviv, called Persha, but it is less remarkable.
It's also easier to find bottled kvas in Lviv than elsewhere in Ukraine, but unfortunately the bottles tend to be rather big. At one point I bought three bottles (6 liters altogether) and carried them back to the hotel for a tasting. Although there is very little alcohol in kvas there was no way I could drink 6 liters, so I had to get rid of the rest somehow. Pouring 6 liters of kvas down the toilet felt odd, and no less so when it filled with offwhite foam almost to the brim. Sometimes you find yourself asking "why am I doing this?" without getting any really good answer...
We spent three days in Lviv and found that this was about enough time to see the city at a leisurely pace, without running out of good restaurants to eat in. At the end of the three days we returned to Krakow, and the journey there was interesting enough that it's worth a separate posting.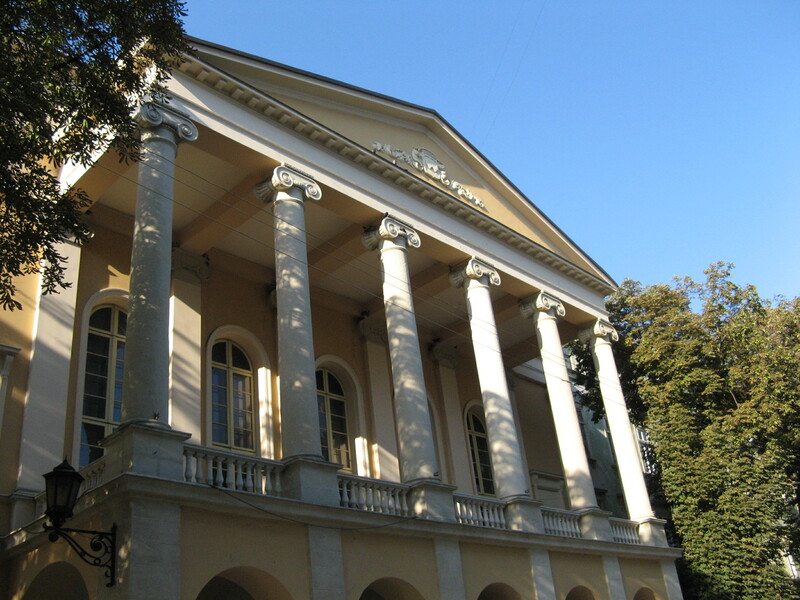 Musical theatre, Lviv
Similar posts
We really wanted to visit Lviv during our 2006 holiday in Ukraine (photos), because of the praise heaped on it in the guidebook, and in travel reports in various newspapers
Read | 2007-09-19 20:35
Parvez Khan posted a long list of questions in the comments, and I thought I'd take a separate blog entry to reply to them, since he had quite a few questions
Read | 2008-01-01 22:39
Russia and the Ukraine may sound like terrible destinations for anyone looking for a decent pint of beer, and while both countries are for the most part deserts of pale lager, things are not nearly as bad as they may seem
Read | 2006-10-28 15:55
Stonch - 2007-10-01 05:40:12
Kate - 2008-04-03 23:26:47
Great blog! Very well done. My ancestors are from what was once Ruthenian (for a day) and my husband and I are planning a trip to eastern Europe in November -- primarily to visit Ukraine and the Carpathian Mountains. We will be spending time in Lviv, and now since we found your blog, we are planning to spend even more time there. Thank you, and travel on!
Pete - 2008-04-13 05:35:45
Ssshhhhh!! Dont tel everyone, lets keep this one a secret, well at least to 2012, when every tom dick or harry will turn up to this amazing place, Great article!!
James - 2008-12-01 06:52:40
Me and my buddies traveled around Europe and found this great place too. After visiting Prague it was a really nice alternation - nice, cool and delicious - and the city was great too ;-)
Wandaufkleber - 2009-01-08 13:37:59
I was there 2007 and visited Lviv musical theatre. We enjoyed a nice performance there. I did forget the name of the musical but if i had any freetime i would come back again. I love that city.
Natasha - 2010-11-17 14:43:01
I'd definitely recommend visiting the Lykachivskiy cemetery. I went there on my last visit to Lviv during the 'Remembrance of the dead' days and there were lit lanterns on almost every grave. The place looked surreal!
Brian Pshyk - 2011-10-18 11:03:09
How did you get a photo inside the Transfiguration Church? it is not allowed? Just wondering...
Lars Marius - 2011-10-18 11:57:53
@Brian: I had no idea it wasn't allowed, so I just took out my camera and took it.
tor henrik hodnefjell - 2015-04-09 07:19:54
very good and informative. my family are frome these area (gypsy) , and im planning a trip to lviv in near furture.
tor henrik hodnefjell - 2015-10-07 06:08:42
jeg er uføretygdet og har drømt om å reise til Lviv. deres blogg har en hyggelig innføring.
Add a comment