European Beer Festival '08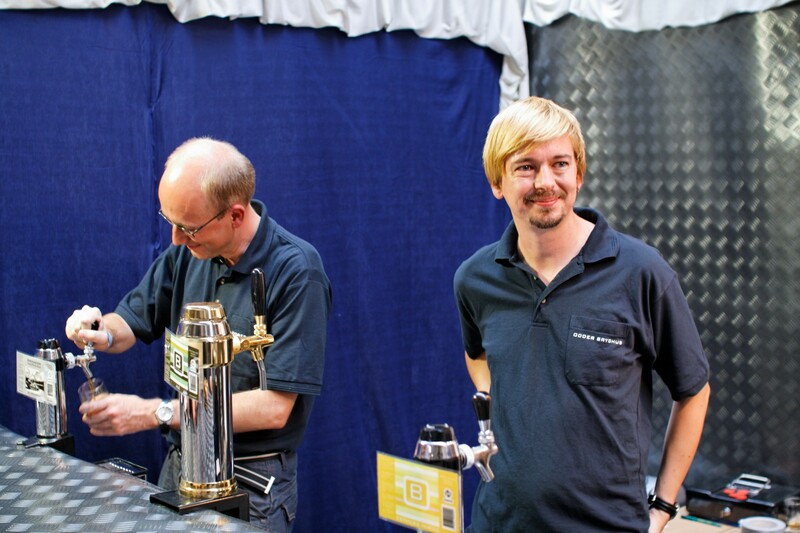 Odder bryghus stand
The Danish Association of Beer Enthusiasts have been arranging beer festivals for several years, but this year was the first time I was able to go. In fact, this was my first ever real beer festival, since the only ones I'd been to before were the Norwegian ones, which don't really count, as they rarely have any new beers, or even that many people. The EBF, on the other hand, was the real thing: roughly 1200 beers on offer from all over the world and more than 21,000 guests.
The festival was held in a big empty storage hall inside the huge Carlsberg brewery facility in western Copenhagen, which was an interesting place to hold it, given that Carlsberg is very much one of the huge bland industrial breweries that many beer enthusiasts love to hate. In Denmark, however, the beer enthusiast association (which arranged the festival) has a good relationship with Carlsberg, and Carlsberg itself has launched several product lines of craft-like beers.
I was very tired when I arrived about 30 minutes after the doors opened on the Friday, and in the beginning was not really sure whether this was something for me. The great hall was so packed with people that it was hard to move and to get a beer, there was nowhere to sit, and, even more challenging, there were hardly any tables. Since it's hard to write in a notebook while holding a beer glass, this was a problem, but somehow I always managed to find something that would support my beer while I wrote. I remember using the stands, a mini Hoegaarden delivery van, fuse boxes, the floor, various tables, and so on. After a few beers I found I was getting along fine.
So, with 1200 beers on offer, how do you choose which one to try? In pubs with this kind of beer selection I often get confused and frustrated, but at the festival I'd been able to prepare in advance, thanks to excellent service from the organizers. In the Danish RateBeer forum the organizers had been publishing early drafts of the festival program as a PDF. Other RateBeer users had then turned this into spreadsheets listing all the new beers. I made my own spreadsheet of the most interesting stands and the beers I wanted to try from there. Bringing a printed version of this greatly simplified decision-making.
Organization at the festival itself was similarly smooth. On arrival you got a copy of the printed festival program, an 0.1l tasting glass, and a few plastic tokens. At each stand you could get one beer sample in exchange for one token, and tokens could be purchased from a special festival stand. Food was provided in a big tent outside the hall where Nørrebro Bryghus (a local brewpub) and a catering company served reasonably priced food of excellent quality.
Festival overview
Another nice feature of the festival was that the beers were served by the brewers themselves (not necessarily the case at other festivals), so you could have a chat with them, tell them what you thought of the beer, ask them questions, and so on. The downside was that in some cases the stands would be so full of chatting people that you could hardly get a beer, especially on Saturday. Somehow it always worked out, though.
But the real highlight of the festival, of course, was the beers themselves. I sampled roughly 100 beers, and was well content with that. This may sound like way too much, but if you do the maths, it works out at roughly 20 pints split over three quite long days. That's about 7 pints each day, which is not so bad. My favourites from those 100 were:
Mikkeller Calvados Barrel Aged X Imperial Stout, from Danish extreme brewers Mikkeller. It's a strong imperial stout (15%) that's been barrel aged in a calvados barrel, and the combination of the chocolate, alcohol, burntness, and apple was extremely unusual, and much nicer than I would have thought from the description.
An imperial stout from a brewpub in Pori, Finland. I'd actually been to the brewpub in 2005, but stupidly without trying their beers. This was an excellent smoked beer, with an intense charcoal aroma and pumpernickel in addition to the usual imperial stout flavours. Highly recommended, and near-impossible to get.
Gourmetbryggeriet Brewers Reserve Single Cask Porter was another barrel-aged beer, this time a porter at a mere 11%. They had just a single bottle, opened at 1900 on the Saturday, and I got the last bit from the bottle. The barrel maturation had really rounded out the flavour, and at the same time given it depth and complexity.
British cask stand
There was a separate stand with British import beers, some served from cask and others from bottle. The most interesting beer on this stand was the barrel-aged Fuller's Reserve, but unfortunately that was taken off before I got the chance to try it. They had lots of other great beers here, however, and I especially enjoyed the Thornbridge Hall St. Petersburg Imperial Stout and Jaipur IPA, Hook Norton Hooky Bitter, and Otley OG. I also liked the new Samuel Smith beer: Yorkshire Stingo, which is a revival of a more-or-less dead traditional beer style.
Not all beers were of such high quality, however. In a couple of cases I approached Danish microbrewers previously unknown to me, and asked them to recommend a beer, only to find that they'd given me an infected beer. I was shocked that brewers could sell (and even recommend!) beer tasting of vinegar at a festival. Apparently, when a huge number of micro brewers open at the same time, the way they have in Denmark, they can't all be top quality. Presumably market forces will take care of this, one way or another.
Another interesting feature of the festival was the specials. Some brewers had brought beers of which they had only a limited amount, and so you had to show up at specific times to get a taste of these. I didn't keep track of all the times, and so missed the Närke Kaggen Stormaktsporter, much to my disappointment, but did manage to sample some of the other specials, including the one from Gourmetbryggeriet above. In most cases there weren't too many people showing up for these, which was a relief.
Overall, I was very pleased with the festival. It was maybe more Danish and less European than one could have wished, but since this was the first year they billed it was the European (and not merely Danish) Beer Festival, that was to be expected. I'm hoping to be back next year.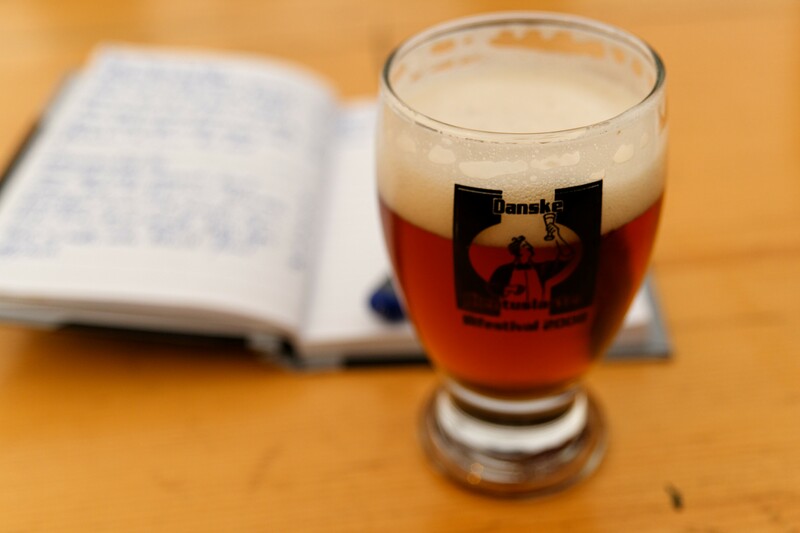 Sampler glass
Similar posts
I wanted to make the 2K series quite long, with various lists of beers selected by different criteria, but I never managed to find any selections that inspired me enough to actually write the pieces, so we'll round off with the obvious one instead
Read | 2008-09-07 14:19
Right up against the French border, in the north-western corner of Belgium lies the little village of Oostvleteren, home to de Struise Brouwers
Read | 2014-05-12 21:33
For years now everyone's been wondering when Ringnes was going to wake up and realize that the old days of selling cheap industrial beers were over
Read | 2012-10-04 20:25
The Beer Nut - 2008-11-13 10:30:06
Lars Marius - 2008-11-13 10:34:24
He said the same thing to me. :-) I didn't listen, though. I'd had the Station Porter before, and there was no way I was going to be drinking that at a festival with 1200 other beers.
Add a comment