Gose
When I went to Leipzig for the TMRA '05 conference I discovered that Leipzig is actually the home town of a rather obscure beer speciality, called Gose. Gose is like a cross between Berliner Weisse and Belgian witbier in that it's a sour wheat beer spiced with salt and coriander. This may sound like a tall tale, but I assure you it is actually true.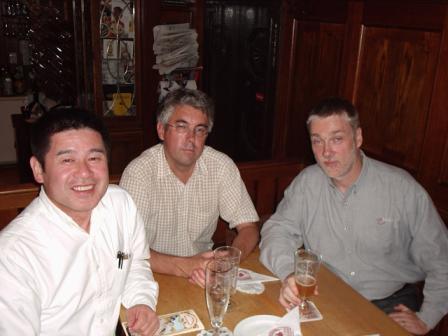 Drinking Gose at Ohne Bedenken
The beer style is so old that nobody is really sure exactly how old it is, but the first known mention of it in a document is from 1470. Most likely it is much older than that. However, in the mid-20th century the style died out for reasons unknown to me. It was revived by a local pub-owner, Lothar Goldhahn, who wanted to reopen the most famous Gose pub in Leipzig, which was called Ohne Bedenken. He wanted to serve Gose in the pub, of course, and managed to track down a copy of an original recipe. This, together with interviews of old Leipzigers, and a test tasting of the brew, enabled them to recreate true Gose.
I was lucky that my hotel (de Saxe) was just a few hundred meters from the Ohne Bedenken, so I actually got to try the beer. What it was like? Certainly a lot more appealing than the description of it makes it sound. It's quite refreshing, and the main difference with witbier is that it's much sourer and also more tangy.
I took a bottle of the Döllnitzer Ritterguts Gose home with me, and did a proper rating of it. You can see the tasting notes and scores in the box on the right. Ratebeer.com has it at 86%, which is very good, but my rating was for once well below the Ratebeer average, which is unusual for me. On my personal list of rated beers (142 at the moment) it winds up just below the 50% mark, which is decent. As a summary I'd say that it's refreshing and drinkable, but not too exciting.
3.3
Aroma
Appearance
Flavour
Palate
Overall
6/10
3/5
7/10
3/5
14/20
Medium creamy white head with some big bubbles, which subsides quickly. Milky orange body. Aroma is sourish with notes of flour and maybe a hint of coriander. Taste is big, with a citrus-like sourness which balances in the mouth. Aftertaste is thin, lingering sourness. A very unusual beer, and a lot more drinkable than the description of the beer type would have you think. I quite like it, without really thinking it the greatest invention of the beer world.
The most interesting thing about it is perhaps that it exists at all. It's a very unusual kind of beer, and there seems to be only three Gose beers in existence today: two from Leipzig and one from a US micro-brewer. It's also in flagrant violation of the Purity Law, given the use of coriander and salt, but apparently the brewers have received an exemption on the grounds that it's a traditional beer style.
Like Berliner Weisse, Gose is not only drunk straight, but also mixed with various kinds of fruit syrups, etc. The Ohne Bedenken offers Gose with mashed banana, strawberry juice, sweet white wine, and so on. I didn't try any of those alternative, but Frederic Andres (in the middle in the photo) did, and thought highly of the banana alternative. Well. Maybe I'll have the courage to do it next year.
If you want to read more about Gose, the best place to go by far is Ron Pattinson's excellent guide to Leipzig pubs.
Similar posts
When I discovered that besides being the birthplace of the beer style Gose Goslar was also a medieval town so well-preserved it's been UNESCO-listed it was clear that our German Interrail holiday would have to include a stop there
Read | 2008-06-03 16:25
As usual, the conference was opened by Lutz, who gave a short introduction based around the conference motto of "Scaling Topic Maps"
Read | 2007-10-11 18:13
Alexander Sigel - 2005-12-12 10:01:21
Bad Ben - 2006-01-10 17:51:23
I homebrew a Gose, about once every two years. I'm still playing with the amount of salt addition.
Add a comment