The beer bars of Vilnius
Lithuania may be a small country today, but once the joint Polish-Lithuanian Commonwealth included much of present-day Poland, Lithuania, Latvia, Estonia, Belorussia, and Ukraine. This is why Vilnius has one of the largest surviving medieval towns in Northern Europe, covering well over three square kilometers. So Vilnius is well worth visiting just for the sights, but it also happens that you can find a very rare beer style here: kaimiškas, or Lithuanian farmhouse ales.
There are also three brewpubs in Vilnius, but compared to the bars serving traditional ale they are of no interest, so I will say no more about them here.
Bambalynė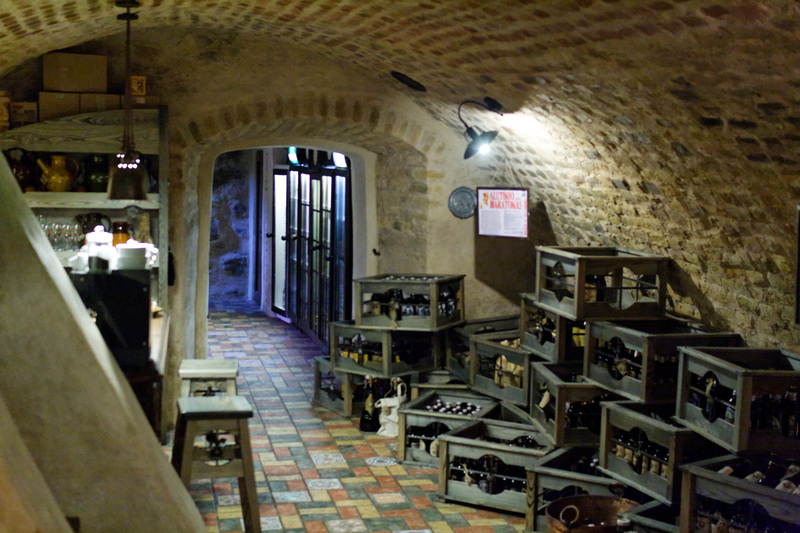 At Bamb Alynė
Before going to Vilnius I did some research and stumbled across a place called Bambalynė, which was supposed to have Lithuanian beers. That was about all I could find out about it, but on arrival in Vilnius I decided to check it out, since it was fairly centrally located in the Old Town.
In a narrow little street I found the sign, which led me through a gate and down a staircase into an old brick cellar. Literally the first thing I saw was a stack of artfully arranged crates of beer. Lithuanian craft beer, to be precise. Most of it was farmhouse ales (kaimiškas). Now I was definitely interested. Next to the crates was a small counter, and in the room beyond a row of refridgerators. A third room held a seating area with elegant old wooden furniture.
A woman working there comes up to me, and turns out to speak passable English. This makes me really happy, because it means I can ask for recommendations and ask questions about the beers and so on. I ask for a recommendation, and she picks a classy-looking bottle labelled Salaus Alus. It turned out to be an outstanding example of Lithuanian farmhouse ales.
At Bambalynė
I was so happy with this I kept coming back most of the days I stayed in Vilnius to try more beers. During the early afternoon it was very quiet, and seemed to function more as a shop than as a pub, but small groups of people would drop by, split a big bottle of farmhouse ale, and move on.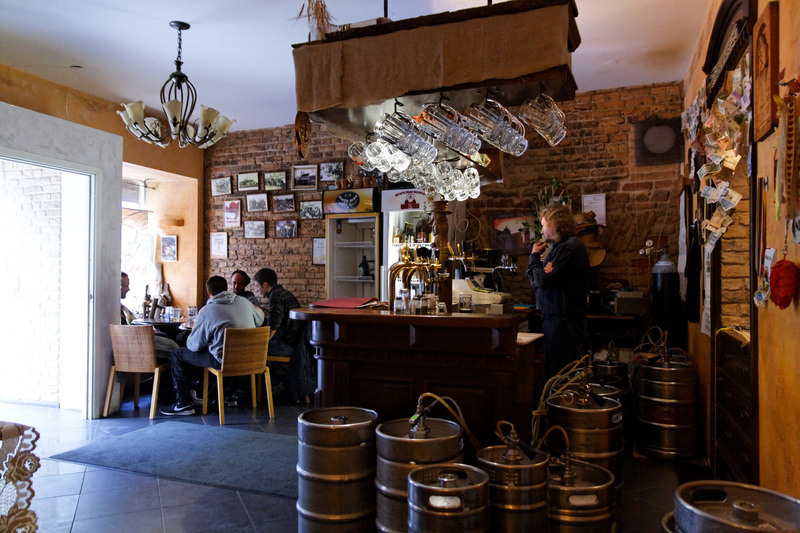 Šnekutis front room
The best-known of the traditional ale bars in Vilnius is Šnekutis, also in the old town. It's impossible to miss, since the facade is plastered with a huge photo of the instantly recognizable owner, with his beard, long hair, and huge mustache. As you can see above, the bar has a decent selection of draft beer, all of it farmhouse ales, and there are a few more in bottles. They also serve quite good traditional Lithuanian cuisine in a straightforward, no-nonsense kind of way.
It's not a fancy place, but feels very welcoming from the moment you walk in, and it seems to be very much a place for locals. People sit around chatting across the tables and with the owner. The owner is always deadpan, but every time he speaks people laugh, so presumably he has a great sense of humour. As he speaks no English there's no way to know for sure.
My visit to Vilnius coincided with a soccer match between Lithuania and Scotland, and apparently the Tartan Army enjoyed Šnekutis as much as I did. It seemed somehow appropriate to have this nice local corner pub full of tartan-wearing soccer fans chatting up the locals and putting away pint after pint of farmhouse ale.
The music fits in with the rather alternative vibe of the place: it was mostly traditional Lithuanian music, although some of it seemed to be parodies of traditional Lithuanian music. But maybe I just didn't get it.
Šnekutis Užupio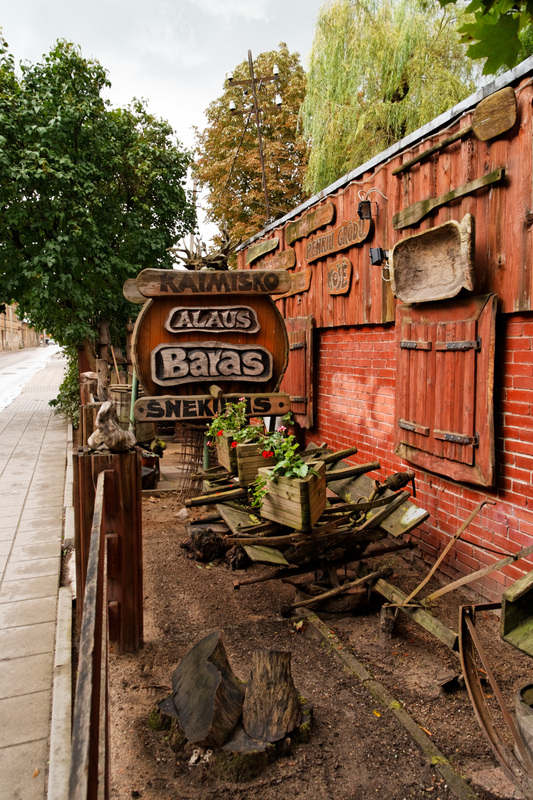 The other Šnekutis
If you thought the original Šnekutis was odd, that's nothing compared to the one located in the part of town called Užupis, which has set itself up as a self-styled "republic". It seems to be a bit like the Freetown Christiania in Copenhagen: a hangout for bohemians, artists, and others who favour a more alternative lifestyle. And as you can see from the photo, the pub is fairly alternative. It looks like a traditional cottage that's been moved into town, and then decorated with every farming implement known to man.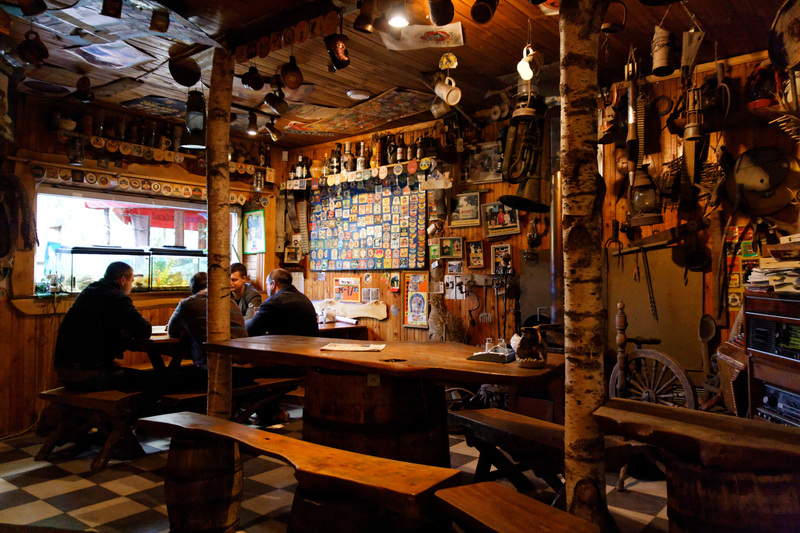 Inside
It looks equally bizarre inside, but is actually really nice once you get used to it. Like the other Šnekutis it seems to mostly be a hangout for the locals, but it has a good (and different) selection of farmhouse ales, and a bigger food menu. Some of the bar staff even speak a little English.
This place is very different from the other three. It's essentially a student bar, and one that gets pretty crowded in the late evening. It's located along a nice stretch of the Vilna river with a lovely view of the business district on the north side, but the pub itself is in a basement in the corner of a fairly nondescript building. Inside it looks like many other student pubs: vaguely institutional, but buzzing with life.
The menu is a mix of (fairly interesting) imported beers, and again farmhouse ales as well as other Lithuanian beers. And, best of all, the menu is in English! With complete beer names, names of breweries, alcohol content, and short descriptions. This made me very happy, because it meant I could be fairly sure what it was I was drinking. At the other places you had to just note what was on tap, or in the refridgerators, and hope that you didn't miss anything or get anything wrong.
Summing up
Overall, I highly recommend a trip to Vilnius. The city itself is well worth seeing, the prices are low, and the beer is not only good, but also of a kind you can't find anywhere else. What more could anyone want, really?
Update: Since I wrote this, two new kaimiskas bars have opened in Vilnius: Alynas and Vilniaus Alus.
Update: If you want more information I've published a guidebook to Lithuanian beer, which goes into a lot more detail.
Similar posts
My guidebook to Lithuanian beer has all the detailed information, but for those who are going to Vilnius and don't want to read 100 pages of detailed text, there isn't anything available now
Read | 2015-03-04 15:26
I was invited to the Žmogšala beer festival in Vilnius to present my book on Lithuanian beer, but the flight times meant I had to spend a long weekend
Read | 2015-04-06 15:10
Ramtyns - 2011-08-31 07:08:51
Of course, there are beers that are only available in the vicinity of the brewery and never in the cities.
Tom - 2012-10-19 11:59:01
I suggest to try another one great beer bar in Vilnius. I've spend there great evening with my friends. Good food and prices.
Lars Marius - 2012-10-22 07:01:52
@Tom: There's nothing wrong with Busi Trecias, but it's just another brewpub of the type you can find anywhere in Europe. I wouldn't travel to Vilnius just to go to Busi Trecias. The other bars, which serve traditional farmhouse ale, a type of beer found nowhere else, are much more interesting.
Wozza - 2012-10-25 14:58:37
Are there any brew pubs that brew and dispense the beer at the pub?
Lars Marius - 2012-11-16 02:28:48
@Wozza: Yes, there are two: Busi Trecias and Prie Katedros. They're perfectly OK, but I wouldn't go there. They brew the same kind of beer you can find anywhere in the world. It would be like going to Japan to eat pizza.
Note that there are two new farmhouse ale pubs since this blog post: Avilys and Vilniaus Alaus. Both very much worth a visit.
Local - 2012-11-23 08:28:01
Be aware of Snekutis. The owner is a rabid nationalist and xenophobe. The violent spectrum of his preferred ideology frequents both his bars extensively. There have been instances of foreigners from western Europe and the US being attacked by skinheads with the obvious approval of the owner: http://balticreports.com/?p=13955
Vidma Alutis - 2012-12-25 12:06:09
only idiot can call Šnekutis a nationalist or xenophobe... some drunk idiots got to the nose from other drunk idiots... usual story in the whole world...
R. - 2013-01-11 20:07:19
Vidma, I was the one attacked and I can say, with all my strenght, that anyone who sees a crime and refuses to help, is complacent with what is happening and agrees with its ideology. Snekutis owner maybe isn't racists himself (otherwise, he would have refused to sell us beer), but as he didn't do anything to help, shutted the door in my friend's face, forcing him to stay in the street and get attacked too, he said "nothing has happened yesterday night" then police came the next day to ask him a few questions. HOW COME HE ISNT XENOPHOBE WHEN HE IS COMPLACENT WITH SKINHEADS BEATING UP HIS COSTUMERS IN FRONT OF HIM? I have tons of lithuanian friends and I still love this country, but this guy IS XENOPHOBE YEAH!
E - 2013-09-10 17:09:24
Hi, glad you liked our local beer. Thanks for your reviews.
Just one small correction, one of the places you mention is actually called Bambalynė, it's a single word. It's only stylized as two words in the logo.
Lars Marius - 2013-09-11 02:25:43
E: I've always been confused about what's the right way to write it. Checking their web site now I see it's as you say: two words in the logo (stylized), and a single word otherwise. Fixed now, and thank you!
Add a comment