Six favourite Lithuanian beers
After the blog posts about my Lithuanian beer tour Bryan D. Roth invited me to do a post for The Six-pack Project. The idea is to get different bloggers to pick six beers from some country to present what that beer culture has to offer. Having written a lot about different Lithuanian breweries and styles in general, but little about the specific beers, I decided this might be a good way to give a more direct idea of what Lithuanian beer is like.
This isn't necessarily the top six in order one to six, since I've let my pick be influenced by factors like importance, availability, and variety. I've also left out all beers that are not in some sense Lithuanian in origin, so while Dundulis Ledzukas is an absolutely stellar Czech-style pilsener, it is not in this list.
Jovaru Alus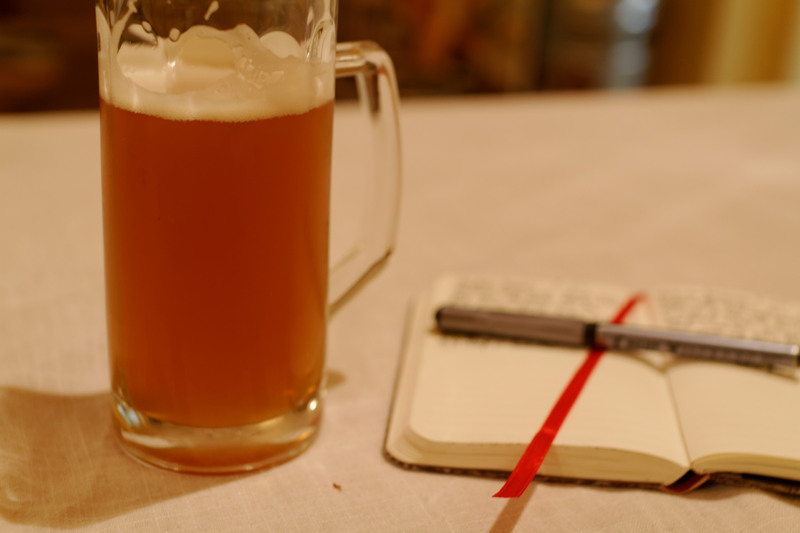 Jovaru Alus
The classic among Lithuanian farmhouse ales, and the house beer at the famous Šnekutis bar in Vilnius. Also the beer that sparked a sensation when the yeast was DNA sequenced, and rightly so, because it really is a unique and very good beer. The best place to taste it is at the brewery, because being unboiled, unpasteurized, and unfiltered, it is not very stable. However, even at Šnekutis it's still very, very good.
The beer is hazy amber, around 6%, with a small white head. The dominant flavour is mealy, herbal walnut oil, with peppery floral notes. It feels sweetish and full-bodied, but analysis shows it has barely any sugar at all, thanks to the yeast. Probably much of the body comes from the wort not being boiled, which will leave much higher levels of protein in the beer than what's usual.
Despite being decidedly odd and very unlike other beers, I've found it harmonic and highly drinkable. Some people find it hard going, however. Should you find yourself among that unfortunate minority, consider Tim Webb's Ratebeer rating: "I have no idea what this but it is to be respected. Take a glass of Orval, oud lambiek and sahti alongside it and you will start to get it."
Piniavos Seklyčios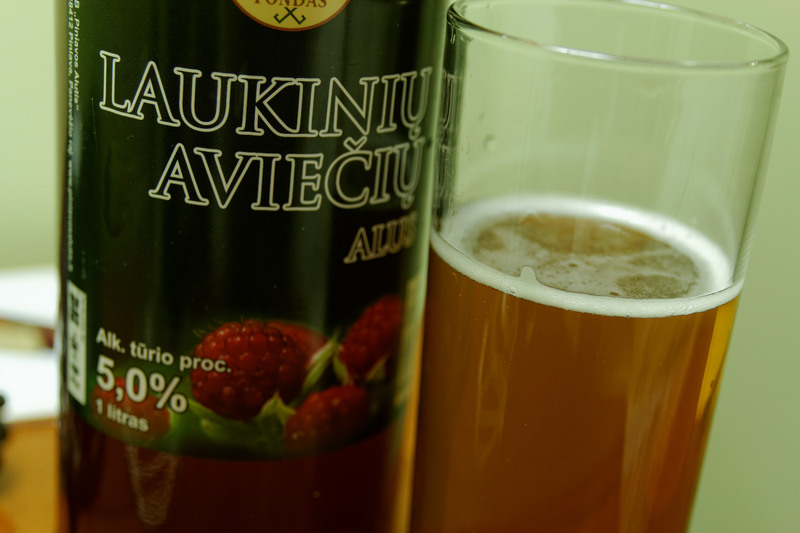 Another Piniavos beer
This beer has been around for many years, but was fairly rare until recently, so not many people have tried it, which is a shame. It's really a textbook example of how elegant and drinkable traditional beers can be, despite their reputation for being rough and edgy.
A clean, fresh, delicious kaimiškas that's relatively clear and deep yellow, at 5.8%. It's kind of subtle, with a musty earth cellar base on top of which sits rich fruit, dusty straw, and hoppy resin in a very harmonic combination. In the mouth it's soft, smooth and just slides down. It's really a thirst-quencher and a beer one could easily drink by the bucket.
Note that the best place to have this beer is Prie Uosio in Panevėžys. It's not likely to be as good in Vilnius, but do not pass over it even so.
Vasaknu Dvaro Tamsus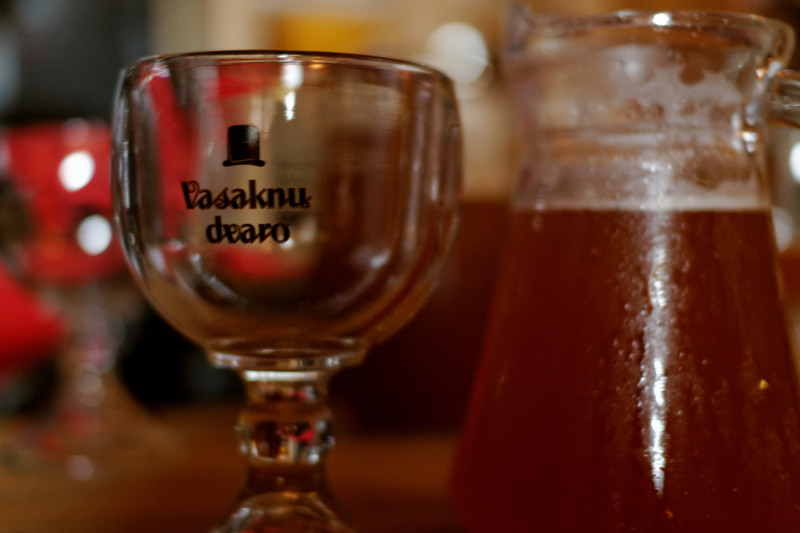 Sorry. Taking a picture of this beer is not easy.
Unlike the previous two beers, this is a beer produced using equipment that looks exactly like that of any modern craft brewery, and with ingredients that do not stand out in any way (except for the Lithuanian malts). But the resulting beer (5.8%) very much stands out, and is recognizably Lithuanian while being at the same time very distinctive.
The beer is a hazy dark reddish brown, with a earthy fruity herbal aroma that has traces of syrup in it. In the mouth it is surprisingly light, almost fluffy, soft and smooth. It slips down so smoothly it's almost too easy to drink. The sweetish herbal licorice and raisins flavour doesn't hurt, either. At the end, caramel and fruit linger in the mouth for a while.
It's a very good beer, but again a caution is in order. I'm told Vasaknu Dvaro recently had a new brewer, and he's changed the recipe into the beer I described here. But the recipe could change again, obviously.
Senojo Vilniaus Tamsusis su Prieskoniais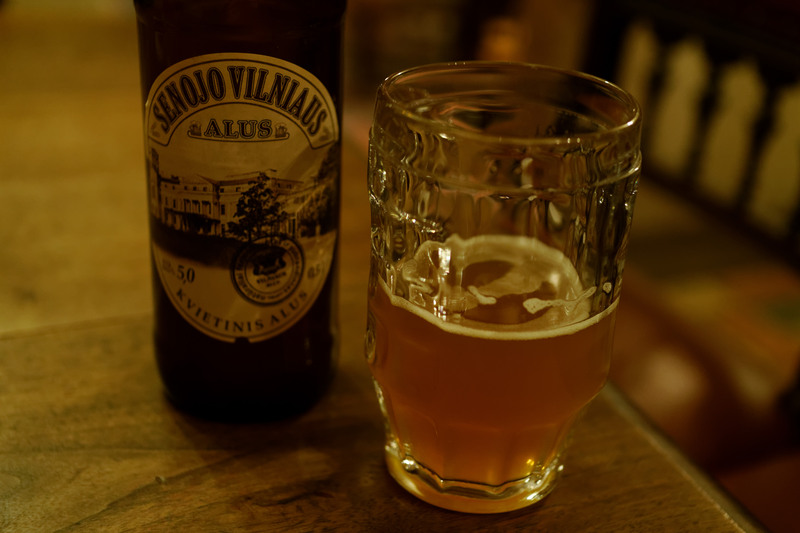 Another beer in the same series
This beer is included precisely because it is not a traditional beer, but rather an unusual and unusually successful modern beer that's different from most of what's made elsewhere in the world. It's part of Vilniaus Alus's Senojo Vilniaus (that is, Old Vilnius) series, and the name means "dark with spices". Note that it's unusually strong, at 8.2%.
And spicy it certainly is. It looks like any filtered tamsusis, but the aroma of ginger, raisins, and cinnamon, with touches of alcohol and honey, makes it clear it's different. The spices combine really well, but don't completely hide the alcohol, which heats up the soft mouthfeel a bit. It's sweet, but also a bit astringent, probably from the spice.
The flavour is an odd combination of cinnamon, lavender, ginger, and cardamom, and what's perhaps most remarkable is how well the combination works. It's rare for powerfully spiced beers to be truly harmonic, but somehow this one is. It seems to really divide drinkers, who either love it or hate it.
Ramūno Čižo Gira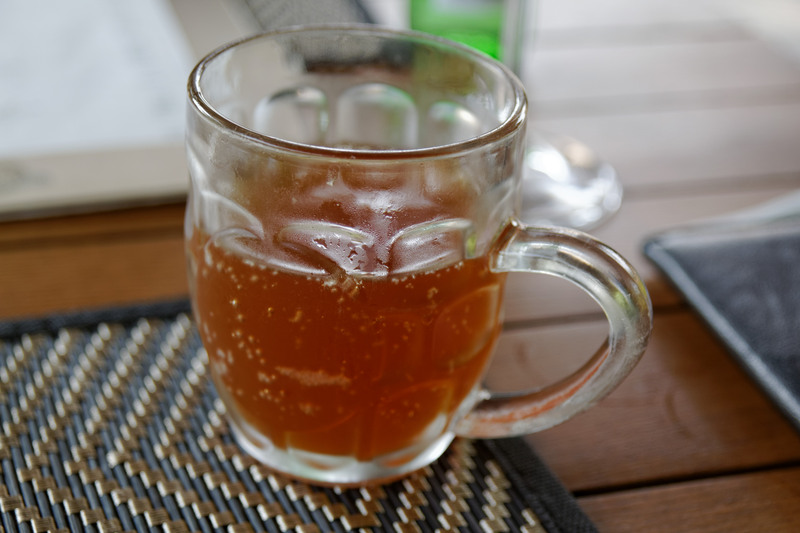 A different kvass
In some ways Ramūno Čižo Keptinis should really be one of the stars on this list, but I've written so much about it already that I decided to pass over it in favour of his other beer. Note, however, that leaving Lithuania without tasting the keptinis is a very, very bad idea. Whether you'll be able to taste this kvass is not certain, but it's been included anyway, to show you what kvass can be.
It's hazy brown without any head, like most kvass. Surprisingly, it smells almost exactly like home-made bread dough. It's made with bread yeast, which may have contributed to that. The taste is light, fresh sweet bread and yeast, with traces of rye and raisins. It's very, very drinkable, which for once is no problem, as kvass has very little alcohol. That something so lovely could be produced simply with bread and yeast is a bit of a surprise.
Kvass is a beer style that's received very little attention, despite being drunk by hundreds of millions of people over half of Europe. If you get the chance, make sure to try some, and this one is the best (at least of the ones I've tried).
Kupiškio Salaus Alus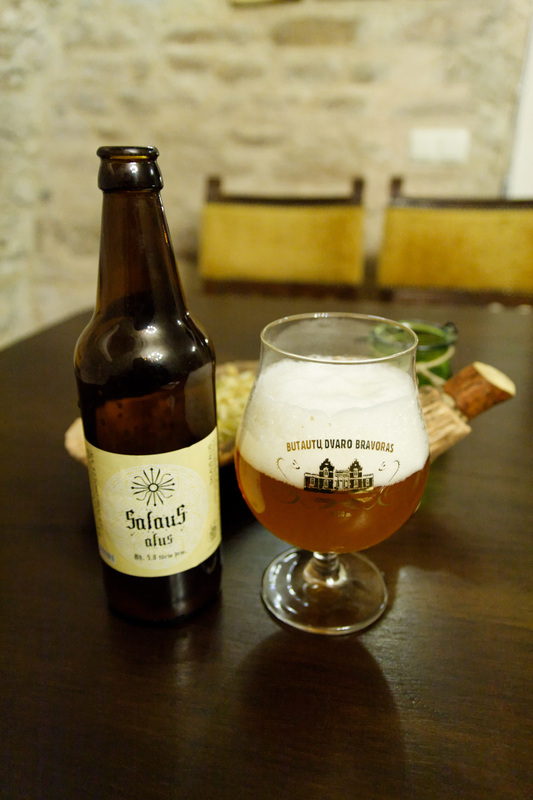 Salaus alus
This pale, unfiltered beer at 5% was my first real Lithuanian beer, and even though it was now three years ago I can still remember that first sip. I'd flown into Vilnius knowing little more than that traditional homebrew existed in Lithuania, and could be bought in specialist bars in Vilnius. I went into Bambalynė and asked the friendly waitress for a recommendation, and she picked this beer.
The label was kind of classy, and in the glass it was pale and hazy with a normal white head. But the aroma! It was as if someone had left a big bale of hay to bake in the sun all day, then dropped me from a crane face-first into the hay. The intense, dusty, dry strawy flavour was followed by peppery oily fruit notes. I knew at once that I was onto something big.
By coincidence, another blogger independently found it in Poland at the same time, and was deeply impressed. The blog post is now gone, but his Ratebeer rating says things like "What citrus rind, what craziness! Wow. The flavor is just a joyride of the senses! Intense waves of bitterness, with HUGE giant straw/grassiness, effervescent peach skin/white grape skin is clear. So astringent and so good."
On subsequent visits to Lithuania I've made a point of each time buying a bottle again, hoping to be able to share it with friends in Norway, but it has always been sour and infected. I even tried it draft in Panevėžys, but found it out of sorts there, too, although not sour.
I included it in this section even so to make a point: these beers are inconsistent and unstable. Martin Thibault called them "changelings", to describe how they seem never to appear the same to any two people, or even to the same person twice. So beware!
Similar posts
I've written before about how Lithuania has a beer tradition of its own, different from any other country on earth, but back then I didn't really know very much about it
Read | 2012-11-18 20:36
A flood of industrial lager has swept away the native beer traditions of just about every country in Europe except, famously, for the Czech Republic, Germany, Belgium, and the UK
Read | 2010-09-18 21:09
Until recently, the city of Kaunas in Lithuania was home to three breweries all named Apynys
Read | 2016-05-01 18:11
Bryan Roth - 2013-09-28 08:15:23
What an incredibly interesting list, particularly since I know nothing about Lithuanian beers to begin with. Thanks so much for the crash course!
Add a comment