Impressions of the Riga beer scene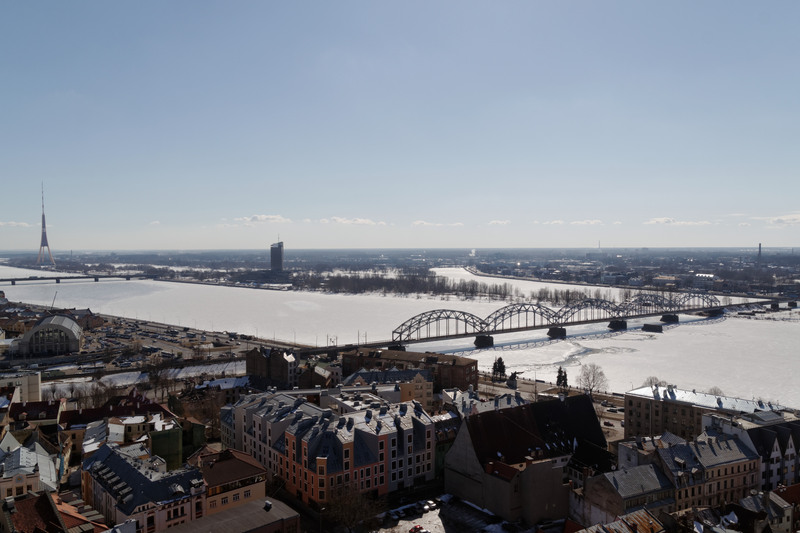 Overlooking the Daugava river from St. Peter's
When I landed in Riga, I have to admit I was more curious about the state of Latvian beer than about the city itself. Specfically, I wanted to know whether there were beers of the Lithuanian farmhouse ale type being brewed in Latvia. My sources were telling me no, but I figured there's always a chance. If nothing else, it should be fun to search.
The city itself is also well worth a visit. It is easily the largest of the three Baltic capitals, and has been a center of trade and culture since the city's founding in 1201. That founding, by the way, is interesting, because it was actually founded by German crusaders, aiming to Christianize the then heathen area.
The crusaders did more than merely convert the heathen by fire and sword, however, because the Baltic Germans remained a significant part of the population for the next seven centuries. In fact, they became the city's elite, and managed to maintain their position as the city repeatedly changed hands over the centuries. As late as the 1850s, Baltic Germans made up well over 40% of Riga's population, and they left their marks in architecture, language, and elsewhere. (For more on this, see a previous blog post.)
Riga has been a major city for many centuries. When the Swedes took it over in 1621, Riga became the biggest city in Sweden, and remained so until they lost it again in 1710. Despite this illustrious past, however, I found the Old Town largely disappointing. It was rather touristy and lifeless, and apart from the cathedrals there wasn't really that much to see.
On the beer side, the Old Town has a few attractions. One was S. Brevinga, a bar very much aimed at tourists, but which had a number of Latvian microbrews on draft. When I was there it was mostly empty, except for some listless tourists taking pictures of their coffees. The staff couldn't answer any questions, and one of the two even had difficulties getting me the beers I ordered. Then one of the three beers I tried turned out to be infected. Overall, perhaps not what I was looking for.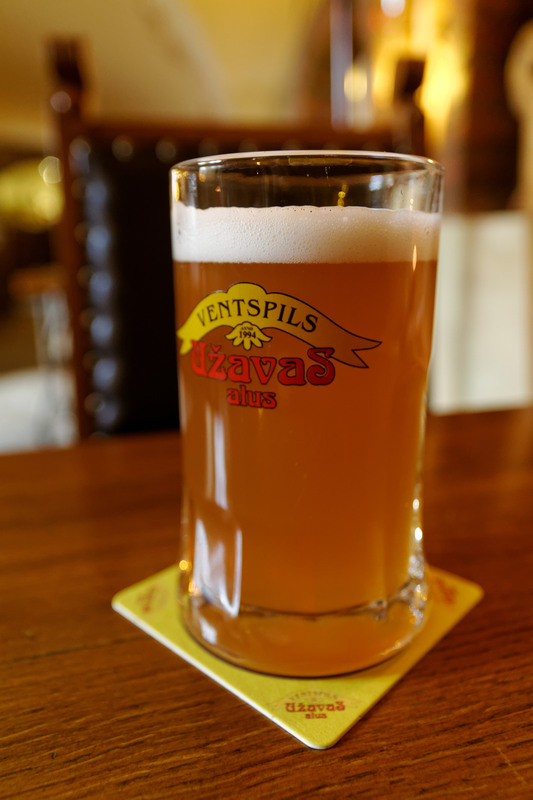 Užavas alus
Much better, surprisingly, was Red Fred. It's a modern bar, probably meant to be a kind of hipster place, but the fire department theme of the bar puts major difficulties in the way of that ambition. As I approached the bar late Sunday night, two locals were noisily making out just by the door. They were so close to the door, in fact, I almost had to shove them aside to get in. Later they came back in, to sit unsteadily on the high bar stools, talking to a third friend.
Anyway, once inside I ordered a Valmiermuižas Gaišais Filtrets (gaišais = pale, filtrets = filtered), not quite sure what to expect. Valmiermuižas opened in 2008, as a high-end lager brewery, a bit more expensive than other Latvian brewers, something that's reflected in their graphic design. They have a German brewer, and use only German malts.
The beer turned out to be a pale lager, but an unusual one, with a very distinctive flavour of spicy straw and grain, with fruity earthy undertones. The end was fairly bitter for a pale lager, and the spicy taste lingered for a long time. It was a really outstanding pale lager, and I found myself remembering it with longing several times in the days to follow, which really says something. I see now that the Latvian Beer Guide also lists it as one of the five Latvian beers you really should try. I very much agree, even if Ratebeer does not.
Alus Arsenals is located in the old arsenal buildings, right next to what remains of the old Riga castle. It's down in a cellar, a big cavernous place under concrete arches painted pale yellow. A couple of locals hang in the bar, talking to the waiters, but the place is otherwise empty. And cold. I mean that literally. Even with a jacket and a woolen sweater I was shivering when I left. It was also cold in a figurative sense; I very much got the impression that this was a place for tourists. The beers, specially brewed for them by Bruveris, where nothing special, either.
Much more interesting was Folkklubs ala Pagrabs (which I think means Folk club a la Cellar). It's mostly filled with young Latvians, as well as the odd tourist, plays local folk music, sometimes live, and serves local beer. According to the Latvian beer guide, local home brewers hold their gatherings here. I enjoyed both the vibe, and the beers.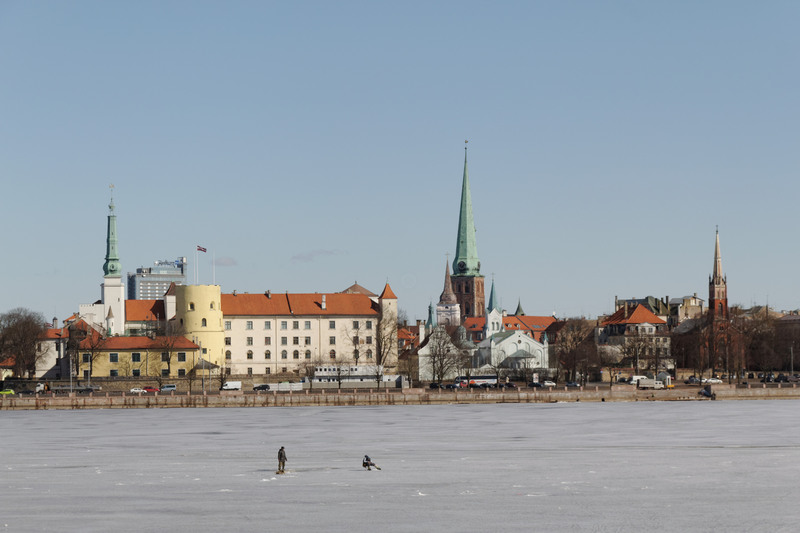 Ice fishing on the Daugava
I ordered a Madonas Bodnieku, from Madonas Alus, a very small country brewery that started in 2009. It's a hazy dark amber beer, with a flavour of rye crisp bread, honey and dusty roasty straw. The flavours are earthy and slightly funky, like a farmhouse ale, but it's still a highly drinkable beer, and I liked it a lot.
To me it also tasted very like kaimiškas. The Latvian beer guide classifies it as a pale lager, which is odd, since the beer is manifestly not pale, but more the colour of a German dunkel. The guide summarizes the beer as a "rather simple, not well balanced pure country style lager," and the use of the word "country" there interests me rather a lot. Sounds like homebrew or farmhouse ale, rather than lager, but the guy who writes the guide is well aware of the difference, so I'm not sure what to make of it. I've tried contacting the brewery, but met with no luck.
So what kind of beer is it? I don't know for certain. I'm not even sure how to find out, sadly.
However, the beery delights of Riga were not limited to the Old Town, so I ventured further, into the city centre. Prie Kristapa was an interesting place, a kind of medieval theme restaurant. Citi Laiki was an empty, rather bare pub, with wooden chairs and floors, but the only people there were me and three waitresses, so I didn't stay long. Nearby was Bralis Krogs, a rather drab local bar that has three beers brewed for them by Alus Nams. Three local craftsmen were sitting at the bar, discussing something on a laptop with the barman. Others were chatting away over beers, and in the corner sat the two most criminal-looking people I've ever seen. At first I thought they must be fairly fed up with being arrested every time the local police laid eyes on them, but then one of them met my eye rather sharply, and I decided the police wouldn't dare.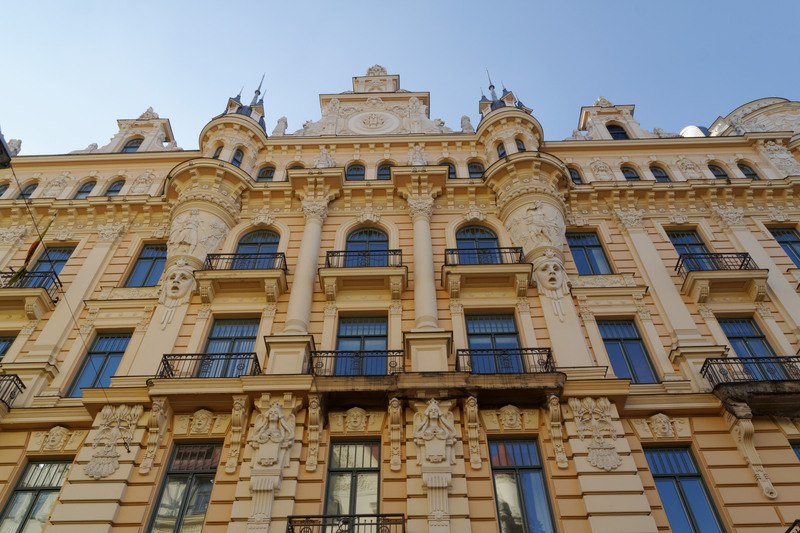 Art Nouveau house
Besides the Old Town, Riga is also famous for its Art Nouveau district, which turned out to be very well deserved indeed. These buildings are dotted all over the city, but there is a small area near the Old Town that's especially famous. Much of Riga is fairly run down, but these buildings were in top shape. They were quite varied; some looked to me exactly like German gründerzeit buildings, whereas others were fairly far out, with lots of statues and layers upon layers of stucco, like a mix between a castle and a wedding cake.
Reading up before I left I'd found a place a kilometer or two from the Old Town, called Valmiermuiža Alus Tirgotava. It was supposed to be a bar run by the Valmiermuižas brewery, and took a bit of hunting down. I found what had to be the right street address, but there didn't seem to be anything there. In fact, the whole neighbourhood seemed deserted. Poking into a parking lot, I found a whole complex of modern shops and bars, with the beer bar among them.
It was perhaps the most upscale beer place I've seen in the Baltics, and wouldn't have looked out of place in Oslo or Copenhagen. The emphasis was mostly on the shop, but there was a quiet room at the back, with some comfortable chairs and tables. I spent a happy couple of hours there, tasting the rest of the Valmiermuižas range, but forgot to try the cookies they make from used malts. It's a nice place, but perhaps a bit too quiet and shop-like to really be considered a major beer destination. The beer is good, although none of them lived up to that first pale filtered lager.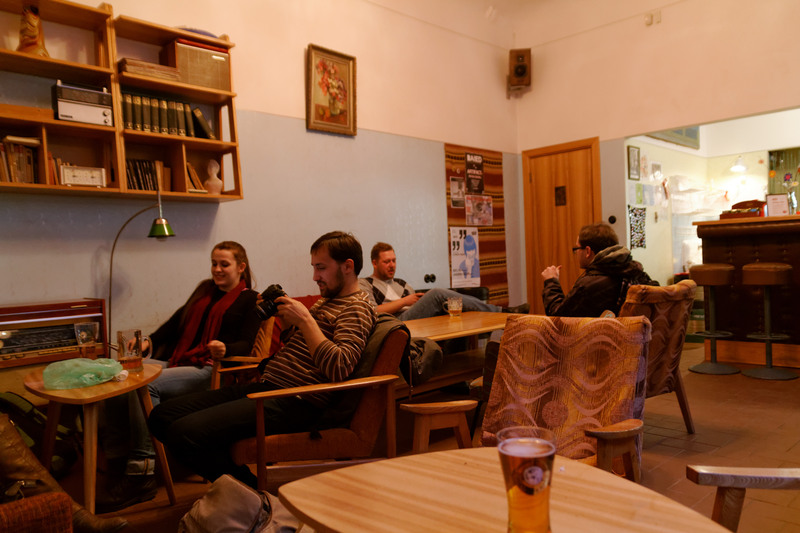 Gauja
I decided I needed a beer on the long trek back to the Old Town, and stopped by Gauja, a tiny bar decorated like a 1970s Latvian flat. Modern, Latvian pop music was playing, and the people in the bar looked like hip youngster from some Copenhagen bar. The vibe was cool, but very relaxed. They served two beers from Abula, which apparently were meant to taste like Soviet-era Latvian beer, according to an English-speaking guy at the bar.
Having finally found someone who both spoke English and seemed to know something about beer, I tried extracting more information. Like everyone else I tried this with, my informer responded to questions about Lithuanian farmhouse ales by pretending not to have heard. He didn't know what yeast home brewers used, but had a friend who was a home brewer. He obligingly called him up on his cell phone, and spoke Latvian for a few minutes. His friend bought his yeast commercially, and there was nothing special about it. He couldn't really say what people might or might not do in the countryside. That was as close as I ever got to having my questions answered.
I retired to my table with the Abula Gaišais, which proved to be an interesting acquaintance. It had a fairly sweet earthy herbal dusty strawy base, with spicy resiny notes on top. Toward the fairly bitter end it turned oily and grassy with touches of mint. What really endeared it to me was the vividness of the flavours, and the drinkability. It really was a very good beer. I had it one more time, and was not as happy with it then.
And in fact it turns out that this beer (also known as Brenguļu), is a favourite among Latvian beer enthusiasts. The brewery was started in Soviet times by a local collective farm, and uses Lithuanian malts (which could be the source of the straw flavour). It's a small, independent brewery that's been growing the last few years, located by the Abula river, hence the name of the beer. Curiously, the Abula river flows into the Gauja river, so it was an appropriate choice of beer for the bar.
Anyway, my conclusion is that Latvia does have some interesting beers. Valmiermuižas makes quality beers in the German tradition, and there are some faint, muted echoes of the Latvian beer tradition, which you can detect if you are very careful. These seem to be related to the nearby Lithuanian tradition. And out in the countryside, the traditional brewers still make traditional beer, at least to some degree. How true to tradition they are remains unknown.
In closing I need to say that if you have the slightest interest in Latvian beer you have to go buy the guide to Latvian beer. It will set you back 2 Euros, or roughly the price of one beer.
Similar posts
I can remember when and where I became seriously interested in beer
Read | 2014-11-25 18:11
The small town of Aizpute, in western Latvia, is home to SERDE, which calls itself an "interdisciplinary art group." Their focus seems to be mostly art, but they also study traditional culture, including traditional brewing
Read | 2016-03-13 12:03
Funeralium - 2018-12-29 12:43:53
Add a comment