Beer cafes of Leuven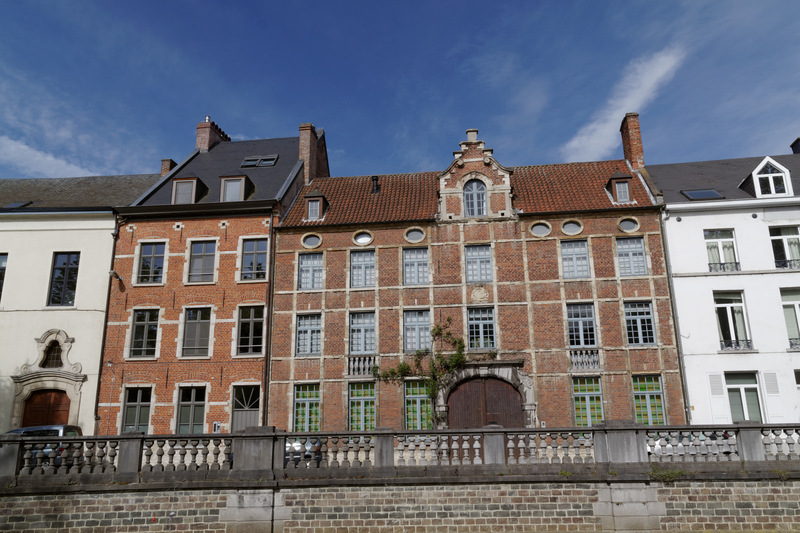 The old town
The final item on the programme was a visit to the Zythos Beer Festival in Leuven, one of the world's biggest beer festivals. The others were all enthusiastic and raring to go, but personally I really don't like beer festivals. Too many people, too much hassle, and not really the kind of setting I enjoy drinking beer in. To me, a beer cafe crawl of Leuven on a quiet Sunday afternoon seemed like the perfect alternative. (This is part 8 of the Scandinavian beer bloggers' tour.)
De Fiere Margriet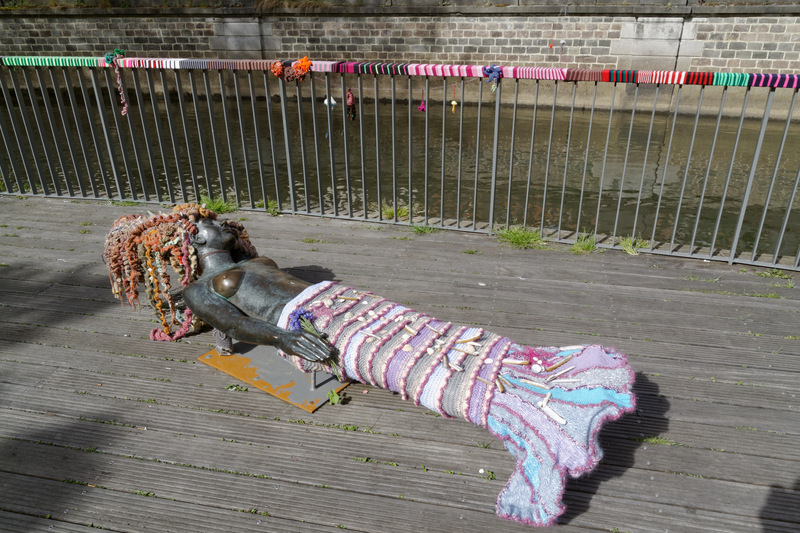 Statue of Margriet
I started out in this small student bar, consisting of a single room downstairs, and a restroom upstairs. On the Saturday night it had been packed with people, so Knut Albert and I skipped it then. Now, on a sunny Sunday afternoon it was quiet and peaceful. A shy, pretty, blonde waitress finds the beer menu for me, and it's thick as a phone directory, because each page is in a plastic folder.
On the wall is a painting of the Margriet the bar has its name from, a local saint who was venerated in Leuven for centuries. She was raped and killed outside the city wall by bandits, then floated back into the city, carried by fishes and surrounded by an eerie light. Hence her nickname: "proud" or "untouchable" Margriet.
A couple on the next table start up a conversation. They turn out to be from somewhere just outside Bruges. "It's a beautiful city," I offer. The man shrugs, "we think it's normal." Eventually, they leave, and I can concentrate on my beer, a Ter Dolen Blond. It has some fruity herbal flavours, plus a taste of boiled water, and is overall rather flat and uninspired.
I wouldn't mind having another beer here, but to get through all the cafes before my plane leaves I have to move on.
The Capital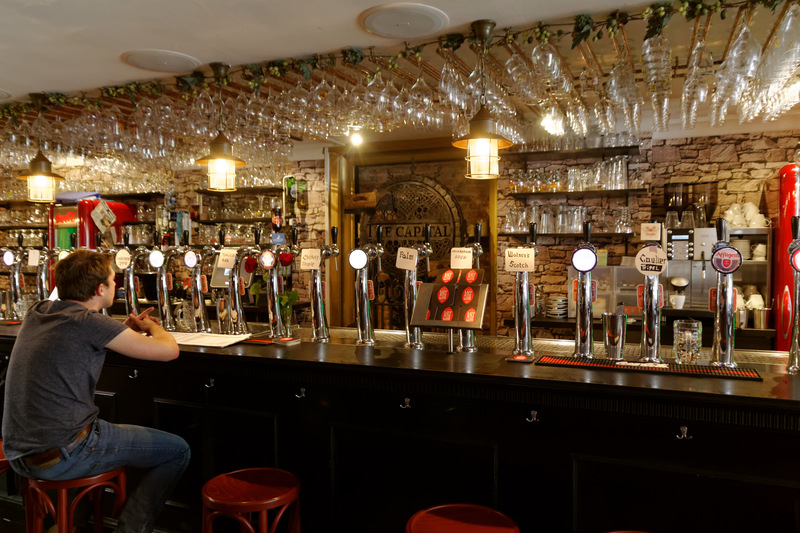 Inside the Capital
This is a modern, rather touristy bar, on the main square, all mirrors and glass. One back wall has what looks like bookcases, but when you get closer you see it's wallpaper with photos of bookcases. It's not shy about its main attraction, which is an enormous beer selection. At the next table a young Russian woman is wearing too many pearls and laughing too much. She's with two Belgian men, and her mom, which is a bit odd, given that one of the men is obviously hitting on her.
The beer menu is huge, and the beers are sorted alphabetically, and described only by colour and alcohol strength. Which, quite frankly, might be the optimal system for sorting beer in Belgium, where the styles are a very imperfect guide to what's going on anyway. The only real downside is that the sour beers get mixed in with everything else, with no warning for the unsuspecting tourist that these might not taste quite the same as their neighbours in the list.
Anyway, a beer list this size is kind of wasted on me in Belgium, since I've had so few Belgian beers. Pretty much at random I pick a beer from de Kale Ridders: Tumulus Aura, a 5.5% blond on draft. It's fresh and highly drinkable, with a subtle character of dusty strawy honey. I really liked it.
Still, even though the beer was good I was happy to move on to my next stop.
De Wiering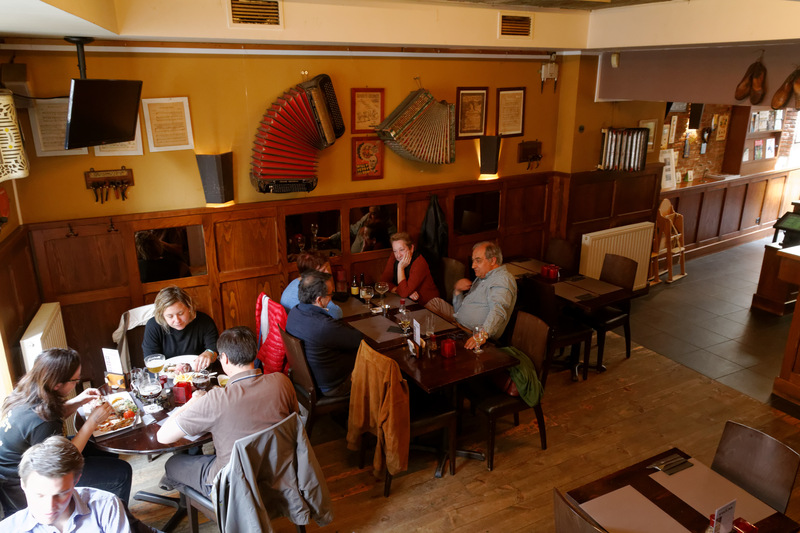 Main ground floor room
Just 100 meters away, next to a bridge across the Dijle is de Wiering, a restaurant on several floors, decorated in dark, scuffed wood. It's very quiet and peaceful on this Sunday afternoon with a view of the river, and some locals enjoying late lunches. The decor is perhaps more like a brown cafe or a student pub than a good restaurant, but the food does look excellent.
The waitress is friendly, but in no hurry, without actually being too slow. I settle into a table in a corner, making use of the free wifi to connect with the outside world for a while. People chat quietly while 80s pop plays in the background, the pain of it reduced to tolerable levels by the low sound.
The beer menu is quite big, with about 100 bottled beers, so I go for a Troubadour Blond (6.5%). It's very drinkable and harmonic, but still has character. The peppery soft metal and dried fruit flavour is somewhat reminiscent of a scaled-down trippel, but the tropical fruit background suggests more is going on. Very nice, like all the other Troubadour beers I've tried.
I really settle into my chair at de Wiering and have to tear myself away to move on.
De Metafoor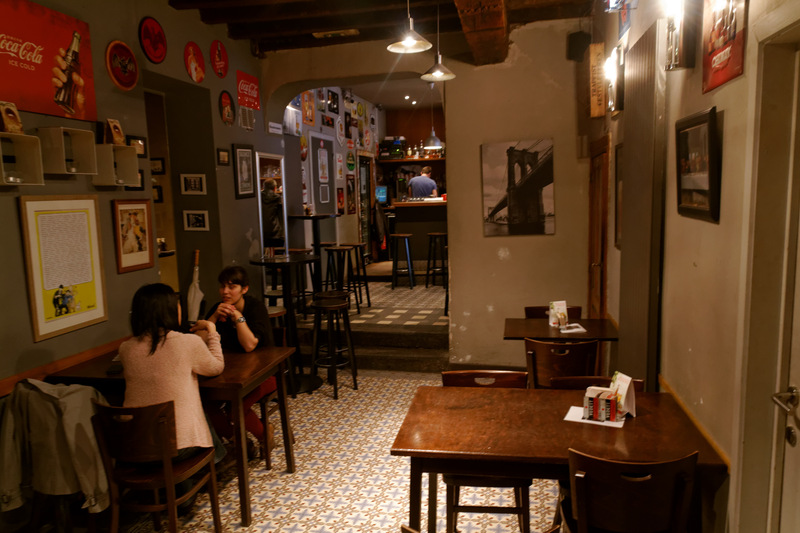 Note the floor
Another 200 meters, another beer cafe. This time, de Metafoor, which is just off the Oude Markt. The facade is wooden art nouveau, but the inside is rather bare and studenty in drab gray, apart from the lovely tiled floors. It's decorated with black and white photos of New York City, and an old school map of Belgium. It's very quiet inside, with a couple of students chatting, one working on her laptop, and some tourists in the chairs on the pavement outside.
The beer menu is not that big, but helpfully has a separate section for local beers, of which they have about 10, all of them new to me. I go for Alpaide Cuvee van de Generaal, an 8.5% blond, which is both rich and delicate, dominated by dusty straw and spicy fruit flavours, which leave a long, lingering dry herbal finish. I really liked it. In fact, it was the beer of the day for me.
I quickly feel at home at de Metafoor, well helped by the excellent blues and funk music they played, and the pleasant quiet inside. Of the cafes I visited in Leuven this was probably my favourite, and had it been up to me I would have spent the rest of the afternoon here.
M Cafe
In the museum
The route to the next stop took me past de Blauwe Kater, one of the best-known beer cafes in Leuven, but closed on Sundays. It's a real brown cafe with an excellent beer menu and good blues music, sometimes live. Anyway, another two hundred meters is enough to take me to M Cafe, another beer cafe on the list.
M Cafe is really the museum cafe of the local modern art museum, so in a sense it's kind of unfair to include them in a list of beer cafes. It's very modern and vaguely institutional, but it still seems that locals come here to eat and drink. And the beer menu really is pretty good, and the Croque M they served me was excellent. The staff, while very busy, were efficient, friendly and helpful.
To drink I picked the Broeder Jacob Bruin (7.5%), which was nice, drinkable, but not that special. On the dry side for a Belgian brune, with a nice herbal licorice flavour as the main standout.
The end
And with that it was over. I headed to the train station to meet those taking flights at about the same time as me, bought some cheese in a local supermarket, and headed for the airport. Four intense days were at an end, and I must admit I feel I haven't really done them justice in these eight blog posts. Anyway, I was very glad to get another chance to visit Belgium, and I really hope to be able to come back soon with the family and spend a few weeks here.
Similar posts
Our final stop on the trip was Leuven
Read | 2014-06-10 21:30
Arriving at the de Kroon Brewery we're met by a smiling, kindly man in his forties
Read | 2014-05-19 21:08
Dave P - 2014-06-13 03:12:27
Lars Marius - 2014-06-13 03:16:24
@Dave: Thank you! You taught me something there. :) Yes, I really liked Leuven.
Visit Leuven - 2014-06-26 09:47:24
Thanks for the article! A list with al the beer bars: www.leuven.be/en/beercapital/cafe/
Roel Kerkhofs - 2015-04-17 10:38:54
Hi,
I just google some pictures of The capital, seems i found myself on one of your photo's.
Gr,
Roel
Add a comment