Norwegian Ethnological Research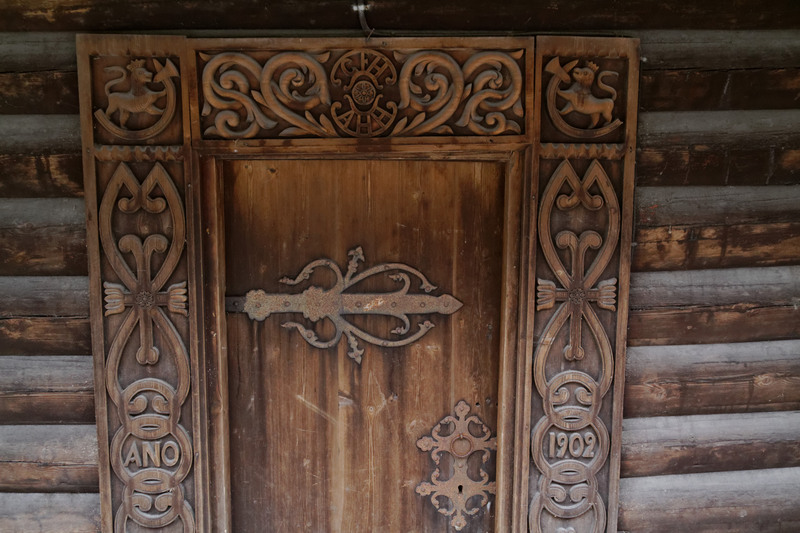 Carved doorway, Kaupanger
The definitive book on Norwegian farmhouse ale is Odd Nordland's "Brewing and beer traditions in Norway," published in 1969. That book is now sadly totally unavailable, except from libraries. In the foreword Nordland writes that the book is based on a questionnaire issued by Norwegian Ethnological Research in 1952 and 1957. After digging a little I discovered that this material is actually still available at the institute. The questionnaire is number 35, running to 103 questions.
Because the questionnaire responses in general often contain descriptions of quite personal matters, access to the answers is restricted. However, by paying a quite stiff fee, describing the research I wanted to use the material for, and signing a legal agreement, I was sent a CD with all the answers to questionnaire 35. The contents are quite daunting: 1264 numbered JPEG files, with no metadata of any kind. The files are scans of individual pages of responses, plus one cover page for each Norwegian province. Most of the responses are handwritten, and legibility varies dramatically. Some, happily, are typewritten.
Inside the JPEG files the replies have some rudimentary metadata, such as who sent it in, from what farm, county, and province, and whether they are describing their own experience or someone else's. The replies have a unique sequence number stamped on them in more or less chronological order. These numbers are used for citations, so when I cite, say, NEG 1234, that means questionnaire response number 1234. (The numbers run across the various questionnaires.) There are, amazingly, no dates, unless the respondents decided to add those on their own initiative. A few did, which establishes a useful timeline.
The replies themselves vary wildly. Most people have stuck to the question list and answer the questions in sequence. Others just describe what they know of the processes used to malt and brew. Some just attach relevant material from other sources. One response consists simply of two photos of brewing equipment, with not a single word of text. Quite a few people clearly don't know the processes that well, since they skip a number of questions. This is not so strange, given that in many cases the respondent is writing in the 1950s about a tradition that may have died out six or seven decades before. It's actually more surprising that they can describe it as well as they do.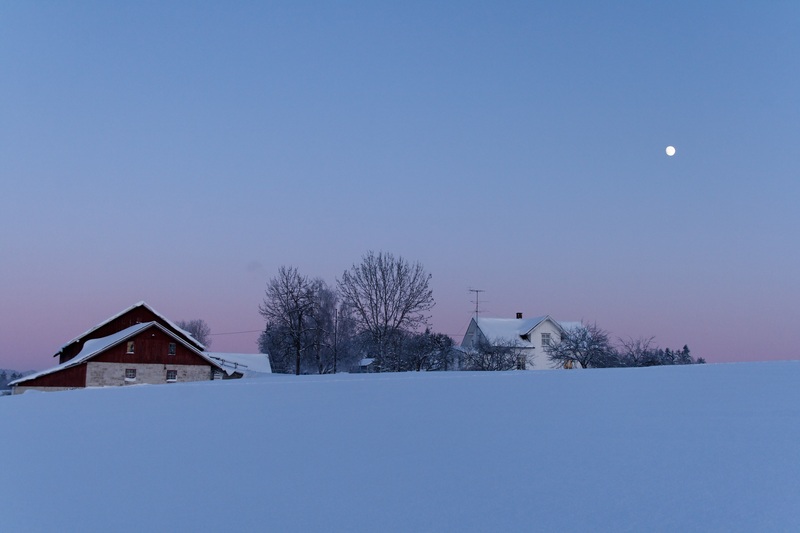 Farm, Tomter, Østfold
Overall, I'm impressed by the labour the respondents have been willing to put into their answers. Some of the responses run to 10-20 pages of painfully handwritten text, carefully describing malting and brewing practices in detail. One respondent is 94 years old and he's ashamed that his response isn't better. His excuse is old age, and that his eyesight is failing. He's working with glasses and a magnifying glass, to describe memories of seeing the old women brew when he was a child, nearly a century earlier. Still his response runs to 7 pages of scrawling close-written text.
I am still working my way through the material, but a number of observations and conclusions have already presented themselves. Nordland's book summarizes and analyzes the material very well, but there are a some important issues he was not interested in, and therefore did not cover at all. There's also something about seeing the material for yourself that gives insights not available any other way.
One question, for example, is what to call the farmhouse ales. In many places it's called maltøl, which means literally "malt beer". In Sunnmøre it's called konnjøl instead, meaning "grain beer." As Martin noted, this is weirdly redundant. After all, that it's made from grain or malt is the definition of beer, so why would anyone call their beer "malt beer"? It's like "flour bread" or "meat steak".
The replies to the questionnaire solve the riddle. The respondents describe home-made alternatives to "malt beer", such as juniper beer, syrup beer, birch sap beer, and so on. None of these other "beers" have any malt in them, and so obviously the term "malt beer" arose as a way to distinguish the malt-based beer from these other "beers". The questionnaire itself refers to the farmhouse ale as "maltøl", and the respondents all seem to understand this term and use it the same way themselves. It follows that the style name for Norwegian farmhouse ale in general should be maltøl.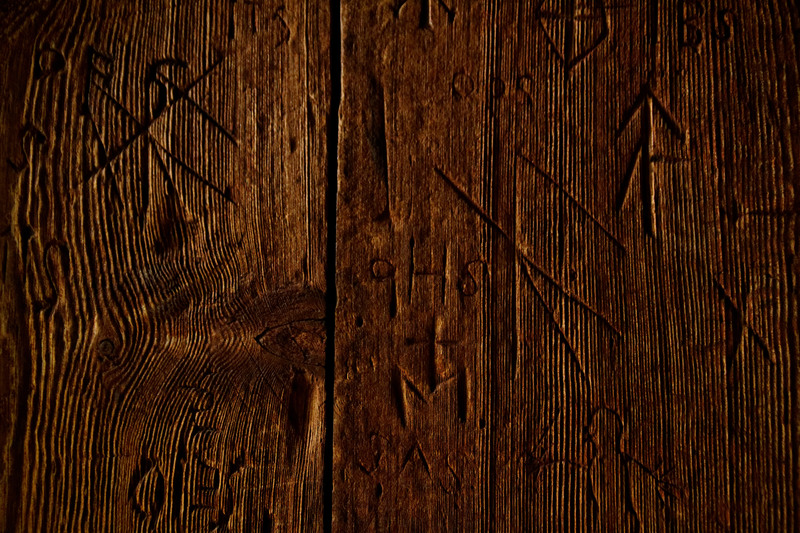 Carvings from the door of Borgund stave church
An interesting tidbit that pops up is that in the northernmost province of Finnmark there was a tradition for brewing kvass. Kvass is a style of beer brewed from rye bread that is generally associated with Russia. I assume people in this region imported the practice of brewing it from Russia, which is just across the border from Finnmark. The respondent (NEG 18905) says it was brewed by a few people up to World War II, from water, rye flour, syrup, and yeast. The fermentation took place in a bottle or jar.
Perhaps most interesting of all is the light the survey sheds on how widespread the tradition was, and how long it lasted. The first two questions are about whether people still brew, and if not, when they stopped. I've collected and geotagged the answers (at county level, to avoid identifying individual farms), and produced the map below. Note that the year I use is either that given by the respondent, or where I can work out when the tradition was definitely dead and nobody was brewing any more. In some cases arriving at a number has required some interpretation, when respondent writes something like "during World War I" or "at the end of the previous century".
The gray circles mean either that there was no brewing tradition, or that the respondent does not know when it ended. Green circles are for places where the tradition still lived at the time the response was written (some time 1952-58 for the most part). The black circles are for places where the tradition was dead in the year shown in the text box below the map (1960 to begin with). You can click the arrows to move backwards in time and watch the tradition come alive again. (Would that we could.)
Surprisingly, the places most famous for farmhouse ale only 3-4 decades later, Voss and Stjørdal, are almost totally absent in the material. They have no special prominence at all, simply because not very long ago the tradition lived almost everywhere south of the Arctic Circle and outside the big cities. You can also see very clearly that farmhouse brewing took place mainly in geographically remote areas.
Another surprising discovery is that the places where the tradition was alive in the 1950s appears to be roughly the same as those where the tradition is alive today. The three green dots in Oppland are almost certainly black now, and the same goes for the three in the far south-west (Vest-Agder). But the rest of the green dots match very well the present-day extent of farmhouse brewing: inner Telemark, Hardanger, Voss, Sogn, Sunnmøre, Oppdal, and Nord-Trøndelag. The exception is maybe the dots around Bergen, and perhaps a few others.
We can also see that the tradition lived on in eastern Norway as late as World War I, which is quite a surprise. I grew up in Indre Østfold and never had any idea that there had been traditional brewing there, but it seems it lasted as late as 1910 in Askim, the town where I went to high school.
I'm still going through this material, so there is much still to learn from it. A few things seem to apply generally, however. Absolutely everyone seems to have used juniper, though the extent they used it appears to have varied. And just about everyone seems to have had their own malts, hops, and yeast. The very high pitching temperatures known from Voss, of 37-43C, seem to have been close to the norm nationally. Most respondents describe the pitching temperature as "milk-warm," meaning roughly body temperature, and a couple of responses specify it as 35C or 37C.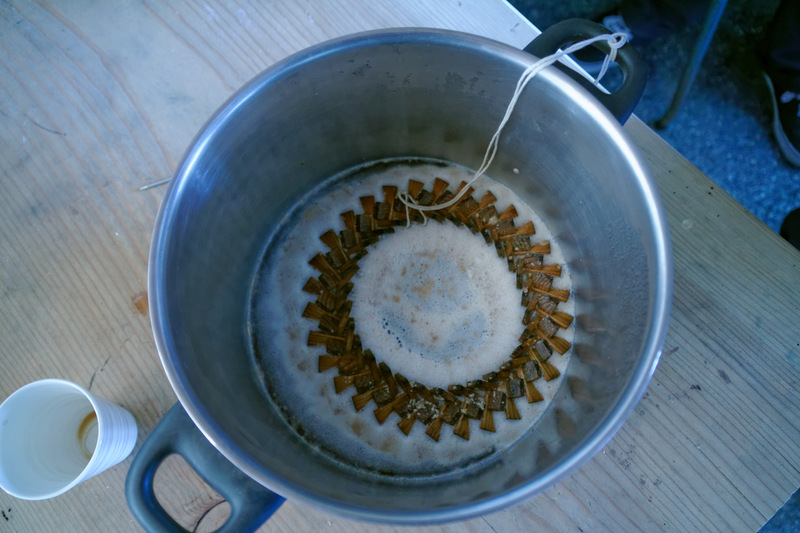 Starter with yeast ring
There will be much more to come once I've gone through more of the material, but I wanted to post this now with the first set of conclusions, and so I can refer to this source of information in later blog posts.
Frustratingly, the responses generally do not contain full recipes, or even enough information to piece together a full recipe, although you can often get close. Some respondents, however, have ignored the question lists and given recipes instead, for which I'm deeply grateful. Another frustrating point is that many respondents are not clear on what time they are describing. Is this brewing as it was when they wrote? Or as it was five decades before that? Or are those two the same?
This is actually far from the only ethnological survey of farmhouse brewing. Through a bit of digging I've found more:
Sweden

The questionnaire "Mältning och brygd", av John Granlund, issued 1928-36, was apparently the first such survey, and inspired a number of others. The answers are now housed at Nordiska Museet in Stockholm. So far they have not responded to email, but I will try again.

Denmark

Questionnaire no. 7, Brygning, by Kristen Møller, issued by Udvalg for Folkemaal's Publikationer. This was part of work on Danish dialects, and a summary of their findings is in a dictionary of Danish dialects, covering about one page. I have the questionnaire on paper. The answers are held at the Department for Dialect Research at the Royal University in Copenhagen. To access the answers you have to physically go there.

Finland

One questionnaire was in Swedish, from Folkkulturarkivet (Folk Culture Archive), in 1964, number 15, "Bryggningen", SLS 820, in 1964. In Finnish there was a whole series, issued through magazines and in other ways. Apparently there were 28 series of questions, with up to 2000 pages of responses for each survey. All of it in Finnish, unfortunately, which means there's no way I can read it. Fortunately, Matti Räsänen's "Vom Halm zum Fass" summarizes the findings in German.

Lithuania

Through a Lithuanian contact I know there was a similar survey in Lithuania in the inter-war period. No further details are known, but in any case the responses will be in Lithuanian, and thus unreadable to me.

Others

I would be extremely surprised if similar surveys were not conducted in Estonia, Latvia, and Poland, but so far no trace of these has surfaced. Again, in any case I would not be able to read the results.
I'm hoping to eventually get my hands on the Danish and Swedish survey responses. Perhaps even the Swedish responses from Finland. We'll see. And obviously this must eventually result in a serious publication of some kind. Perhaps even more than one. I'm still trying to work out what angle and form it should take.
Similar posts
If you look at books on herbs, and even quite a few books on traditional brewing, it seems like just about every herb known to man has at one time been used in brewing
Read | 2015-04-13 12:25
Danish farmhouse brewing appears to be almost entirely dead today, but it was once thriving all over Denmark, and it died fairly recently
Read | 2015-08-16 12:35
Norway may not be the world's biggest country, but it has considerable geographic variation
Read | 2015-05-19 10:53
Tim - 2014-09-15 13:48:22
Caleb - 2014-09-15 16:54:55
I'm a journalist in the US who'd love to chat about your findings! Please email me for more. Wonderful post.
Caleb
Lars Marius - 2014-09-16 03:11:29
@Tim: Thank you. :)
@Caleb: I'll be in touch.
Ryan - 2014-09-16 14:06:41
Fantastic findings. My family emigrated from Donna, Helgeland in the 1880s, but continued to brew beer. Your post has given me the idea of investigating the recipes my great uncle still uses. Perhaps they are derived from older, family/farmhouse recipes! I am a homebrewer myself and look forward to trying whatever recipes you may ultimately be able to share.
Keep up the good work!!
Ryan
Lars Marius - 2014-09-16 14:54:49
@Ryan: Would be interesting to see your uncle's recipe. It might well be that he's kept some of the traditional aspects. The closest responses to Dønna in the material are from Beiarn and Vega, saying brewing ended in 1903 and 1912. So that fits well.
Sven Ove - 2014-09-19 16:17:10
First of all: Another great post from Lars on old Norwegian beer traditions. I just got hold of the Deichman library copy of the Nordland book from 1969 as I have started research for a forthcoming book project. And @Ryan - your comment is very interesting in this context, as one of my leads in my book project is to investigate if Norwegian brewing traditions "survived" or were conservated in some way by immigrants to the US and Canada. The default brewery entrepreneurs of the 19th century were supposed to be Germans, but one must assume that some Norwegian farmers that settled in the Midwest and the Prairies made their own beer or that some of them actually started breweries. And what kind of beer did these guys brew?
Eslem Torres - 2014-09-28 20:37:47
I must admit that your posts about Norwegian beer traditions has made me interested in two things, first, i must go to Norway and make a similar trip and two, i must definitely do a similar trip in my own country (i'm from Mexico). I'm a huge fan of beer history, i guess that's the reason i blog about beer, and see that there is a few "malt rebels" who make this traditional fermented beverages and don't follow the trends is admirable.
Unfortunately in Mexico the beer history began relatively late, but there is a couple of fermented beverages before the beer even came to this country to research.
Hope to someday make that trip, similar to the one you are documenting, but in Mexico.
Saludos!
Lars Marius - 2014-09-30 02:45:18
@Eslem: Thank you! It would be very interesting to read about a similar trip in Mexico. If you do that, please let me know.
Craig Diegel - 2017-09-27 22:43:01
Thank you for all the work you have done on this subject. This is truly a treasure trove of information. You mentioned that the respondents from Oppland are most likely not brewing anymore. Do you have any other information about them? My great grandfather is from Vestre Slidre - Oppland an I would love to have any possible info about brewing in this area. I am a fourth generation brewer myself from the other side of the family so this is a subject that interests me greatly.
Keep up the good work, Cheers, Craig
Lars Marius Garshol - 2017-09-28 06:32:20
@Craig: The response from Vestre Slidre was written in 1953, and at that time the brewing was still alive, but only just barely. I have no contacts there now, so I don't know what the status is now. Probably the brewing is over.
They seem to have used a pretty normal process: infusion mash followed by one hour boil with hops. Filtered the mash through rye straw and juniper. They used juniper infusion, and used their own yeast, which they called "gjest". The hops they grew themselves.
Piotr - 2019-03-09 09:51:20
I'm impressed, but not surprised, by your excellent metadata analysis. Just wanted to say thank you for all your Topic Maps stuff! We're doing great things with Topic Maps in Poland, also thanks to your work. If you're interested email me.
P.S. BTW quite a lot of the links in http://www.garshol.priv.no/download/tmlinks.html are broken. Maybe it's time to remove them?
Martin - 2019-03-10 21:31:51
hi, i just have to ask if you Lars, or anyone else know anything about traditional brewing in and around Orkdal? i know there are a couple of hop plants at Songlia
Lars Marius Garshol - 2019-03-11 07:19:23
@Piotr: Thank you! :)
@Martin: The nearest brewers I know of are in Rennebu. But there definitely has been brewing in Orkdal. People lived there and grew grain, so they definitely have brewed until at least 1900.
Martin Mæhle - 2019-11-26 21:24:05
Hey, i'm wondering if you have any information of the brewing that was in Orkdal or surounding areas, aside from stjørdal and storli? as you said in your previous reply you know of some in rennebu, it would have been a small distance to there but maybe there are some similarities.
i'm asking beacuse i've recently started brewing maltøl, and have visited Voss and Stjørdal, so i've been taking information from many different places, but i want to find out how it was brewed here so i can brew the local beer, i have asked around a bit and read some, but no luck yet, i'm thinking that i should go to the library next.
but if you have any information i would be very happy,
Lars Marius Garshol - 2019-11-27 17:25:12
@Martin: I have nothing specifically on Orkdal, but the three neighbouring counties all seem to have made badstu-dried malts from barley, like Harald Storli.
The neighbours seem to have made boiled-mash raw ales.
Juniper and hops like everywhere else, of course.
Add a comment