A visit to Nürnberg
Our recent beer holiday started in Nürnberg, a city of roughly 500,000 people in Upper Franconia. (Nürnberg is usually spelled "Nuremberg" in English, but I can't quite bring myself to do it, hence the spelling in the title.) As a tourist destination, Nürnberg has some attractions to recommend it, primarily the Altstadt (old town) with its town wall, and the Kaiserburg (imperial castle). For beer hunters it's an OK place to visit, but not really outstanding.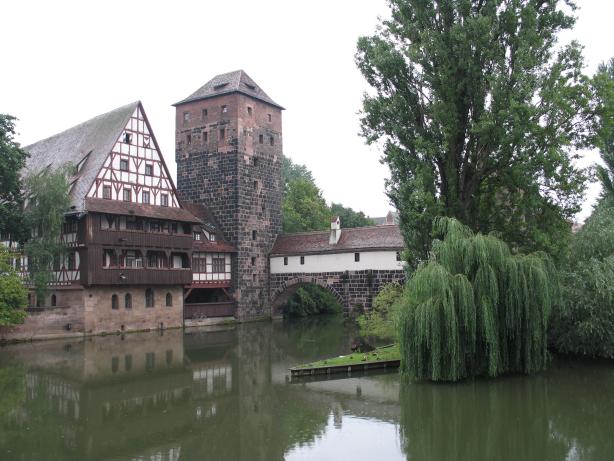 Houses by the Pegnitz
The Altstadt is quite large, with the old city wall still running around it, and the river Pegnitz through the middle. The prettiest section is along the river, as in the picture above. We spent a pleasant time walking there, taking lots of pictures, and enjoying the famous Nürnberg bratwürst (sausage).
From the beer point of view the biggest attraction in Nürnberg is clearly the Altstadthof brewery, which is located in a backyard near the Kaiserburg. Just nearby, facing the street, is a pub which serves all the Altstadthof beers. We found it in Michael Jackson's excellent pocket beer guide, and made a point of stopping by. According to Jackson the brewery was started in 1983/84 and was one of the first of the new generation of craft brewers in Germany.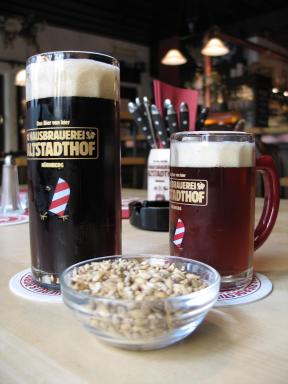 Altstadthof beers
We sampled three of their beers, plus an excellent Franconian onion soup. Unfortunately, at this point I hadn't yet started doing proper ratings with pen and paper, so I have to rely on memory as far as the beers go. The only thing I can remember about their helles is that it was thoroughly unremarkable, so I'll pass over it in silence. They also had something they called Rothbier, which was dark red in colour (on the right in the picture), and very nice. It was a dark, malty lager beer of the type very common to Franconia. That is, deep taste, not too complex, rather subtle, and highly drinkable. (It received girlfriend approval as well.)
We finished off with the schwarzbier, which in my view was the star of the bunch. Like most schwarzbiers it was a touch watery in the mouthfeel, yet sweet and malty, and with a hint of roastiness. If this doesn't sound too exciting it's mostly because I can't remember the details any more.
The pub itself was modern-looking and quite stylish, with polished wooden tables, and yet with a homely feel about it. Like many brewpubs in Germany they hung dried hop flowers from the ceiling, and even had little glass bowls of malts on the tables. (The purity law poster from the previous story is from the Altstadthof.) It was clearly a local for a number of people, and people kept dropping by to buy beers over the counter to take them away with them. Highly recommended!
Dinner that night was in a very nice restaurant in the basement of Nassauer Haus, the oldest building in Nürnberg. The cuisine was traditional Franconian, and very good. The beer selection was poor, however, so we wound up having Frankenwein with it. This is the white wine that's traditional in Franconia. It's highly recommended if you've never tried, primarily for being extremely drinkable. Even people who don't like wine will quaff this stuff as if it were water (which is not necessarily a good idea).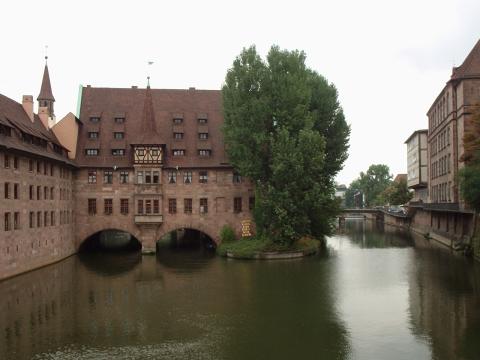 Heilig Geist Spital
Following up on this we went to the Heilig Geist Spital, which has a weinstube (wine tavern) located on the Pegnitz river, shown in the picture on the right. Very nice, and an experience you can't have anywhere else. If you're wondering what a spital might be I'll return to this when we get to Würzburg.
On the way back to the hotel from the spital we came across a beer place called Barfüßer (which means something like "the barefoot", and is clearly a pun on "bar"). It was another modern-looking brewpub with polished wooden tables, located in a huge basement. They had a few of their own beers on tap, but none of these were really all that remarkable.
Finally, we wound up in a Paulaner bar somewhere, and decided to have a Salvator doppelbock, without really remembering that we were drinking the beer that started the whole trend of *ator names for doppelbocks. The first sip brought us up with a start, and this beer remains for me as one of the great "wow!" moments of the whole trip. An excellent beer, and I absolutely must get hold of it again so I can give it a proper rating. (Note that it's not a Franconian beer; Paulaner is located in München (Munich).)
The next morning we woke up late, spent most of the day renting bicycles, and then set out in the direction of Bamberg. The next entry is likely to be about our visit there.
Similar posts
When covering our holiday in Franconia, I figured it might be useful to start by explaining a little about Franconia, since it's an area few people really know much about
Read | 2005-09-10 21:34
The Fränkische Schweiz, or Franconian Switzerland, is a small, hilly area north of Nürnberg between Bamberg and Bayreuth which is full of idyllic small towns and villages, strange rock formations, and small streams and rivers
Read | 2006-02-12 23:47
Lithuania may be a small country today, but once the joint Polish-Lithuanian Commonwealth included much of present-day Poland, Lithuania, Latvia, Estonia, Belorussia, and Ukraine
Read | 2011-05-14 10:40
Ole - 2008-02-16 16:17:46
notameme - 2012-09-08 12:35:19
Should have tried the maibach.
DELICIOUS!
Add a comment