TMRA'06 program published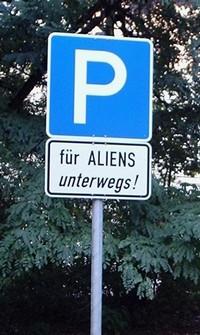 Parking für Aliens unterwegs...
(from last year)
The program for TMRA'06 has now been officially published. This year we have 32 talks, up from 24 last year, and I think this year's program is substantially stronger than last year's. It's interesting to note that quite a few of last year's open space entrants reappear this year as full-blown presentations. This year there is also a day of tutorials, so the conference is definitely grown compared to last year.
The program reads like a who's who of topic mappers: Steve Newcomb, Tommy Nordeng, Robert Barta, Darina Dicheva, Steve Pepper, Sam Oh, Patrick Durusau, Graham Moore, Kal Ahmed, Lars Heuer, Jack Park, ... Reading behind the lines of the program it also seems that SpaceApplications Services is up to something exciting. I don't know exactly what, but the abstracts (1, 2, 3) are certainly interesting.
In short, if you are at all interested in Topic Maps you should aim to be in Leipzig in October.
Similar posts
This year there are two major Topic Maps events coming up where anyone with an interest in Topic Maps should be present
Read | 2006-02-15 23:22
Like last year, I will try to do a semi-live blog report from the TMRA 2006 conference on Topic Maps in Leipzig
Read | 2006-10-11 09:20
No comments.
Add a comment