Upcoming Topic Maps Events
Emnekart 2006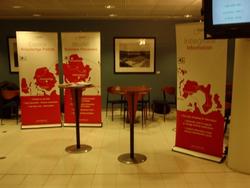 The Ontopia booth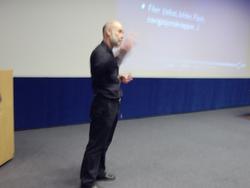 Tore Hoel speaking
This year there are two major Topic Maps events coming up where anyone with an interest in Topic Maps should be present. The first takes place in Oslo in late March and is the annual Norwegian Topic Maps conference, called Emnekart 2006. This is the fourth time it's being held, but for the first time it will be bilingual; that is, there will be an English track running through the entire conference, as well as side-tracks in Norwegian.
The program for Emnekart 2006 this year is the most extensive ever, starting with a keynote by Steve Newcomb, and focusing for the most part on case studies. This conference has a definite commercial bent, and also has exhibitors. I'm not sure exactly how many exhibitors there will be, but at least 4 seems a safe bet.
Ontopia will also arrange courses around the conference. An introduction to Topic Maps on the day before the conference, and an ontology design workshop the day after. See the Ontopia home page for details (not published yet).
TMRA'06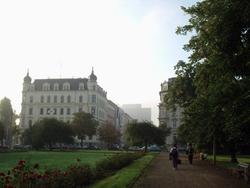 Nordplatz
The TMRA'06 conference is also being arranged again this year, October 11-12. (I blogged day 1 and day 2 of TMRA'05.) This conference is more academic than Emnekart 2006, and focuses much more on research and the technical aspects for Topic Maps. The two blog entries from TMRA'05 should give a pretty good idea of what kind of content there is going to be.
Like Emnekart 2006 this year's TMRA looks set to be substantially expanded compared with earlier. The Program Committee is much bigger than it was, and there is every reason to believe the conference will receive a lot more papers this time. Last year TMRA was meant to be just a German conference, and it was the pressure from people outside Germany who wanted to be part of it that caused it to be expanded to an international event.
Proceedings

The book
Another bit of news is that Springer has now published the TMRA'05 proceedings, which means that there is now another book about Topic Maps out there. The proceedings contains all the papers presented at the conference, as well as a report about the open space session. The papers in the book have been revised after the conference based on feedback from the editors.
While I was writing this I received email from Springer saying that my articles were now online as well. So if you have access to Springer you can get the full texts of the final papers from the links below:
Similar posts
I finally got my copy of the TMRA'05 proceedings on Friday, and have been reading my way through them ever since
Read | 2006-04-02 13:31
This was the fourth Norwegian Topic Maps conference (emnekart is Norwegian for Topic Maps), and for the first time it was not entirely in Norwegian, as this year there was an English track through the whole conference
Read | 2006-03-30 20:59
There are quite a few upcoming Topic Maps-related events here in Oslo, so I thought I'd do a summary of them
Read | 2007-01-29 13:26
No comments.
Add a comment