Upcoming Topic Maps events
There are quite a few upcoming Topic Maps-related events here in Oslo, so I thought I'd do a summary of them. Firstly, there is a user's group meeting tomorrow (January 30th) on Topic Maps and semantic search. This meeting was so popular (at least 70 people signed up) that they've had to move it from the course room to the canteen. On February 27th there will be another user's group meeting on "Topic Maps and Web 2.0"; details on that will appear later, but you may want to pencil it in now.
Software 2007
Software 2007 is the 22nd Norwegian conference on software for IT specialists, and this year the conference includes a full-day track on "semantic technologies" on February 13th. Semantic technologies here means Topic Maps and the RDF family. They've put together a program I think is pretty impressive, including some general talks (one by Guus Schreiber), some use cases, and a comparative report on the two technology families. The report is done by a group of RDF/TM experts and some third party experts. (Full disclosure: I'm speaking, and I worked on that report.)
Topic Maps 2007
The Norwegian Topic Maps conference has this year gone international and this year aims to attract people internationally. The program will be mostly in English, but also partly in Norwegian. It's also been expanded to two days: March 20 and 21. [Update: the program has now been posted, and it looks really good.]
The conference was a real success last year, and even sold out well before it opened. I expect it to be even better this year.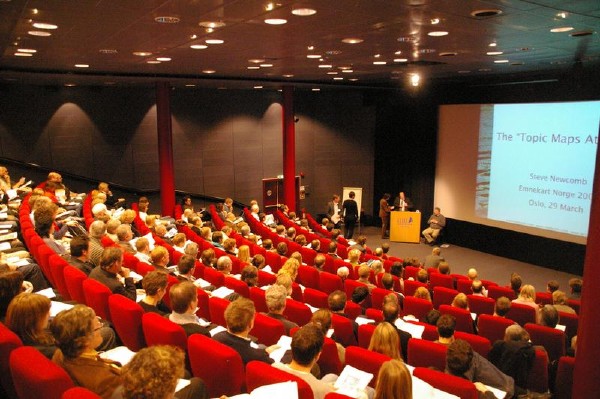 Start of Emnekart 2006
Similar posts
This year there are two major Topic Maps events coming up where anyone with an interest in Topic Maps should be present
Read | 2006-02-15 23:22
Like last year, I will try to do a semi-live blog report from the TMRA 2006 conference on Topic Maps in Leipzig
Read | 2006-10-11 09:20
I've been gathering a bunch of Topic Maps-related stuff I wanted to draw people's attention to, so I thought I'd just do a blog posting on it all, to get it out of the way
Read | 2007-10-19 20:38
Are Gulbrandsen - 2007-01-29 19:18:14
We are very happy with the program, which has 24 presentations on the conference day, in three parallel tracks. It is an international conference in more than name. There will be people of more than 10 different nationalities giving presentations.
– Are you up to date on Topic Mapping in Finland, Korea or Nepal? : )
We hope to see you all in Oslo march 20-21!
Add a comment