Haandbryggeriet brewery consecration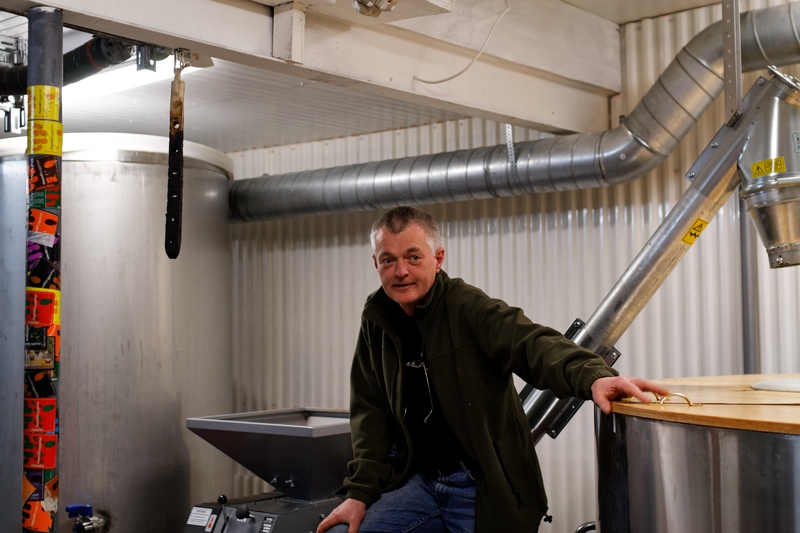 Jens opening the brewery
Beer consumption in Norway may be falling, but craft beer production is booming. To cope with increasing demand Haandbryggeriet recently ripped out their old brewing plant, replacing it with a new one. The old one had a capacity of 900 liters per batch, whereas the new one does 2000, more than doubling the batch size. In fact, since the old one could only do 700 liters of strong beers (because of the amount of malts), capacity is close to tripled for these beers.
They decided to celebrate this with a formal opening and consecration of the brewery, and invited various people from Oslo pubs, beer distributors, and a group of beer enthusiasts to attend the opening. They had been lucky enough to procure the services of a professional brewery consecrator. He obviously has a very busy schedule, but managed to squeeze in an appearance at Haandbryggeriet. For the occasion he was dressed in formal consecrator's costume, and wielded torches, which he used to cast out "the little ones," as he called them. Finally, they were given a bowl of beer, as a sacrifice, in the hope that this would keep the little creatures out of the fermenting beer.
Consecrator at work (nearly setting fire to the brewery)
The ceremony was a smashing success, leading some of the homebrewers present to attempt to secure the services of the consecrator for their kitchen breweries. As far as I could tell without any success. I suppose with so many new Norwegian breweries he can hardly have time left over for homebrewers.
Afterwards there was, of course, a party, which was also a success. It could hardly fail to be, as we were given free Haandbryggeriet beer. One of the beers that showed up was from their batch #2 back in 2005, a Norse Porter. It's just 6.5% alcohol, but had stood up well to four years of cellaring. The body was a bit thinner, and there was considerable oxidization, but the basic roasted flavour was wonderfully pure and distinct.
A bit later I got into a discussion with one of the brewers, who said that out of the four founders, only two could pick up the early signs of infection when tasting a beer. I was very surprised by this, so we did a little experiment, with a bottle from an infected batch. We served it to about 6 people without telling them anything about what it was. Three picked up the problem; three liked it and found nothing wrong.
Of course, this raises the question of whether a little acidity is necessarily a big issue. For some, it clearly isn't. I felt that the infected beer had less of its usual aroma and flavour than uninfected batches, but, again, this doesn't have to be critical. So, again we find beer tasting to be complicated and subjective.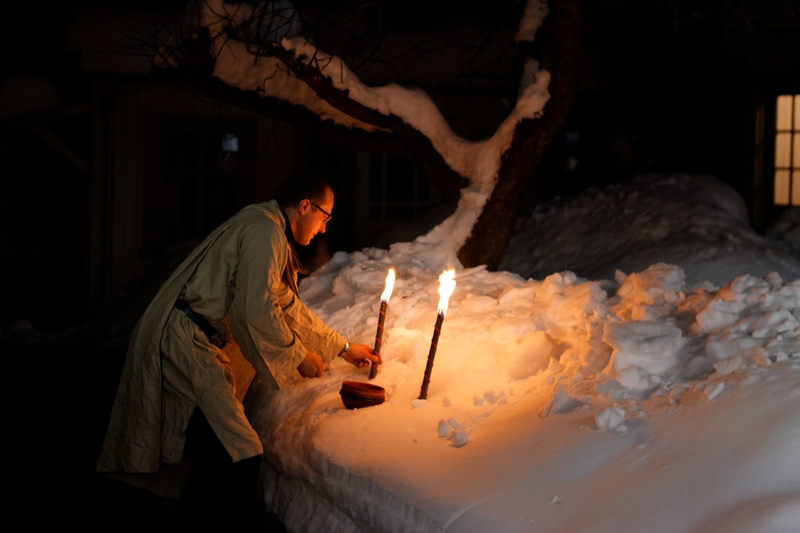 Offering to the little creatures
Similar posts
In April a group of beer enthusiasts booked a tour at Haandbryggeriet where we were shown around the brewery and tasted some of the beers
Read | 2008-09-03 21:44
On Friday I went to Drammen for a tour of Haandbryggeriet, one of the new Norwegian craft brewers
Read | 2007-01-14 22:27
I did another post on this subject back in May 2006, but since then I have done lots more ratings of Norwegian beer, and a number of new breweries have appeared, and so it seems about high time to revisit the subject
Read | 2008-08-02 15:52
No comments.
Add a comment