A visit to Haandbryggeriet
On Friday I went to Drammen for a tour of Haandbryggeriet, one of the new Norwegian craft brewers. We were treated to a tour round the brewer itself, got to taste four of their beers, and then went pub crawling in Drammen. The tour is a standard service offered by the brewery, and we were told they have groups coming about once a week. At 80 NOK per person it's a really good offer in my opinion.
Our guide around the brewery was Rune Eriksen, one of the four owners of the brewery. He freely answered all our questions (of which there were a lot), and was joined toward the end by Jens Maudal, the main brewer.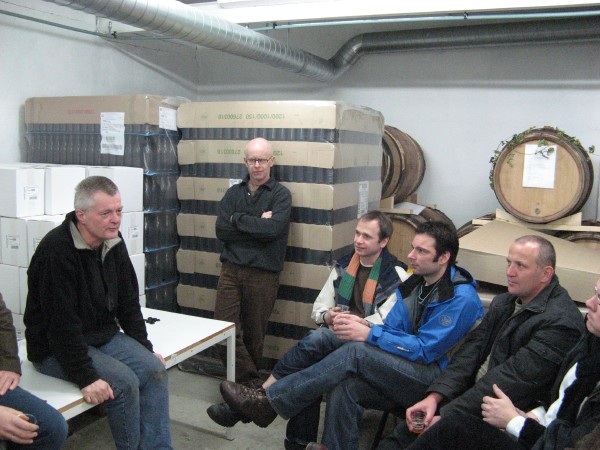 After the tasting
The brewery
The brewery itself is located in an old knitting factory that Jens Maudal inherited from his parents, and ran for a long time before it closed. The brewery equipment they bought in England for NOk 140,000, which they thought was rather cheap. From what I remember, Nøgne Ø spent about the same amount on their first brewery, but as they bought old dairy parts they did a lot of work to assemble a brewery from it all.
The brewery is pretty small: they produced just 40,000 liters last year. The maximum capacity of the current equipment is 80,000 liters, but they said they could easily double that. Still, in order to provide a living for two people (Jens and Rune) they'd have to produce roughly 200,000 liters a year.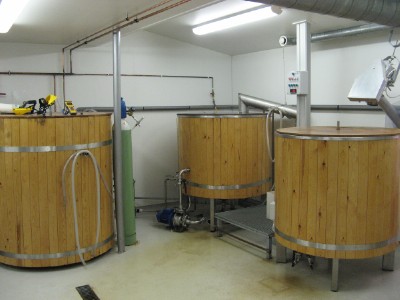 Right to left: mash tun, boiling pan, fermentation tank
They buy 5-6 different kinds of malts from abroad, all of it floor malted, which makes it high quality, but also expensive. They crush the malt themselves in a German-bought malt mill, which then transports the crushed malt up through the wall and dumps it into the mash tun in the next room. The mash tun holds about 900 liters, so the maximum size of their batches is slightly less than that, as the tun has to hold both the water and the malts.
From the mash tun the beer goes to the boiling pan, and from there to a fermentation tank. It seems they have three sets of fermentation tanks, which confuses me a bit. I must have missed out on something during that part of the tour. The beer spends about two weeks in the fermentation tanks. They have a cooling system for the fermentation tanks, which allows them to lower the temperature if needed, but it's not powerful enough that they can make lager beers.
Once fermentation is over the beer is mixed with yeast and sugar and bottled. The purpose of adding sugar and yeast is to get a second fermentation in the bottle to produce natural CO2 in the bottle. They have an automated bottling machine which must be a major time-saver. From the bottling machine the bottles go into a labelling machine, and then they are put in cardboard boxes and stacked in the brewery. The beer has to mature in bottles for about a week before it's ready to be sent out.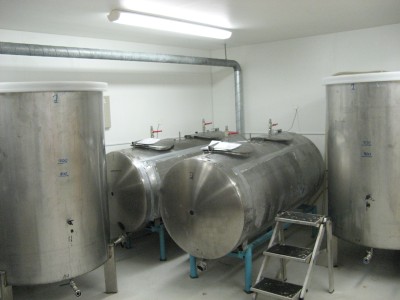 Fermentation tanks
The whole process from they arrive in the brewery in the morning until the beer is safely in the fermentation tank, and everything is clean again takes about 7-8 hours. From then it's another three weeks before the bottled beer is actually ready for sale.
News
The most exciting part of the visit was perhaps to get some information on their upcoming beers. Two of them ( London Porter, and Pale Ale) have been listed on RateBeer.com for a while now, but they have (as far as I know) not actually been distributed yet. They both have 4.5% alcohol, since they were created to be sold in Norwegian shops.
More interesting is the line of four other beers they have been putting together. They started making beers that were less challenging than those from Nøgne Ø, but they've found that abroad people want craft beers to be more challenging. So they've decided to make some products that cater to this need as well, and these are:
Dark Force

This is a wheat stout, which they struggled a bit to describe, saying it was "strange, unusual stuff". It's brewed with 50% wheat malts, but was supposed to be a stout in other respects.

Norwegian Wood

This was an experimental brew, using smoked malts, and also juniper for flavouring.

Double Dose

A double IPA, kind of like #100, but milder, they said.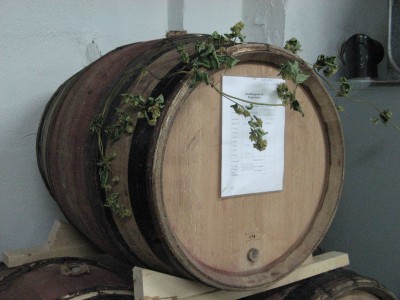 Wine vats
These all sound like very interesting beers, and I'm really looking forward to trying them. They couldn't tell us where we'd be able to find these beers in Norway, though. "Probably in bars and restaurants," they said. It sounded like they expected to export most of it. The most interesting piece of news was about a beer we'd heard rumours about for a while, called "Haandbach". The name is a pun on Rodenbach Grand Cru. It's meant to be a cross between a Flemish red ale and a lambik, and is going to mature at least 12 months in wine vats.
Similar posts
Koduõlu is one of the few farmhouse styles that you can actually buy right now, thanks to the commercial brewery Pihtla Õlleköök, in the village of Pihtla on Saaremaa island in Estonia
Read | 2018-02-13 16:02
It's far and away the most spectacular brewpub I've ever seen
Read | 2010-08-05 20:33
Knut Albert - 2007-01-15 10:14:52
Lars Marius - 2007-01-16 21:27:06
No such luck, I'm afraid. The Haandbach wasn't ready (and in the vats, anyway). The Norwegian Wood was in fermentation, I think, and from what I gathered they hadn't brewed the Double Dose yet. I think I saw boxes labelled Dark Force, but they may not have been ready.
Morten E - 2007-01-22 22:27:57
Nice blog, and excellent report from Haandbryggeriet. But seriously, does visiting 2 pubs qualify as a pub crawl? ;oP
Add a comment