Ægir, Flåm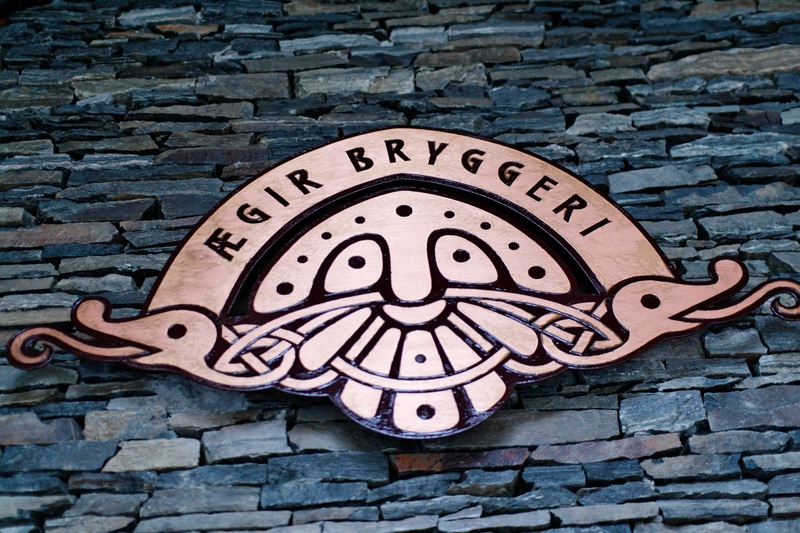 The Ægir logo
It's far and away the most spectacular brewpub I've ever seen. Part of it is the location, at the end of a Norwegian fjord surrounded by tall mountains that seem to tower over the little village. But it's just as much the brewpub itself, a dark, bulky wooden structure looking vaguely like a stave church that's lost its tower, decorated with wooden dragons on the roof, in true dragestil. Inside it's no less unusual, as we'll get to in a moment.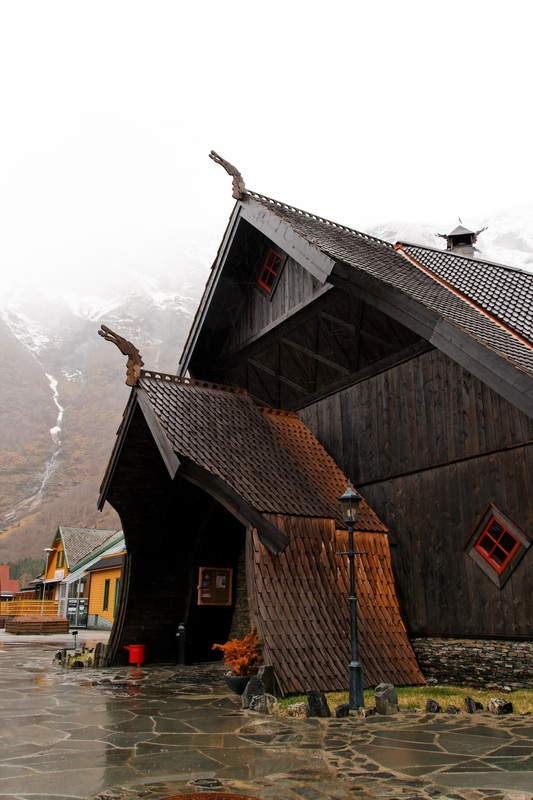 The brewpub
The brewpub is, of course, for the tourists that travel through the village of Flåm, as roughly half a million do every year. Some take the Norway in a Nutshell day trip through Flåm. Others come down the justly famous railway line, which leaves the main Oslo-Bergen line high up on the mountain plateau and runs spectacularly down the mountain side of the Flåm valley into Flåm itself. And yet others arrive by the roughly 130 cruise ships that stop in Flåm every year.
We came by ferry on the nutshell tour, and checked into Flåmsbrygga Hotel, 10 meters from the pub, and owned by the same couple that built the brewpub. We walked into the pub more or less the moment it opened, and inside it is no less spectacular than from the outside. The floors are shale-tiled, while just about everything else is wood, apart from the huge central fireplace. Wooden carvings and animal skins on the benches add to the medieval-style athmosphere.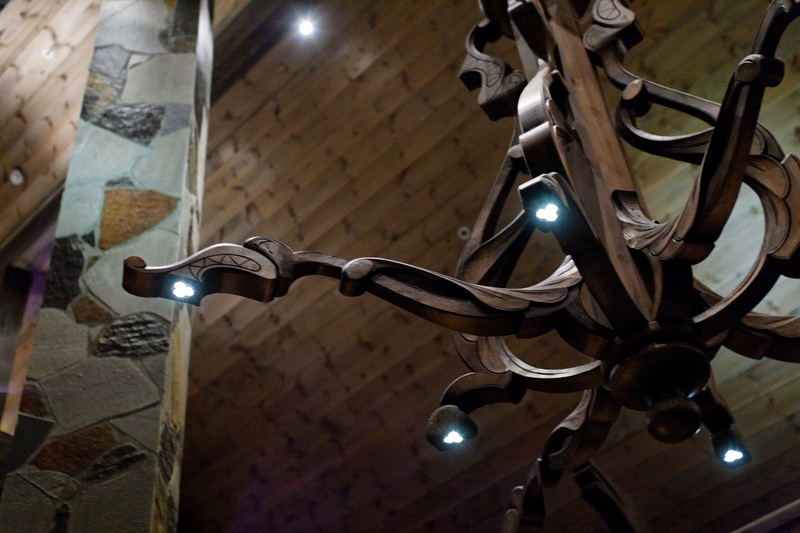 Chandelier
Having admired the brewpub, we were ready for more important things, and ordered a sampler tray of all the five beers on tap at that moment:
A light, delicate orange-coloured beer with a citric, grainy taste, and light peppery, hoppy aftertaste. Very drinkable.
Deep reddish brown beer, with wild red berries and roasty caramelly malt taste, quite smooth with bready notes. Highly drinkable.
Deep yellow beer with that sweetish earthy peas taste characteristic of German helles. Very clean, fresh, and drinkable.
Opaque dark brown beer with soft, wheaty chocolatey taste with minty coffee notes. Very rounded and smooth. Drinkable.
Their flagship beer, in my opinion. Hazy amber beer with strong hoppy mango and oranges taste with caramel notes. Full, clean, and fresh. Highly drinkable.
If this leaves you with the impression that Ægir mostly produces competent, highly drinkable beers in familiar traditional styles, then that's absolutely correct. Their only extreme beer to date is a 13.2% barley wine (called Tors Hammer), but there are signs that more experimental beers may be on the way. In any case, brewing good "normal" beers is nothing to be ashamed of.
As we sit there sipping our samples, a big group of some hundred-odd people arrive, apparently on a company trip together. They queue up in front of the bar while the bartenders work furiously to serve them all. Since the beer menu is only available as a laminated paper sheet on the bar, none of the people in the queue have any clue what's on offer before they actually make it to the bar. Once there, they are in for a surprise. What, no pils?
And so we are treated to roughly a hundred variations on the scene "confused Norwegian wonders what beer to order when there's no tasteless yellow lager". Some, wisely, go for the sampler tray. Others apparently just pick a pale beer at random. A few seem to know what they are doing. And one guy asks for "one pale and one dark". The waiter tells him they have two pale and two dark beers, so which ones does he want? The answer is "one pale and one dark". In the end the barkeep just pours two beers, and he appears satisfied.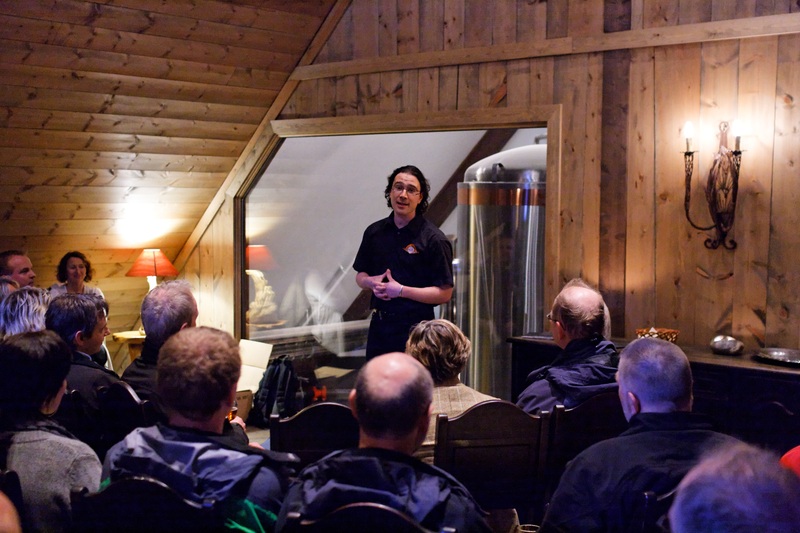 Evan speaking
Afterwards they all disappear upstairs, and hearing rumours that brewer Evan Lewis is going to give them a talk we sneak up, too, trying to look as though we belong with the group. After a while he appears, giving a brief, mostly anecdotal, talk about the brewery. As part of the talk he says that he's not offended if people don't like his beers, but "please do try them". He adds that he refuses to make a pilsener. It's clear that Evan has discovered that the average Norwegian beer drinker finds non-pilsener beer a confusing and challenging thing, and that he hopes to do something about it.
The next day we go hiking up the valley, and coming back to the hotel we decide that it would be nice if we could establish some sort of contact with Evan, now that we are here. So we talk to the lady in the reception, and once she hears that we are more than usually interested in beer she phones up Evan, who's next door in the brewhouse. He kindly and graciously immediately invites us over for a tour.
Like many of the Norwegian craft brewers, Evan is an American, but his wife is Norwegian. Her brother bought a mountain hotel in the neighbouring valley some years back. When Furukroa, a café on the quay in Flåm came up for sale, the brother suggested Evan and his wife invest in it, which they did, each buying a third. They then set up Flåmsbrygga Hotel, and later built the brewpub, which opened in 2007.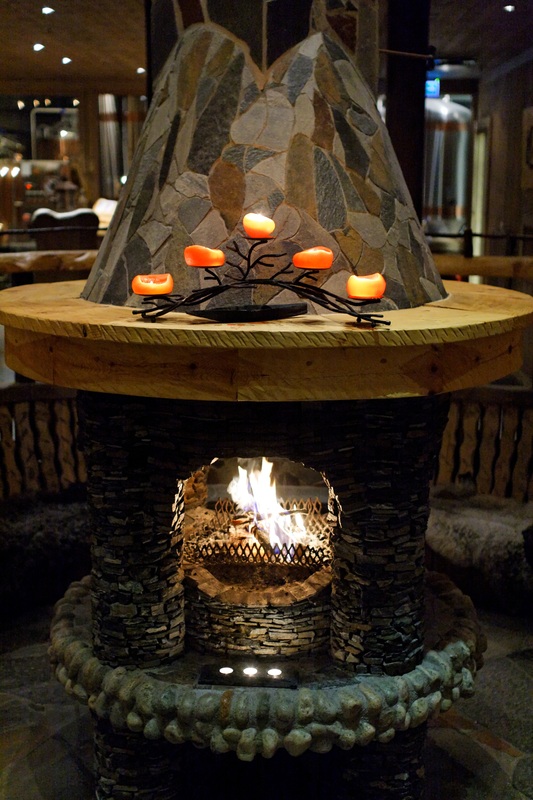 Fireplace
Since Furukroa was already selling 9000 liters of Hansa pilsener each year, Evan figured that Furukroa and the pub together should be able to do 10,000 liters the first year. He actually sold 41,000. In 2009 he sold 80,000, and this year he expects to do well over 100,000 liters. The brewery is inside the brewpub, and Evan now admits that it's far too small, since it can only do 100,000 liters a year. Unfortunately, expanding it now is going to be very expensive. So the solution is going to be to have some of the beer contract-brewed.
He also explained why he refuses to brew a pils. Norwegians have a really narrow focus, he says. If he brewed a pils, they would just buy that and never look at the alternatives. So not having a pils forces people to make a choice, and he considers educating his new countrymen about beer part of the purpose of the brewpub. The blonde and the amber account for 50% of his sales as it is, which does suggest that most people stick with the palest beers, and never try the darker ones. (The Påskesol is an Easter special.)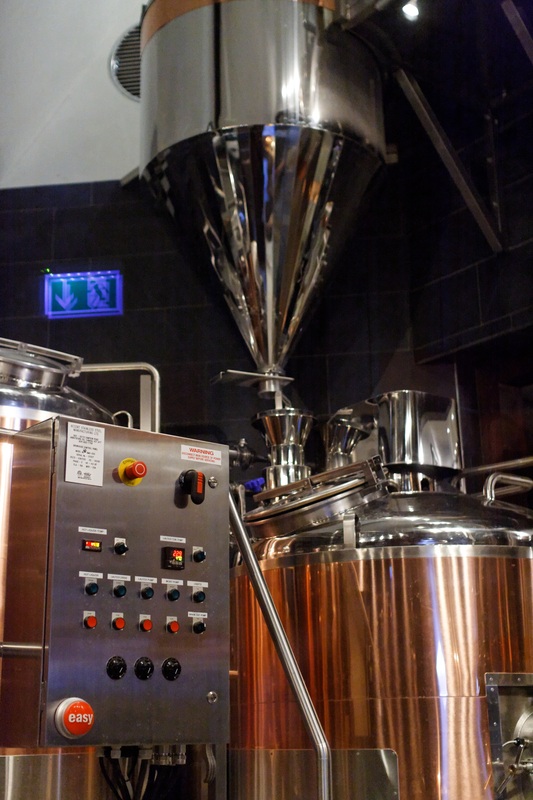 The brewery
After talking a bit more about his plans for the brewery he gives us the tour. The brewery is highly modern and still looks almost unused; all shiny gleaming steel and copper. Apparently this confuses Norwegians into thinking it really is unused, and that the beers are brewed elsewhere. The reason is simply that in brewing everything must be squeaky clean, and so the equipment is always spotlessly clean.
The brewery does 1000-liter batches, which with 100 batches a year, gives the capacity of 100,000 liters. There are 5 fermentation tanks and 8 serving tanks, which are connected to ten taps in Furukroa, and six in the brewpub. So theoretically he could have 8 different beers on tap, but in practice this isn't always so easy to achieve. As production grew he's moved the bottling part of the brewery out into a room in the hotel next door.
He plans to expand quite a bit, probably starting to export in the future, and also to brew more beers, and more adventurous beers, now that he's solved the capacity problem (via contract brewing). Among the ideas he mentions is an Imperial Porter, which will be released in October, so clearly we have something to look forward to.
In a corner of the brewpub is a tiny bottle shop, selling the shop-strength beers (below 4.75%). After the tour we board the train to Oslo, and sit watching the snowy mountain plateau pass by the train window, as we drink Ægir beers out of plastic cups.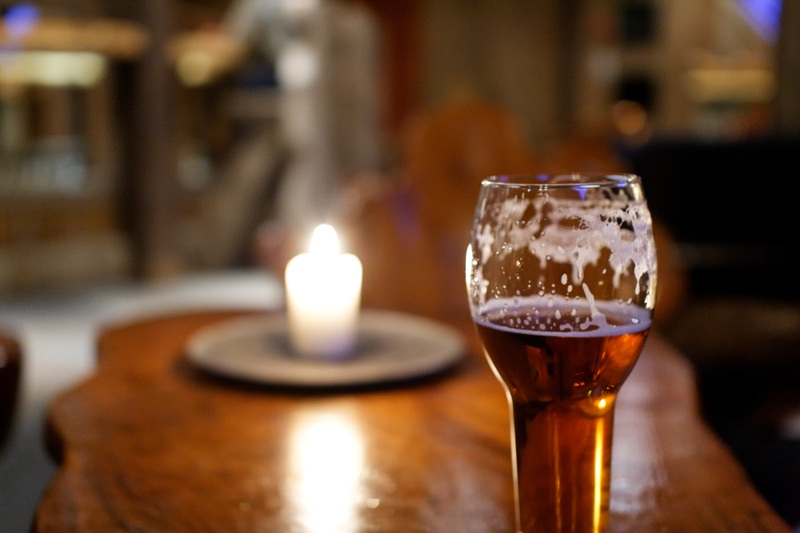 Ægir IPA
Similar posts
I did another post on this subject back in May 2006, but since then I have done lots more ratings of Norwegian beer, and a number of new breweries have appeared, and so it seems about high time to revisit the subject
Read | 2008-08-02 15:52
The Flåm valley sees a huge number of tourists each year
Read | 2014-07-31 16:12
Our recent beer holiday started in Nürnberg, a city of roughly 500,000 people in Upper Franconia
Read | 2005-09-25 19:52
Luke - 2010-11-09 09:59:40
John - 2010-11-20 15:03:13
Enjoyed the story on the brewery. I have visited it twice and am excited now that the beers are appearing in the Vinmonopolet in Stavanger. I just picked up some bottles of the Julebrygg and the new Natt Imperial Porter. Can't wait to try them!
André Torkveen - 2010-12-14 00:18:05
Agreed, Ægir is marvelous - perhaps especially their Christmas brew! I was introduced to it at the Cardinal pub (in Stavanger; see e.g. http://www.cardinal.no/beskrivelser/files/category-india-pale-ale.html) who have some sorts on tap. Please give me a hint if your're in Stavanger over the next few months, I'd be more than happy going there with you. As you know (?), we're implementing RSM (i.e. Referential Semantic Model; part of IBM's IIC; Integrated Information Core, formerly perhaps better known as the IIF, where the last letter stood for 'Framework').
BTW: Best wishes with your TM seminar in Sogndal today - not too far from Ægir's roots, wish I could have been there!
/André T.
Svein - 2010-12-15 10:04:52
Of course it had to be an American who started this. Most people in Flåm thought this was plain crazy - now they're quite proud of the pub and the beer production. We certainly have something to learn from foreigners!
Beer Sagas - 2010-12-27 11:37:13
Thanks for a great travel report. I guess a trip to Flåm will be on the program in 2011.
Add a comment