Lithuanian beer, again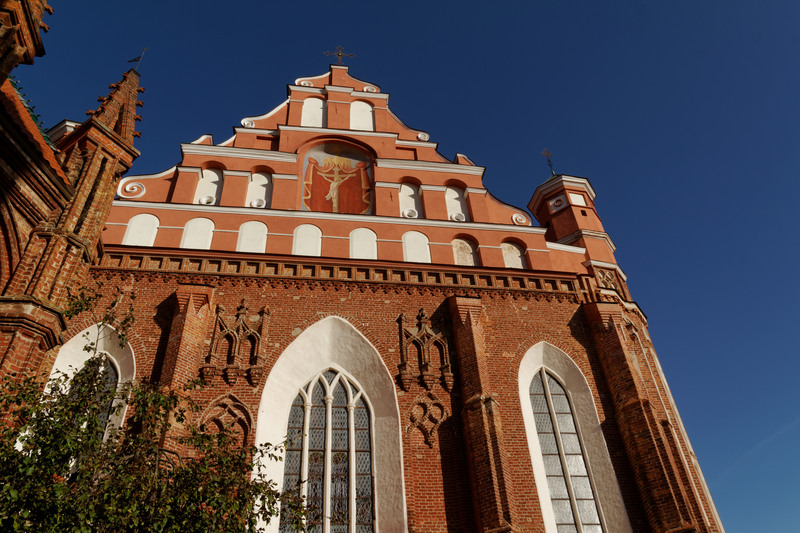 Cathedral, Vilnius Old Town
I've written before about how Lithuania has a beer tradition of its own, different from any other country on earth, but back then I didn't really know very much about it. I'm still far from an expert on Lithuanian beer, but by now I've learned a bit more, which I want to share. One reason is that I find that although Lithuania is just a short (and cheap) plane ride away, people don't seem to have any interest in exploring this world of beer unknown to just about everyone.
Of course, Lithuania has industrial brewers like every other country, turning out industrial pale lagers, Baltic porters, and all that stuff. It also has some brewpubs producing beer of the same types found everywhere else. Well, forget all that. There's nothing wrong with it, but you don't need to go to Lithuania if you want a Baltic porter.
Beer journalist Martin Thibault (known as MartinT on Ratebeer, and one of my sources of information) wrote that he's gradually come to realize that the Lithuanian beer tradition is one of the world's great beer traditions, alongside those of the UK, Germany, Belgium etc. That's a pretty big claim, but I actually agree with him. Of course, Lithuania is a much smaller country than Germany, with only 3 million people, but they still do have a living, even vibrant, beer tradition that they share with nobody else.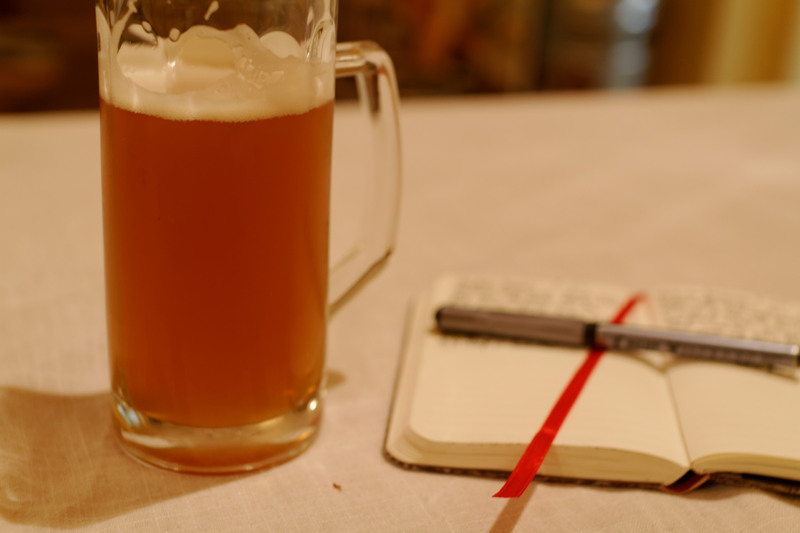 Unfiltered farmhouse ale
What we are talking about here is traditional home brew, the sort of beer that people have been brewing at home for millennia. The industrialization of beer killed this off most places in Europe, except for the Nordic countries, and Lithuania. So the type of beer traditionally brewed has somehow survived here, and is now made commercially by a growing number of small microbreweries.
Lithuanian home brewers have traditionally stored their yeast in the well to keep it cool, sharing their yeast with one another when needed. On his trip to Lithuania, Martin kept some of the yeast sludge from the bottom of a bottle, and took it home to Montreal. There, friends at McGill University had it sequenced, and compared the DNA with that of other yeast species in the GenBank database. That database contains essentially all gene sequences extracted by researchers all over the world for the last 20 years. The Lithuanian yeast did not match any other known yeast species. In fact, it appears to be an entirely new species, hitherto unknown to science.
Chew on that for a moment.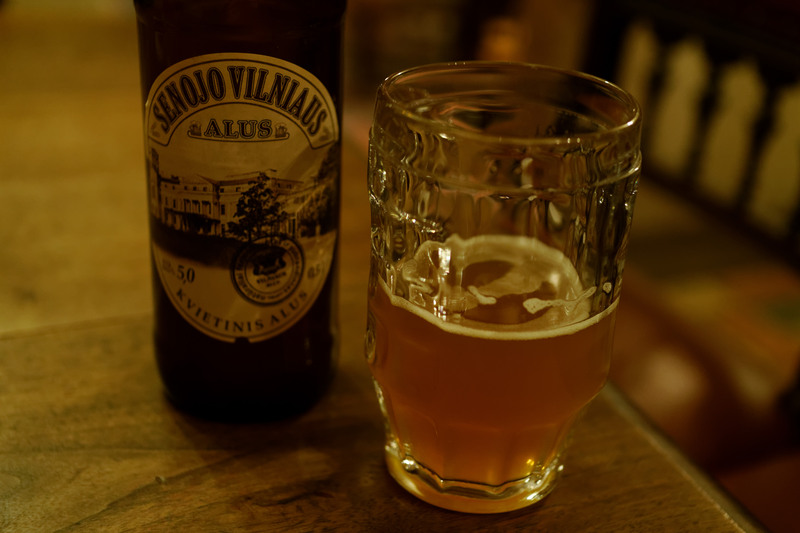 Senojo Vilniaus Alus
In other words, when Lithuanian brewers claim to be continuing an ancient beer-brewing tradition unique to Lithuania, there is pretty strong scientific evidence that they are speaking the truth. That is quite something.
Of course, for someone who's actually tasted these beers, this is interesting, but not really surprising. Lithuanian farmhouse ales, or kaimiškas, don't really taste like any other kind of beer. There's huge variation between the beers, rather like with Belgian beers, but at the same time a clear family resemblance, again like Belgian beers.
Most of these beers are unfiltered. Some are pale, and some are dark. Strengths vary from about 5% to about 7%. An earthy, strawy flavour appears in many of these beers, but nutty oily flavours are there, too, and many spicy herbal tastes, too. There are a couple of named styles, but most beers seem not to belong to any of them.
One example is "keptinis", meaning "baked" beer, so called because the malt is baked into bread loaves, which are then used for mashing. I'm told that today only the Čiżas family makes real keptinis, but the Kupiškis brewery makes a keptinis where they just bake some of the malt in an oven. (Much of this information I got from the owner of the site Tikras Alus.)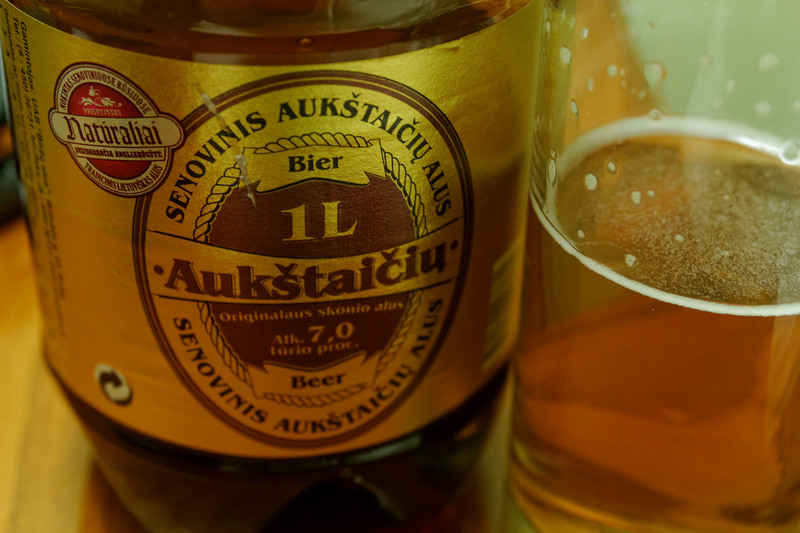 More kaimiškas
One of the more famous variations is beer that uses peas as part of the grist (that is, as one of the fermentables). There is a long historical tradition for this, but the style does not have a recognized name. Michael Jackson wrote about this in 1995s, and today it is only brewed by Birżu alus. I tried it, but found it tasted like a fairly normal German helles, with perhaps a little more flavour and depth than usual.
There are also smoked beers, called duminis. Another variation is to use red hot stones to boil the wort, causing caramelization, just like with German steinbier, but apparently an independent tradition. I also found a beer brewed with raspberry leaves.
However, the beers following the purity law are no less remarkable, and very much worth a trip to Lithuania to sample. One beer I really liked was Širvenos Dundulio Dounkelis Tamsusis (yeah, the names are a bit of a challenge), a reddish brown rye beer from the Širvenos brewery in northern Lithuania. It has a smoothly dry-sweet with an amazingly vivid caramelly licorice flavour that hides earthy spicy notes in the background.
After two trips to Lithuania I find I've now tried about 40 different farmhouse ales, and there are many, many more out there. There are now at least six different bars in Vilnius serving these beers, so finding them is not hard at all. So, what are you waiting for?
Update: I've now made a third trip, where I visited five breweries. Blog posts from that start here, summary of what I learned here.
Update 2: If you want more information I've published a guidebook to Lithuanian beer, which goes into a lot more detail.
Similar posts
We roll into Biržai, a small, slightly run down, provincial town in northern Lithuania
Read | 2013-08-26 20:37
A flood of industrial lager has swept away the native beer traditions of just about every country in Europe except, famously, for the Czech Republic, Germany, Belgium, and the UK
Read | 2010-09-18 21:09
Kid Carboy Jr. - 2012-11-18 17:14:29
Frogger42 - 2012-11-18 22:47:43
Nice post. Very interesting info. I never thought of Lithuania in this way.
Svein - 2012-11-21 05:59:08
Interesting indeed. Do you know if this traditional beer culture also stretches to the neighboring countries Latvia and Belarus?
When it comes to the traditional Norwegian home brewing culture I think there is a lot of hidden knowledge, as you indicate, waiting to be discovered. It would be interesting if someone took the work to investigate the brewing traditions in the different parts of Norway. Different initiatives indicates that this culture is experiencing a revival, not at least the growing number of micro breweries.
In addition to micro breweries there are also other initiatives promoting traditional brewing. In Balestrand for instance, the owners of Ciderhuset (www.ciderhuset.no) have established a festival called 'Norsk drikke', and this year's theme was beer brewing. A workshop in beer brewing was held by the owner of Kinn brewery, Espen Lothe.
egle - 2012-11-21 05:59:25
nice, just one correction - in the first picture, there's not the cathedral - it's one of dozens of Vilnius' churches. the cathedral is much bigger, white and built is classical style ;)
Lars Marius - 2012-11-23 16:58:49
@Svein: The heartland of this tradition seems to be North Lithuania, which indicates that it might well exist in Latvia, too, but despite actively searching I've found no sign of it so far in Latvia. That doesn't mean it doesn't exist. If you'd tried to search in English for traditional Norwegian homebrew you'd have a very hard time of it, too, in spite of it being very much alive and kicking. So it's very possible that there is a tradition in the countryside that has not (yet) emerged into commercial brewing. I just don't know.
Belarus I know nothing about. I didn't even think about that as a possiblity, since it's ethnically very different (Russian/Slav, rather than Lithuanian/Baltic). Of course, people can learn from each other despite ethnic differences, so the possibility remains, but I know nothing about any connection.
As for Norwegian brewing culture, as you indicate, it is bound to become more prominent with time. The first commercial brewer of Stjørdalsøl has already started, and I bet other regions will be bound to follow.
Atis - 2012-11-24 15:59:37
@Lars, your are quite right about Latvia. There is a history of older style homebrewing in Latvia, but current brewers have not sticked to the roots to the same extent as Lithuanian brewers have, although technically it is the same region. I mean, using old recipes, keeping old strains of yeast alive. There are some old folks brewing beer in wooden vessels, but that is about it. It would be safe to assume that this tradition is almost dead in Latvia, although there are enough people who are interested in preserving some of it.
I discussed this with fellow Lithuanian homebrewers some time ago (I am a Latvian) and we had no idea why this divide exists.
Remigijus - 2012-11-26 08:35:18
Advice To Author:
Next time please try "Vasaknø Dvaro Ðviesusis", it is available on tap in "Alynas" pub on Jogailos street in Vilnius. Yammy taste
Lars Marius - 2012-11-26 14:48:41
@Atis: Thank you so much for this information. This is why blogs have comments. :-)
Contacting you by email to get more information.
@Remigijus: Thanks for the tip (and apologies for my blog software breaking your characters). From Ratebeer that seems like a normal lager, not a Lithuanian-style beer? http://www.ratebeer.com/beer/vasakn371-dvaro-sviesus/158395/
rimvydas - 2013-01-12 12:21:47
maybe, you have facebook profile?
Lars Marius - 2013-01-12 12:28:12
@rimvydas: You mean me? I do, name Lars Marius Garshol, but I only post private stuff there, no beer. I'm also on Twitter, as @larsga, if that helps.
The Dude - 2013-01-12 12:30:19
Nice article, man...
Evan - 2013-02-19 16:42:02
Going on rugby tour in May.many youngsters involved i.e 18/19 yrs. Would you adsvise them to stay away from the stronger(though more traditional) ales. Are there more commercial (weaker )beers available? Can foresee problems otherwise !!!
Lars Marius - 2013-02-20 02:28:23
@Evan: Most of Vilnius is dominated by beers that are much like those of any country in continental Europe: industrial pale lager in the 4-5% range. They have stronger beers too, of course, like the porters.
The traditional ales are only available in a few pubs, and in any case I assume the average British 18-year-old would find many of them tough going. The flavour is pretty unusual.
I wouldn't worry about it.
Donatas - 2013-10-02 07:27:19
Visit Klaipeda. SVYTURYS is the oldest operating brewery in Lithuania located in Klaipeda. It was established in 1784. Easy way to get from Vilnius airport to port city Klaipeda http://www.airport-bus.lt/
Angelo Jarrett - 2014-08-14 03:57:00
Hi Lars, would you just recommend me a Senojo Vilniaus Nefiltruotas Šviesusis Alus? Bad ratings, I don't know if it worths the bought at a shop. Thanks
Lars Marius - 2014-08-17 09:22:19
@Angelo: It's been a little up and down in my experience. When it's good it's a good example of Lithuanian sviesusis, when not good it's kind of boring. There are much better sviesusis beers out there. I hope this helps.
Jonathan Gharbi - 2015-03-29 17:38:04
Interesting book, i am soon publishing "beer guide to Vietnam" which has a similar concept. Thanks to your book i am now on my way booking a trip to Lithiania. i will try visit at least a handfull breweries in the first day and 2-3 more before i return. It will be a short but intense trip.
cheers Jonathan www.beervn.com
Add a comment