Vasaknų Dvaro, a manorial brewery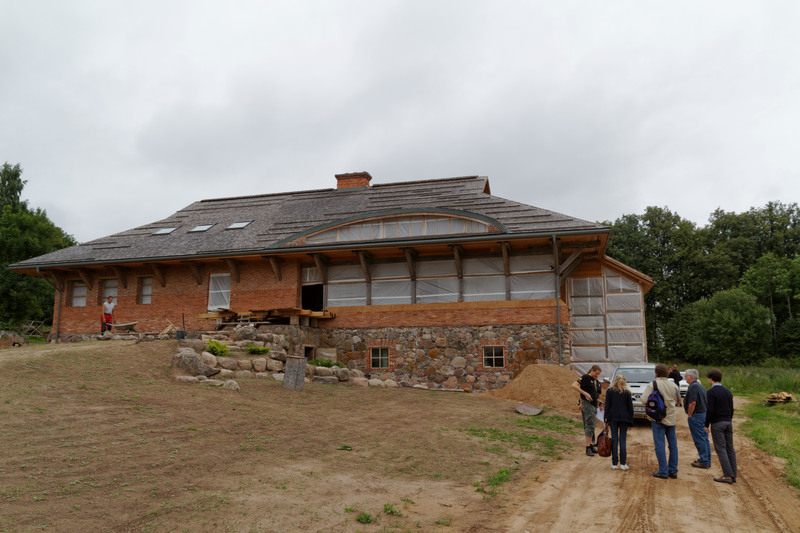 The unfinished brewery
"The 'dvaro' in 'Vasaknų Dvaro', means manor house," the interpreter explains. I try out the concept, asking if a big wooden house we see by the road is a dvaro. "No," she says, "it's big enough, but a dvaro must be fancier than that." The roads turn narrower and bumpier, signs of habitation grow sparse, and then the road turns into a dirt road. Eventually, we turn up a wooded drive, to stop before two large stone buildings in a peculiar style. Now I see what she meant. (This is part 2 of the Lithuanian brewery tour.)
One building, formerly a house for the manor serfs, has been turned into a kind of hotel. The other building, the top floors of which are not yet finished, has the brewery in the cellar. We enter the brewery, and am immediately greeted with familiar sights and smells. It looks much like, say, Nøgne Ø or Haandbryggeriet, except that it's in a really pretty brick cellar.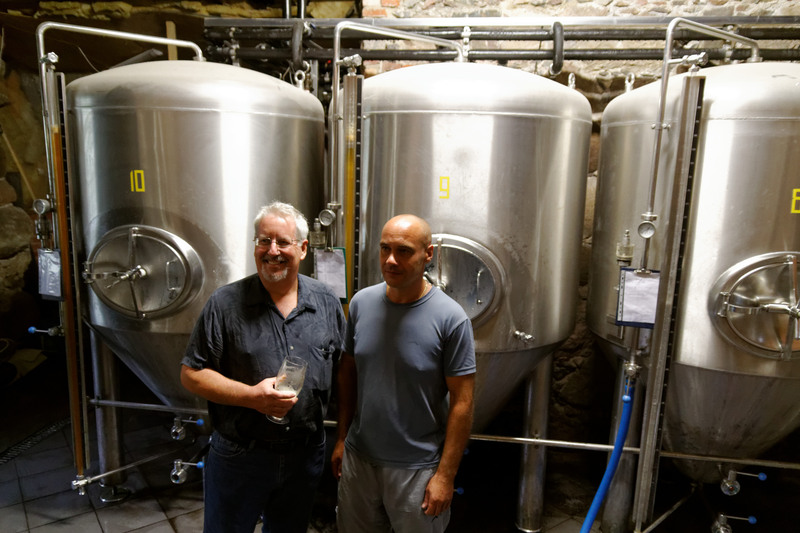 Don and the brewer
We meet the current brewer, Donaldas Prašmutas, a quiet, rank man with a shaven head and a serious manner, who appears to speak no English whatever. He explains that they bought the brewery equipment from Hungary. They have two beers, one dark and one pale. The pale is a lager, the dark top-fermented (as with Gintaro).
They do 1000-liter batches, and sell the beer at Avilys, Leičiai Alynė, and a few other places in Vilnius and Kaunas. They use French yeast, German hops, and malts from Lithuania, Austria, and the Czech Republic. And, indeed, in a side room I see malt sacks from one of the big Lithuanian maltsters, Maltosa.
All their beers are sold both unpasteurized and unfiltered, and draft only, at the moment. We taste a sample of the pale from the maturation tank, and again that dusty strawy flavour is there. I ask this brewer, and he thinks the source is the Lithuanian malt. They brew 2000-3000 liters a week, so an annual production of roughly 120,000 liters a year.
We take our leave of Donaldas, and go upstairs, to meet Alfonsas Kievišas, the owner and investor. Upstairs is all rough wooden beams, unfinished stone floors, and plastic sheeting. Alfonsas shows us a brick from one of the chimneys with 1890 carved into it. The buildings are much older, however, from the 16th-17th century.
Alfonsas says they are thinking of making a beer where the wort is heated with red-hot stones, like German steinbier. He says this was a traditional heating method in Lithuania, not just for beer, but for water in general. The reason being that it's the easiest way to boil water in a wooden vessel. We discuss a bit whether it might be related to German steinbier, but quickly agree that it's very likely an independent tradition. I tell them it's a great idea, and that they really should do it. Alfonsas nods, but says it's a labourious way of brewing, and requires special stones that don't split from the heat, and so on. So who knows.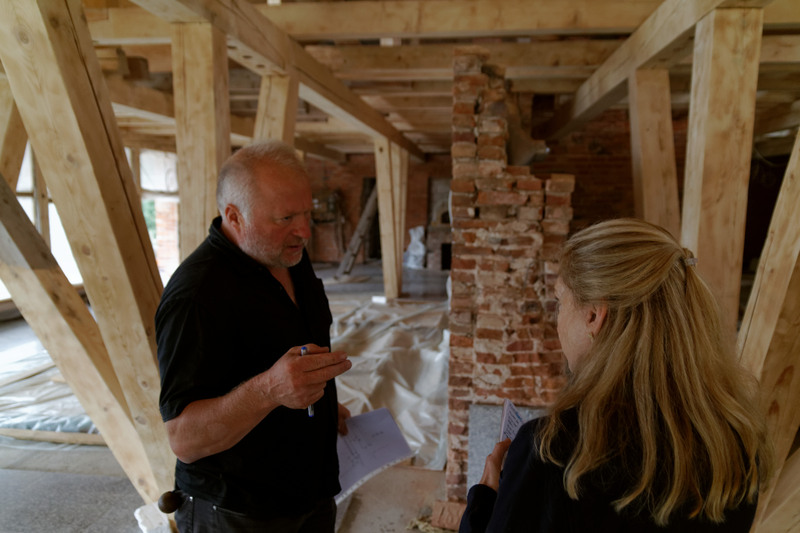 Alfonsas talking
Afterwards we go across to the hotel for a tasting. They take us down some stairs into a kind of bar, and into a dark little room with lovely wooden furnishings that seems to be intended for whisky-tasting, cigar-smoking, and card-playing. We're brought jugs of beer, and a smoked and dried leg of venison, with a carving knife stuck into it.
The Tamsusis is obviously uncarbonated, which is interesting. It has a hazy reddish brown body, so it's paler than the average Tamsusis. I'm told it was darker before Donaldas started brewing. The nose is fruity and earthy, slightly syrupy, light and fresh. Tasting it, the first thing that strikes me is how it sits in the mouth. It's so silky soft and fluffy you barely notice it's there, which is a dangerous thing in a 5.8% beer. Top score for mouthfeel, obviously.
It's mostly sweet, but dry enough not to feel slack, and dominated by a kind of earthy taste with touches of dried fruit and flower garden. A very, very good beer, and almost incredibly easy to drink. It tastes like nothing I've ever had elsewhere. I'm used to being able to say what style of beer I'm drinking after one or two mouthfuls, but in this case I have no idea. I know the ingredients, the equipment, and the flavour, but I still don't know how to classify it.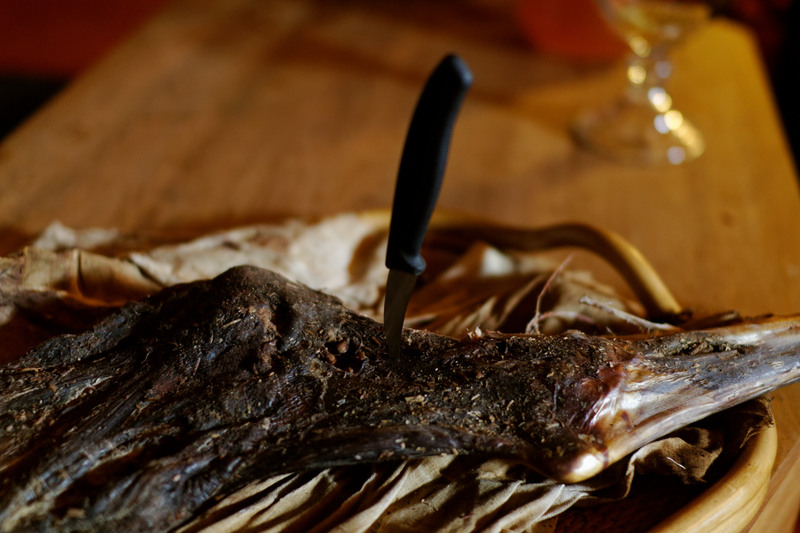 Leg of venison
At the Leičiai Alynė restaurant you can get this beer dispensed through an English-style beer engine, probably from a real cask, preserving the uncarbonated nature of the beer. In the menu it's described as a stout, which strikes me as a real mistake. That's going to confuse customers big time, because this is nothing like a stout. This is a Lithuanian beer, and deserves some sort of category of its own, probably as yet to be named.
We empty our glasses, thank our hosts, and head back to the car. We drive off through the countryside, which I stare at without seeing, trying to understand what I've just had. How are we to classify this brewery? They use standard equipment, methods, and ingredients (except for the malts), and yet produce something outside of all known categories. I'm not sure how to interpret this, but clearly there's more to Lithuanian beer than "just" a unique yeast strain.
Similar posts
Now that I've visited Lithuania three times, and finally gotten to actually meet some of the brewers, I feel I am at last beginning to understand a least a little of Lithuanian beer
Read | 2013-09-02 20:00
I've already told the story of how the "tasting" at Joalda went somewhat off the rails, but there's so much left to say I need another blog post
Read | 2013-08-30 15:44
Ramtynas - 2013-08-14 12:04:24
Since many bars, including Leičiai, are still struggling with basic beer terminology (in the old days there were only 'pale' and 'dark' styles as they knew it), I would not be surprised that the closest they knew to black beer was stout, and so it stuck where it shouldn't.
Speaking about Belmontas beers, unfortunately nowadays they are average at best, and bear no resemblance any more with the masterpieces they used to be while brewed by Saulius.
Lars Marius - 2013-08-14 12:23:48
@Ramtynas: This is interesting. As far as I can tell, the new brewer at Vasaknu, Donaldas, has changed the recipe of at least the Tamsusis (dark), so to what degree the greatness of that beer is due to Saulius becomes hard to tell. At least for me. It didn't taste at all like a beer in the German tradition to me.
Your explanation for the label of "stout" makes sense. If the only styles are pale and dark, perhaps they should just call it a Tamsusis, then. It would be kind of comparable to how in Belgium there's something foreigners call "Belgian Blonde Ale", but it's a very fuzzy style with huge variation, even if there are some commonalities, too.
I agree the Belmontas beers are average now. Shame I didn't go there before.
Add a comment