A trip to København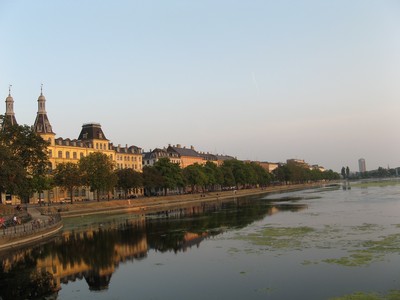 Nørre Søgade seen across Peblinge Sø
I spent last weekend in København (or Copenhagen), the city that for four centuries was the capital of not just Denmark, but also Norway. At that time Oslo was just a tiny provincial backwater compared to København, and in beer terms the relationship has not changed since. In København even the grocery stores in many cases have a better beer selection than the wine monopoly does in Norway. This probably has a lot to do with the Danes' relaxed attitude to life in general, and alcohol in particular. In Denmark schnapps for lunch is perfectly common, and asking for non-alcoholic beer more is likely to raise a laugh than actually getting you any. (I know; I've tried.)
As the travelling party consisted of two people (my girlfriend and myself) we did sightseeing by day, and beer tasting in the evening, and I find København impressive on both counts. It has the feel and charm of a major central European city, with canals and other waterways through the city centre as an added benefit. We saw Glyptoteket on Friday morning, which I found especially appropriate, since it was founded by the founder of Carlsberg, the Danish brewery giant.
On the beer side, Denmark has seen an explosion of craft brewing over the last few years, largely inspired by the US craft brewing industry, that has no equal in the Nordic countries. By my count there is currently about 70 microbreweries in Denmark, whereas in Norway there are about 15. If you adjust for population Denmark probably has no equal (excepting, as always, Belgium). One trip to Denmark is only enough to make a few scratches in the surface, however.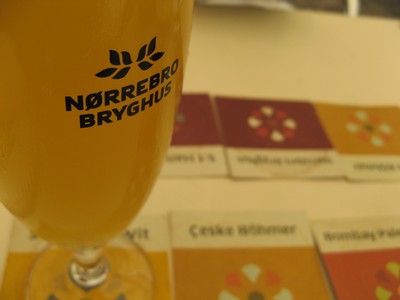 Nørrebro Bryghus
The high point of the visit, beerwise, was definitely the visit to Nørrebro Bryghus, a large brewpub and restaurant in central København. That place has it all. Excellent location, nice interior, nice outdoor serving, very good beer (seven beers rated at 3.2-3.8), excellent food, and good service. I really don't know what more anyone could want.
A nice offering was their "beer menu", where you could order four different beers each in 0.25l glasses. The waitress would start by setting out four coasters with the names of the beers on them (visible in photo), and then the beers would arrive one by one as you went along.
Brewpub København was also very good on every count (six beers, 3.0-3.6), and had a similar offering where you got five different beers in 0.1l glasses. One nice thing with modern microbreweries is that they are not afraid to experiment with new ingredients and approaches to beer, and we tried a couple of the results of this attitude at the brewpub. One was their Smokin', which I would describe as a cross between a German rauchbier and an American pale ale. The result was a very successful beer where the mild smoky aroma blended so well with the hops and malt sweetness as to make a single taste that was both drinkable and complex.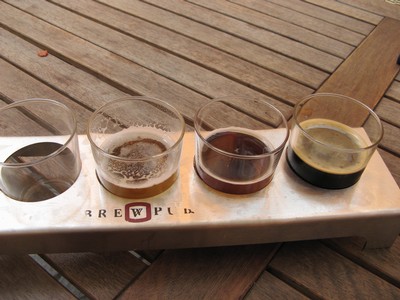 Taster glasses
Several brewers have apparently used elderberry in their beers. I only did a formal rating of the Brewpub København Ellhorn, which was a pale ale by style. Again, the new ingredient blended very successfully with the traditional ingredients, giving the beer a kind of floral Earl Grey-like taste in addition to citrusy hops and sweetish malts. Very nice.
As far as beer bars went we got to see four, of which plan b and Ølbaren clearly stood out as the best. They were both good, and by Norwegian standards outstanding, but neither had very much Danish microbrew. This was a definite disappointment for me, as I had come specifically to try Danish microbrews, the idea being that Danish microbrew is pretty much only to be had in Denmark, and so while you are there it's best to focus on that. (Having a focus like this is useful, as it saves much agonizing over beer menus that contain more good stuff than you have the capacity to try.)
Of course, we also went by Ølbutikken to bring home as much of the good Danish stuff as possible. Travelling back with two large cardboard boxes of beer was out of the question, so we took a taxi instead. The taxi driver turned out to be interested in beers himself, and not only gave us some tips, but also wanted to inspect the entire haul. His verdict was that we had chosen well, but in reality we had simply taken one of each Danish beer there was, and added a couple more bottles we thought we could carry home.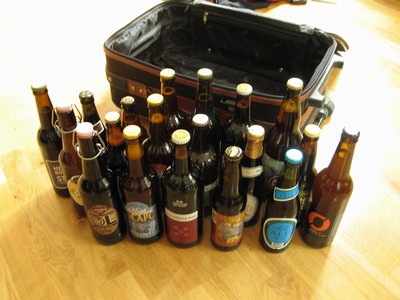 The haul
Similar posts
Before travelling to a new city I always do some research on ratebeer.com and beeradvocate.com so that I know where to find good beer when I arrive
Read | 2006-07-25 21:56
The Danish Association of Beer Enthusiasts have been arranging beer festivals for several years, but this year was the first time I was able to go
Read | 2008-11-13 15:25
Yngvar - 2006-08-03 15:03:06
Lars Marius - 2006-08-03 15:16:33
It is indeed the Beyond the Pale. Usually I try to focus on the local beers wherever I go, since most of them tend to be found only locally. So every Norwegian/Belgian/US/... beer I bring home from Denmark is in a sense admission of defeat. Except the Beyond the Pale, that is, since it's so hard to find. :)
Knut Albert - 2006-08-08 10:15:20
I agree with you, in many countries there are beers worth trying unavailable elsewhere. I buy a few American beers in Denmark and the UK, though, as I have no plans for any transatlantic travel in the forseeable future. On the other hand, the fact that the whole beer range from Nøgne ø is not available i Oslo says a lot about Norwegian beer culture. We still have a long way to go!
Jens Dalsgaard - 2006-08-15 01:24:13
Nice review of Copenhagen. Reviews like these is a good reminder, that whereever you are, that is a place to visit for others as tourists. You hit the interesting bars of that area, and I might suggest wascator http://www.was-cator.dk/ also.
Add a comment