Tasting Beer in a Smelly Town
The title of this posting probably sounds like a silly joke, but Moss is famous in Norway for "Mosselukta" (the Moss smell). As soon as I stepped off the train I could not only smell it, but also see the factory chimney from which it issued. The cellulose factory of Borregaard is located in the centre of Moss, and spews out sulphurous fumes that smell faintly like rotten eggs. It used to really stink up the whole town, but in the last decade or so it has gotten better. Still, not the best conditions for trying a microbrewery with outdoor serving, but having spent 40 minutes (and 200 kroner) on the train, I gave it a try anyway.
Møllebyen Mikrobryggeri is located in a formerly industrial site whose old brick buildings have been redecorated, and now house cafés, design shops, and so on. In fact, the Møllebyen area is probably the best-looking part of Moss. Despite having grown up in the province of Østfold, I have little love for the towns of Østfold; they are all tiny little places ruined by industrialization and modernization. Fredrikstad might be the only real exception (and possibly Mysen, if you consider that a town).
In other words, if you want to visit the microbrewery, using the idyllic beauty of Moss to persuade people to join you will not work. At best it will only work until you have arrived. If you really need an excuse to go here, Jeløya and Son (the old spelling, funnily enough, is Soon, still seen in places) are probably your best bets, but they require a car, or at least a bicycle if you want to also visit the microbrewery.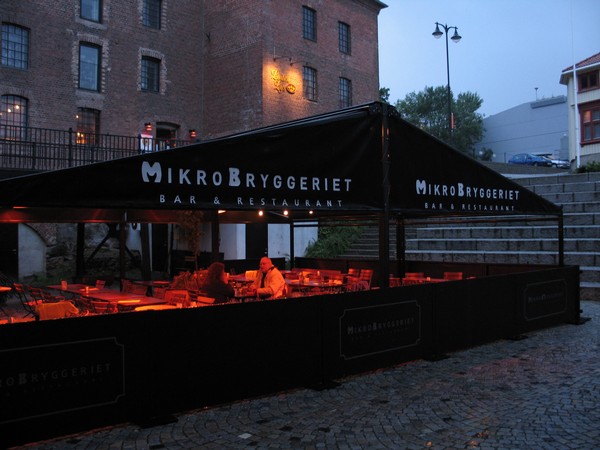 Møllebyen at night
The microbrewery itself is quite large, with a big outdoor serving area under a canopy by parts of the river probably redirected long ago to provide power. The inside is modern and stylish, with white-painted stone walls, brown leather sofas, and a wooden bar. There's lots of beer taps, which makes your heart jump with pointless hope, because the menu soon shows they serve only four varieties at a time. (At least they did when I was there, and the same goes for The Beer Tourist.)
3.1
Aroma
Appearance
Flavour
Palate
Overall
6/10
4/5
7/10
3/5
14/20
(Møllebyen Steamer.) Smallish offwhite creamy head with some larger bubbles. Light brown body. Delicate flowery hop aroma well balanced with a touch of metal and very faintly roasted malt background. Taste is a harmonious blend of burnt caramel malts and flowery hops. Light, bitter aftertaste. Slight graininess in the mouthfeel. A good session beer. It's a bit watery, but the harmonic spiciness/hoppiness more than makes up for this. Definitely grew on me as I drank.
The beers themselves are all light, and not particularly noteworthy. The pilsener has some character, the summer beer is better skipped, and the steamer and stout are quite light, but have enough spicy character to make them good session beers. In other words, don't make the trip looking for a great taste experience, because you'll be disappointed. The beers are certainly better than the local Borg pale lagers, and they are not bad, so if you are in the area I recommend a short stop. (A rating for the best of the beers I tried (the steamer) on the right.)
I suspect they feel forced to brew light (if not necessarily bland) beers in order to actually sell them to a public that is unused to beers that really taste of something. With time they may feel emboldened to try something more adventurous. At least I hope so.
Similar posts
I did another post on this subject back in May 2006, but since then I have done lots more ratings of Norwegian beer, and a number of new breweries have appeared, and so it seems about high time to revisit the subject
Read | 2008-08-02 15:52
On the face of it, Matsushima is just a small Japanese port
Read | 2012-11-03 10:49
No comments.
Add a comment