Second Visit to Milltown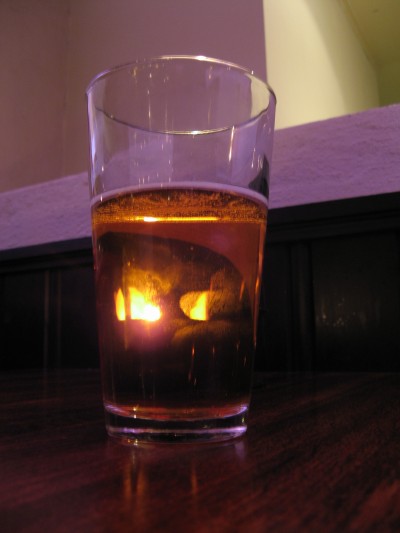 Backlit beer glass
I've already written about my previous visit to the microbrewery at Milltown (Møllebyen) in Moss; last week I was there again, together with Geir Ove. I should add that the reason I made the trip was that I'd met the brewer (David Dudek) at the Norwegian Christmas Beer festival (wanted to blog that; didn't have time). David told me that he was taking over as brewer, and of his plans to change the brewery's profile a bit. This made me decide to give the brewery another try, and I'm glad I did.
On coming back to the brewery on the surface nothing appeared to have changed, except that there were three new beers on, for a total of five beers on tap. When I was there the last time I was quite disappointed, because I felt the beers were not as good as they ought to be. Now, I am happy to say, that has changed. In fact, I would go so far as to say that Møllebyen is the best brewpub I have visited in Norway, and ranks together with some of the best I have visited.
Most of the beers are still rather light-tasting and not terribly adventurous, but they are definitely of high quality and well made. The one I liked the least was their summer beer, but even that was a good beer, and definitely better than the average industrial beer. However, I can understand that they feel they need to adapt their beers to what the locals expect and tolerate.
We were lucky to have chosen a day to visit when the brewer was working in the brewery, and before long he spotted us and came over to chat. We got to taste a couple of versions of the Mossepils brewed with different yeasts that were still in storage, and were afterwards treated to a tour of the brewery. Geir Ove got more out of this than I did, since he knows a lot more about brewing, but I still managed to pick up some bits and pieces.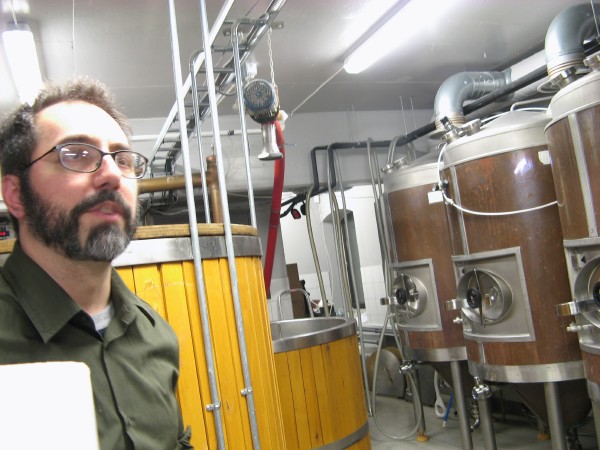 David giving us the tour
The brewery is British-built, and looks rather similar to the one at Haandbryggeriet, but smaller. The batch size is about the same, at roughly 850 liters, but the physical facility is smaller (very small, actually), and there is no equipment for bottling or labelling, since they only sell draft beer. They have four storage tanks which are also used to serve the beer, and in addition they can serve beer out of some of the fermentation tanks.
David says he spends most of his time brewing the two staple beers, the Mossepils and the Kong Carl summer beer, since these sell out roughly every 2-3 weeks. The more adventurous beers take longer, with the Triple Pale Ale taking about a year to sell out a single tank. Given this it's not hard to see why David's plans to have 6-7 beers on tap at the same time with constant rotation have so far not worked out. If the brewpub were in Denmark things would probably be different.
Anyway, I was really happy to see that there is now at least one high-quality brewpub in Norway. (The one in Oslo hasn't gotten there yet.) Tomorrow I'll visit the new brewpub in Bergen, and we'll see how that compares. I'll post a report if I have time.
Similar posts
It's far and away the most spectacular brewpub I've ever seen
Read | 2010-08-05 20:33
The title of this posting probably sounds like a silly joke, but Moss is famous in Norway for "Mosselukta" (the Moss smell)
Read | 2006-08-19 21:09
I did another post on this subject back in May 2006, but since then I have done lots more ratings of Norwegian beer, and a number of new breweries have appeared, and so it seems about high time to revisit the subject
Read | 2008-08-02 15:52
No comments.
Add a comment