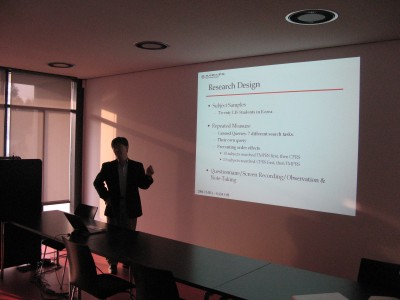 Day two started right off with two parallel tracks, and I went to the track on "Portals and Information Retrieval", where the first speaker was Sam Oh. He has done a study where they built a Topic Maps-based portal to Korean folk music (known as Pansouri) with a quite detailed ontology of the domain. They then compared how easy it was for 20 test subjects to find information in the traditional portal and the new Topic Maps-based one. 10 subjects used the traditional one first, then the Topic Maps one afterwards, and the remaining 10 did it the other way around. They tested both objective measures (how many steps to find information on 6 assigned search tasks), and subjective measures (how did the test subjects feel about the portals). ...
Read | 2006-10-12 09:09 | 4 comment(s)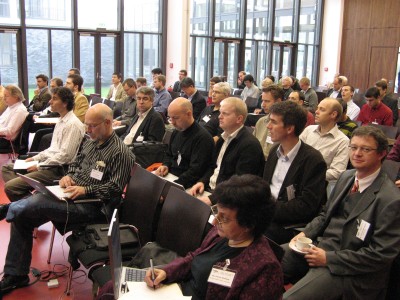 Like last year, I will try to do a semi-live blog report from the TMRA 2006 conference on Topic Maps in Leipzig. This year the conference is in the Campus Villa Ida, which was finished just two weeks ago. TMRA is actually the first conference that is held in this shiny new conference center. (So far everything seems to be working smoothly. This is, after all, Germany.) ...
Read | 2006-10-11 09:20 | 2 comment(s)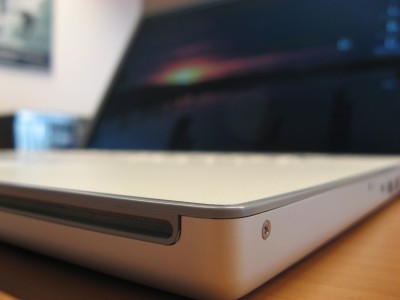 Losing a laptop is a traumatic experience, and Monday evening it was my turn. I was staying in a hotel in Amsterdam, and after the day's meetings I sat on the bed to quickly scan my email and look up the nearest good beer bar. Going out, I left the laptop on the bed, still running. I hesitated for a split second, wondering whether this was safe, but decided I didn't want the extra weight in my backpack, and left. ...
Read | 2006-10-04 16:32 | 5 comment(s)
Today there was another meeting of the Topic Maps Users' Group on ontology modelling in Topic Maps. ...
Read | 2006-09-26 20:50 | 2 comment(s)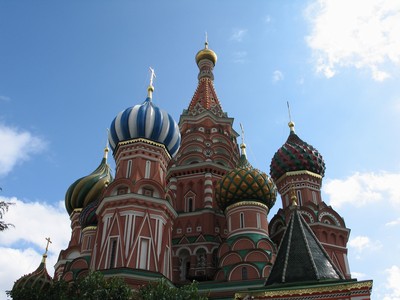 "Why did you come to the Ukraine? Why? I cannot understand this." The question is put to us over breakfast by a Ukrainian fellow guest, and I have to admit that I had asked myself the same question several times already. The holiday started out great in Moscow, and from there we took the train to Kiev which we liked even better. Finally, we went to the Crimean Black Sea coast, which was more of a mixed bag. ...
Read | 2006-09-24 22:45 | 8 comment(s)
Three Kingdoms is a Chinese "novel" written in the 12th century based on the events of the so-called "Warring States" period of Chinese history (that is, the 3rd century). It is extremely famous in China, in fact, the Rough Guide to China claims pretty much every Chinese knows the story. Personally, I'd never heard of it before I started preparing for a holiday there in 2004. (Yes, this is also a posting that's been sitting around and suddenly got posted now.) ...
Read | 2006-08-21 00:05 | 14 comment(s)
As I wrote in an earlier posting I was in Beijing to teach Topic Maps to the developers of a Chinese start-up. The details of their product are secret right now, but the experience of teaching Topic Maps in this environment is quite unique. This posting has been sitting around unpublished for a long time, and I just stumbled over it now, but decided to publish it. ...
Read | 2006-08-20 23:51 | 0 comment(s)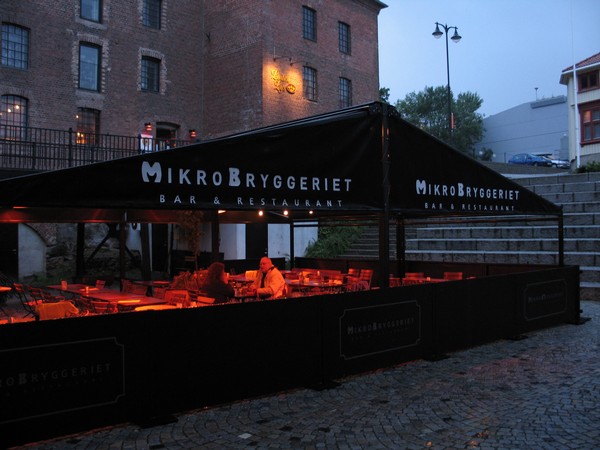 The title of this posting probably sounds like a silly joke, but Moss is famous in Norway for "Mosselukta" (the Moss smell). As soon as I stepped off the train I could not only smell it, but also see the factory chimney from which it issued. The cellulose factory of Borregaard is located in the centre of Moss, and spews out sulphurous fumes that smell faintly like rotten eggs. It used to really stink up the whole town, but in the last decade or so it has gotten better. Still, not the best conditions for trying a microbrewery with outdoor serving, but having spent 40 minutes (and 200 kroner) on the train, I gave it a try anyway. ...
Read | 2006-08-19 21:09 | 0 comment(s)
I've been doing some thinking about identity lately, but to explain myself I need to first get across the concept of an equivalence class. Equivalence classes for me are one of the wonders of modern mathemathics, in the sense that it's a concept that's brilliantly simple, obvious, and elegant, and at the same time incredibly useful. ...
Read | 2006-08-17 21:23 | 9 comment(s)
My friend and Ontopian colleague Geir Ove Grønmo (yes, he of the fridge and the typed data) has started his very own beer blog. He's a dedicated home brewer who has been brewing for at least three years already, and even won a first prize in the Norwegian home brewing championship before he started brewing stuff that was too hard-core to appeal to the judges. ...
Read | 2006-08-17 20:49 | 0 comment(s)