Most people who are not into beer tend to divide beer into two types: normal and dark, and they'll tell you things like "I don't like dark beer," which makes no sense. It's like saying "I don't like red-coloured drinks". There are lots and lots of different kinds of dark beers, and they all taste different. So you may find that you like many of them, or some of them, or, theoretically, none of them, but as long as you think that "dark beers" share more than just the colour, you are clearly not in a position to judge. ...
Read | 2006-08-17 20:23 | 4 comment(s)
The Norwegian Topic Maps Users' Group had one of its irregular meetings tonight, with talks on various subjects, plus updates on the administrivia of the users' group itself. It was of course followed by beer and socializing at a local bar. ...
Read | 2006-08-16 21:43 | 3 comment(s)
I got some questions about how CXTM actually works, so I thought I'd put together a little introduction to it. If you want to create a CXTM file for one of your own topic maps you can actually do this in Omnigator with the export plug-in. ...
Read | 2006-08-04 22:27 | 0 comment(s)
One thing that's really needed is a conformance test suite for XTM 2.0, which can be used by implementors to verify that they've actually gotten their implementations right. Of course, it could also be used by customers to verify that the implementation they are thinking of buying actually conforms to the standard. This is becoming more important as the hype around Topic Maps grows, and vendors start claiming they support Topic Maps without even knowing what it is. ...
Read | 2006-08-02 19:24 | 2 comment(s)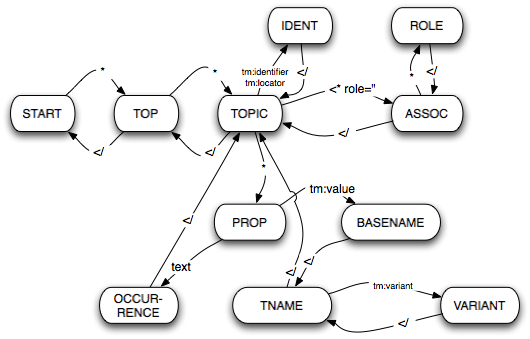 The TM/XML syntax is easy to understand for humans, and easy to process with XSLT, but seeing how to write a TM/XML deserializer is not trivial from the spec. However, once you know how to do it it's actually quite straightforward, so I thought I'd document the approach that I took here in case anyone else wants to have a go at this. ...
Read | 2006-08-02 16:56 | 2 comment(s)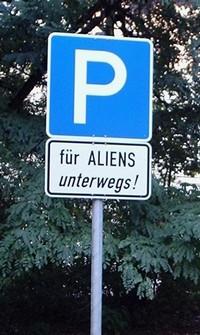 The program for TMRA'06 has now been officially published. This year we have 32 talks, up from 24 last year, and I think this year's program is substantially stronger than last year's. It's interesting to note that quite a few of last year's open space entrants reappear this year as full-blown presentations. This year there is also a day of tutorials, so the conference is definitely grown compared to last year. ...
Read | 2006-07-28 14:54 | 0 comment(s)
For this year's holiday we plan to fly to Moscow, then travel south to Kiev, and on from there to the Crimea, and finally back to Moscow for the return flight. The tickets are already bought, and we leave on August 25. However, our Russian experience has already started. I'm not referring to the Russian language course that we've started, but the hotel booking and visa application. ...
Read | 2006-07-25 23:47 | 3 comment(s)
Before travelling to a new city I always do some research on ratebeer.com and beeradvocate.com so that I know where to find good beer when I arrive. This means weeding out the places I don't want to bother with, and making sure I know what the ups and downs of each place are. ...
Read | 2006-07-25 21:56 | 10 comment(s)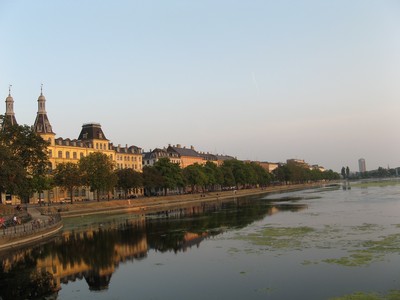 I spent last weekend in København (or Copenhagen), the city that for four centuries was the capital of not just Denmark, but also Norway. At that time Oslo was just a tiny provincial backwater compared to København, and in beer terms the relationship has not changed since. In København even the grocery stores in many cases have a better beer selection than the wine monopoly does in Norway. This probably has a lot to do with the Danes' relaxed attitude to life in general, and alcohol in particular. In Denmark schnapps for lunch is perfectly common, and asking for non-alcoholic beer more is likely to raise a laugh than actually getting you any. (I know; I've tried.) ...
Read | 2006-07-24 22:39 | 4 comment(s)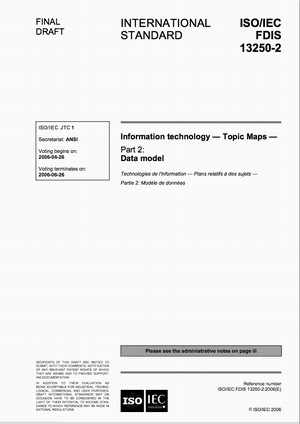 Yesterday we sent the completed draft of TMDM to ISO for publication as an International Standard. This means that the first part of the new Topic Maps standard is finally completed, finished, finalized, and ready. A few months from now (not sure how many), you'll be able to go the online ISO store and buy either a PDF version of the standard or a paper one. For those who don't want to, a free version is on isotopicmaps.org. So, implementors, go ye forth and implement! ...
Read | 2006-07-19 11:51 | 2 comment(s)