Beer can be made from many different ingredients, but chipotle, that is, smoked jalapeños, has to be among the more unusual. It's brewed by the Rogue brewery in Portland, Oregon, which is one of those breweries which make almost nothing but really good beers. I was surprised to see that they'd brewed a beer using chipotle, called Rogue Chipotle Ale, which we tasted at an Ontopia beer tasting evening at work today, courtesy of Geir Ove. (That is, at work, after work.) ...
Read | 2006-07-17 21:09 | 0 comment(s)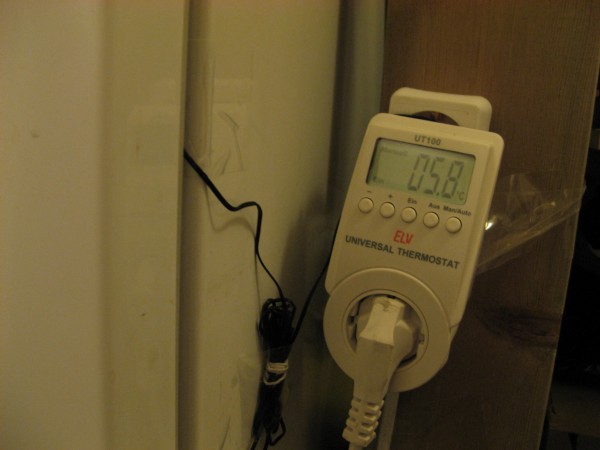 Some people care more about the temperature of their beers than others, and my friend Geir Ove has gone further than most. He convinced his wife they needed a new refridgerator, and once they'd bought it he took the old for use as a beer refridgerator. It's at all times filled up with four kegs of homebrew, plus innumerable bottles from all over the world. ...
Read | 2006-07-15 15:01 | 1 comment(s)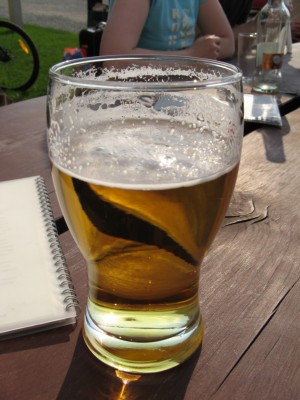 Getting good beer in Norway is hard, but possible; getting well-tempered beer in Norway is nearly impossible, unfortunately. Most pubs and bars will serve the beer at refridgerator temperature, which ranges from too cold to much too cold. The problem with this is that the taste of the beer is subdued, which means that a lot of the more subtle flavours become impossible to detect, and the main flavour is weaker. ...
Read | 2006-07-13 17:33 | 15 comment(s)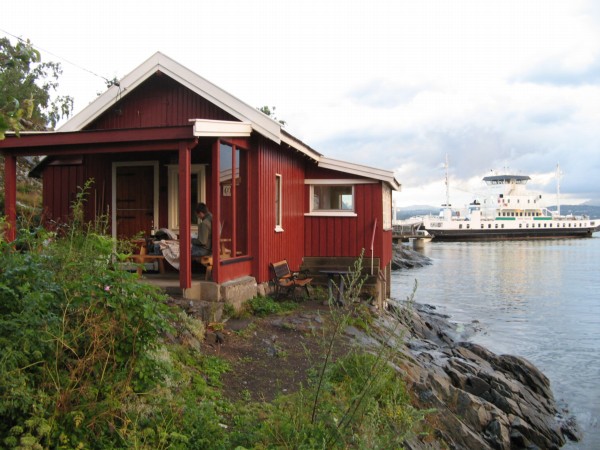 The first three days of this week we stayed in a little summer house by the fjord, commuting to work by ferry. Going there on the Sunday felt like any trip to a summer house, except that it was a little odd to take a ferry for 20 minutes out of central Oslo, and then walk for 10 minutes to the summer house. The place itself was a nice little wooden house, literally by the fjord, which we rented quite cheaply from a governmental organization. ...
Read | 2006-07-12 21:17 | 2 comment(s)
One point on which Topic Maps differ from most other information representations is the handling of unknown or missing information. In relational databases these are represented using the special NULL value, and the same is the case in object-oriented programming. In XML there are different ways to approach this issue, one of which is the xsi:nil attribute. ...
Read | 2006-07-08 19:42 | 5 comment(s)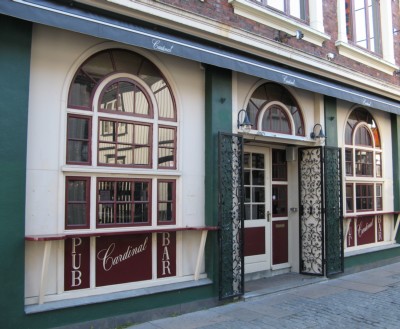 I've been tasting all the Norwegian beer I could find for years, and tonight I had an experience I didn't think I could have in Norway any more. I've just spent an entire evening drinking Norwegian specialty beers, none of which I'd ever tasted before, and I had to leave many more beers behind when leaving. Clearly something good has happened to the Norwegian beer market. ...
Read | 2006-06-30 20:51 | 1 comment(s)
In all the Topic Maps-related documents I read these days people use "Topic Maps", "Topic Map", "topic maps", and "topic map" indiscriminately when referring to the Topic Maps technology. Sometimes people even mix it up within a single document. For a long time there was no official definition of what was appropriate, but the 2005-10-28 TMDM draft introduced a consistent terminology for this. So far it doesn't seem that many people have noticed this (admittedly subtle) change. So here goes. ...
Read | 2006-06-29 16:04 | 7 comment(s)
A strange thing I've noticed is that hardly anyone cites the ISO Topic Maps standards correctly in papers. I'm not sure why this is, but I thought I would do my bit to help people get this right. ...
Read | 2006-06-14 22:42 | 12 comment(s)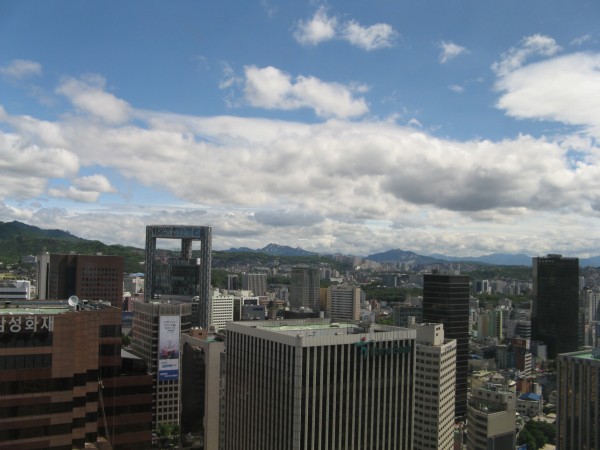 Sunday morning I woke up in Seoul; Monday evening I went to sleep in the family summer house on a tiny island outside Arendal in southern Norway. The contrast could hardly have been greater, in every possible way. ...
Read | 2006-06-06 11:56 | 4 comment(s)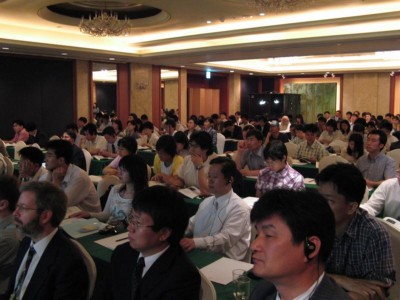 The last day of the week in Seoul was given over to AToMS, Asian Topic Maps Summit, a one-day conference devoted to Topic Maps. The conference was organized by the two Korean standards agencies (KATS and KSA), and attracted more than 200 attendees. I arrived a little late (in order to get some sleep), and by then it was hard to get a seat. ...
Read | 2006-06-05 19:43 | 1 comment(s)