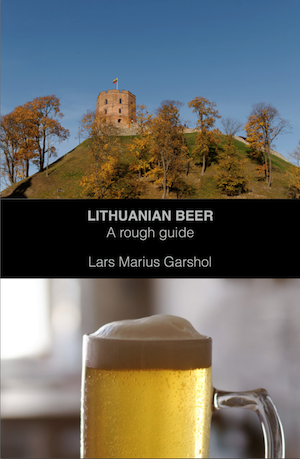 Lithuanian beer - a rough guide
Lithuania has one of the most interesting beer cultures on earth, but it's a beer culture that is almost wholly unknown outside the country itself. This guide explains what is so special about Lithuanian beer and helps you choose the right places to go and the right beers to drink.
I've travelled to Lithuania a number of times over the last four years to learn as much as I can about Lithuanian beer, and this book summarizes what I've learned. It describes the various styles of beer made in Lithuania, the main breweries, and where to find the beers. It also gives some cultural, linguistic, and historic background.
The following editions will be available:
I have collected substantial amounts of written material about Lithuanian beer that's written in Lithuanian, so I can't read it. Income from the book will be spent on paying to have this material translated to English so I can read it. What I learn will then go into future editions, as well as other writings. Such as my blog.
What readers are saying
A great piece of work. Couldn't stop reading. Just wish I had it two weeks ago when I visited Vilnius.
-- Per Samuelsson, Ratebeer user with 20,000 rated beers
Great work! Not only is it fascinating and novel information, but very well organized and presented. Started reading the PDF and barely took a break before finishing. Lithuania just rocketed up my list of travel destinations.
-- orval_rodenbacher, Reddit user
This was a great read. The integration of Lithuanian history and geography into the story of the beer there really helped paint a picture of how and why the beer styles emerged as they did. I'm always curious about the history behind beer, and this work definitely pleads Lithuania's case effectively as a destination.
-- 574deadzone, Ratebeer user
The book has also been reviewed by Swedish blogger Portersteken, in Swedish.
Events
Swedish beer importer Original Brands is arranging a trip to Vilnius for the Žmogšala beer festival. They still have a few tickets left if you're interested.
---
Lars Marius Garshol, 2015-01-11.