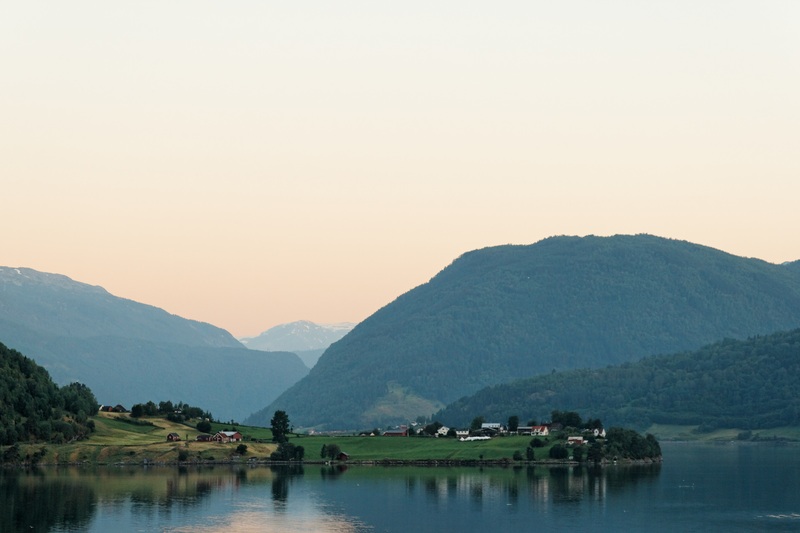 In the Nordic countries there is a whole style of brewing that has so far almost completely escaped the attention of beer enthusiasts, although some tips of the iceberg are showing above the surface here and there, if you look carefully. I'm referring to the traditional homebrewers, who have just about nothing in common with the new wave of US-inspired home brewers. What makes these brewers so interesting is that the beers they brew belong to styles that are almost completely unknown outside of these communities. ...
Read | 2010-01-16 14:48 | 13 comment(s)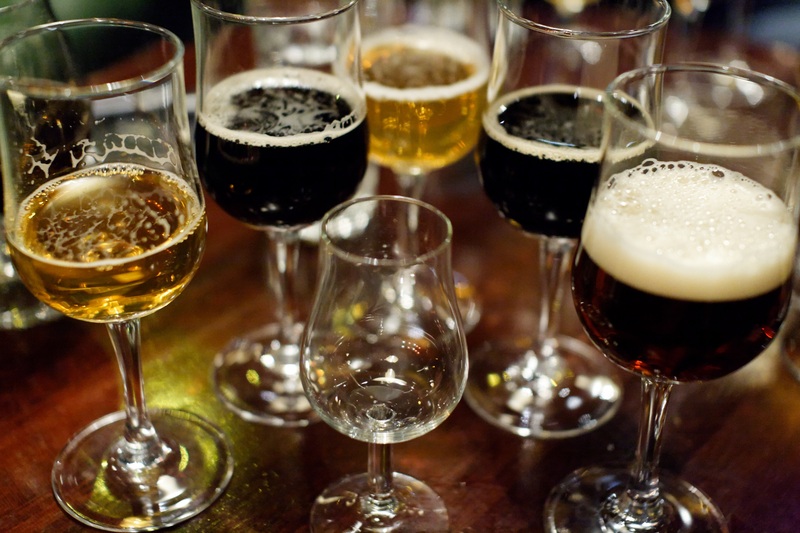 When I saw that Dr. Jekyll's Pub in Oslo was arranging a tasting with Brewdog, featuring their Tactical Nuclear Penguin beer, the world's strongest at 32%, I knew I had to go. Unsurprisingly, so did Knut Albert (his blog posting is here) and Geir Ove. The tasting was given by James Watt, who is responsible for Brewdog's marketing. ...
Read | 2009-12-17 08:41 | 5 comment(s)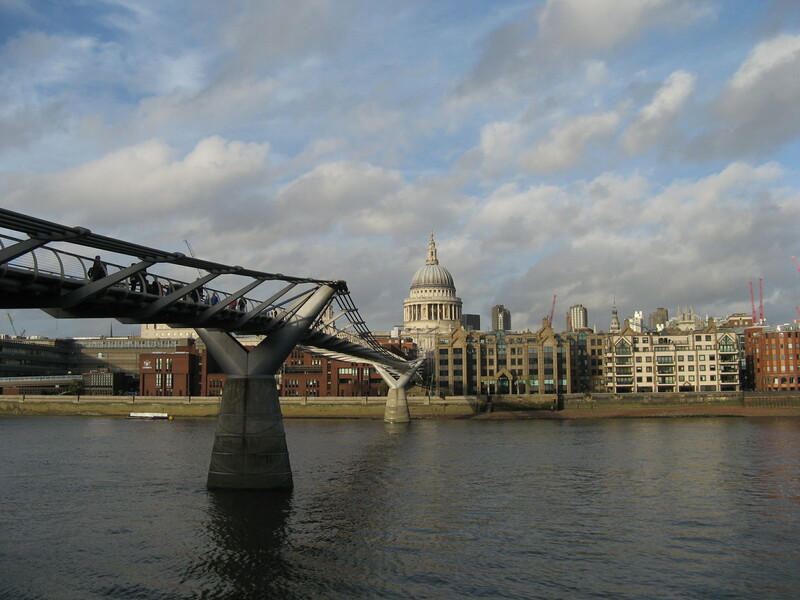 It's hard to find the really good pubs in most places in the world of any size, but London presents special challenges, for a number of reasons. First, there is the sheer size of the city, which has a population larger than many countries. Second, there is the enormous number of pubs (about 4000, according to many sources). And, third, there is the vast difference in quality between the average pubs and the really good ones. ...
Read | 2009-10-18 13:26 | 6 comment(s)
I sketched a little path-based query language for Topic Maps this summer, mostly to explore what such a language might look like. My TMQL co-editor, Rani Pinchuk, asked me to write up a more detailed description of it, and that's what this blog posting is. ...
Read | 2009-09-23 11:01 | 13 comment(s)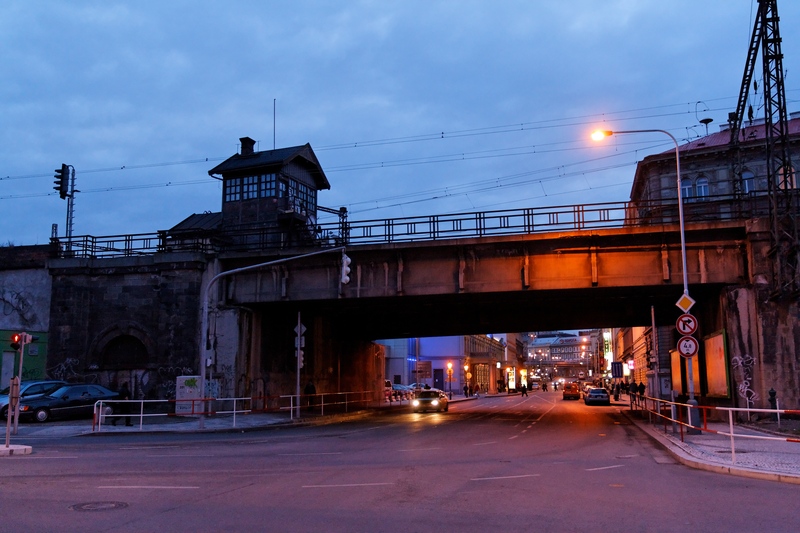 It's long been generally assumed that TMCL (the Topic Maps Constraint Language) should be able to validate datatyped values, but very little thought has so far been devoted to exactly how. It may look like a trivial issue, but in fact datatypes is an enormous tangle of complex problems. To pick one example at random, consider the ordering of time durations in XML Schema. This posting is an attempt to consider what TMCL should and, equally important, should not do. ...
Read | 2009-07-20 14:37 | 3 comment(s)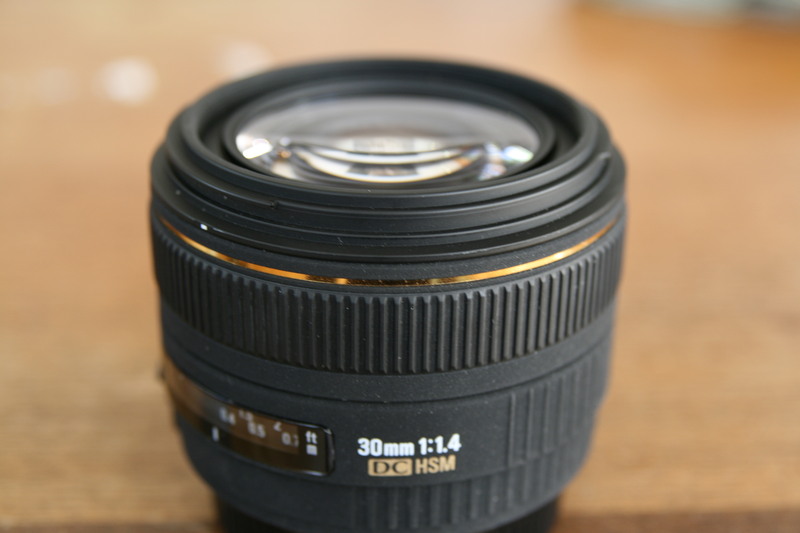 I didn't know much about lenses, having only ever used the one I bought with the camera. I was fairly pleased with it, but discovered that taking photos of our newborn daughter (indoors, necessarily) gave disappointing results. The problem was the same one that made me give up my compact camera: not enough light. I could use high ISO, and get grainy photos, or low ISO, and get blurry ones. ...
Read | 2009-07-17 21:14 | 2 comment(s)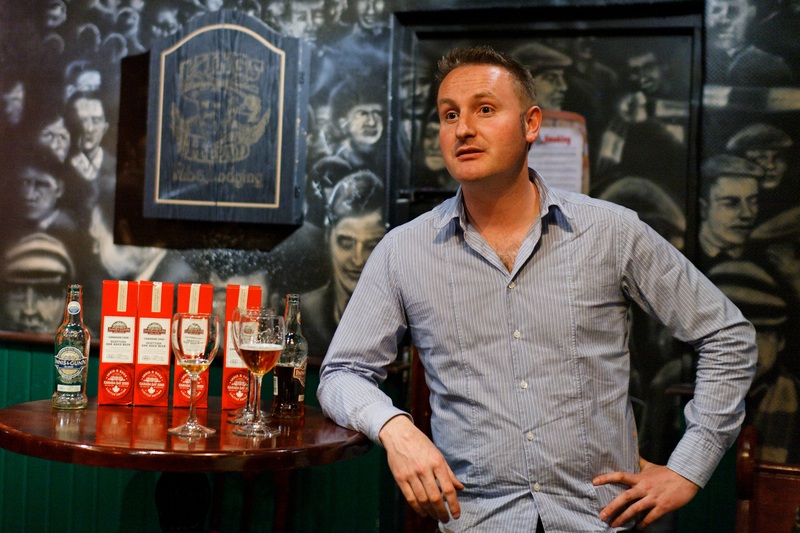 Innis & Gunn has met with a divided reception among beer enthusiasts. Some really like it, some think it's not bad, and some hate it. Personally, I quite like it, and it's one of the very few beers that are oak-aged and fairly widely distributed. So when Dr. Jekyll's pub in Oslo announced a tasting with Dougal Sharp, the creator of Innis & Gunn, I signed up. ...
Read | 2009-06-21 19:23 | 12 comment(s)

The idea of a Topic Maps file system is not new. Robert Barta presented one such at TMRA 2008, and Inge Henriksen is also working on one. However, I had my own take on this that I wanted to realize for several years. The starting point was the Mac screensaver which shows all photos from a given directory as a kind of slide show. I've set it to the root folder I store my photos in, but then it shows all photos, which is not always that pleasant when you're on a projector in a meeting, for example. ...
Read | 2009-06-03 16:25 | 5 comment(s)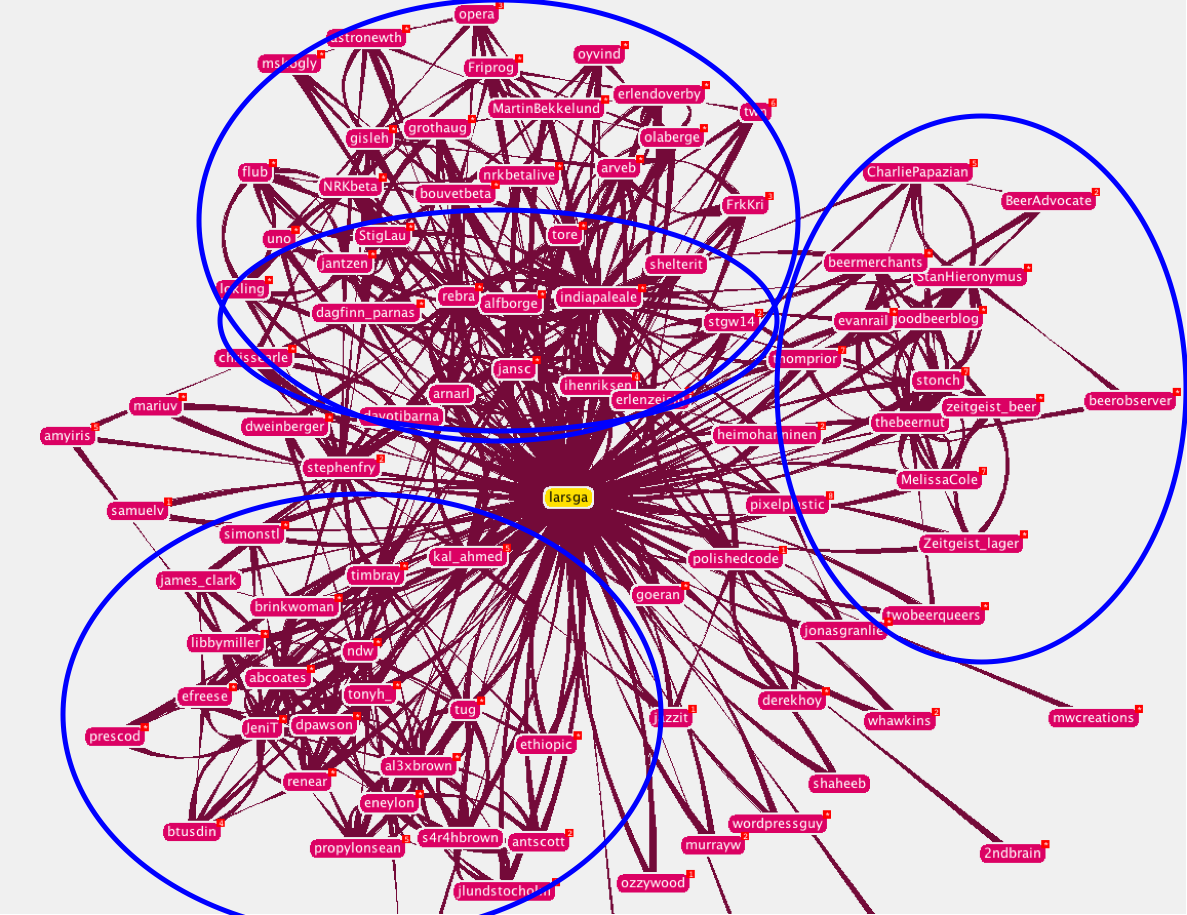 I've been using Twitter for just about a year now (username: larsga), ever since Tim Bray wrote enough about it to make me curious about what it was. I've since come to enjoy it as a kind of mix between blogs and chat, and have developed a very mixed crowd of people that I follow. One day I started thinking about categorizing these people, and I started wondering what clusters of Twitterers I was really following. ...
Read | 2009-04-05 20:43 | 6 comment(s)
The ISO SC34 meeting in Prague was a big affair with five different working groups and many attendees. Working group 3 had a lower attendance than usual (for a number of reasons), and perhaps for that very reason had a highly productive three days focusing on TMCL. The status before the meeting was that we have a quite loose draft that shows in rough outline the intended functionality of the language and gives a good indication of the way it's intended to be specified. The task of the meeting was to process this to the point where the editors could write something quite close to the final specification. I'm happy to say I think that's what we did. ...
Read | 2009-04-02 10:50 | 0 comment(s)