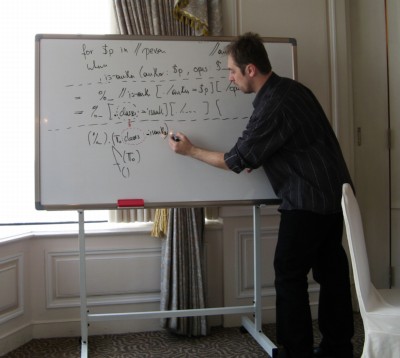 The last day of the Seoul meeting also had the closing plenary in the morning, with lots of excitement around who would vote what regarding the OpenXML submission from ECMA and Microsoft. I missed all of this, however, in favour or more training in the TMRM from Robert Barta. He walked us through most of his mapping from TMQL to TMRM, and the details in the optimization of the resulting expressions. ...
Read | 2006-06-02 04:21 | 3 comment(s)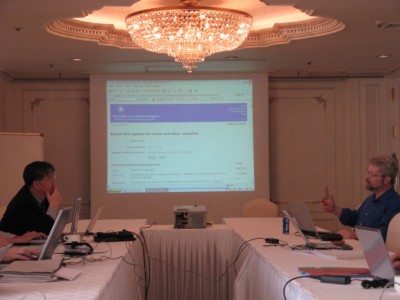 The meeting is now beginning to settle into a kind of daily rhythm that seems to run: two separate WG3 meetings, enormous lunch, plenary WG3 meeting, vast dinner, drinks, sleep, then start over. This already gives you the big picture of the day. ...
Read | 2006-06-01 06:03 | 0 comment(s)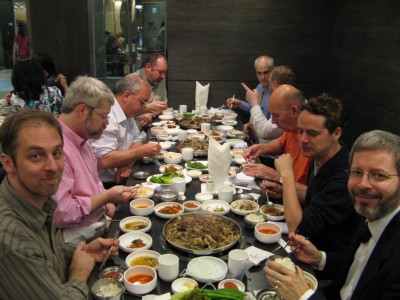 Day 2 of the Seoul meeting started with the opening plenary, where much attention was given to the standardization of Open Document Format (ODF) and OpenXML. Microsoft and IBM both had representatives at the plenary, and the Secretary General of ECMA was there. I, however, was not, as Robert Barta, Graham Moore, and I had a breakout session on TMQL instead. We spent a couple of hours on issues with TMQL, and came away with a strong feeling that the language is beginning to solidify quite nicely. ...
Read | 2006-05-30 07:34 | 0 comment(s)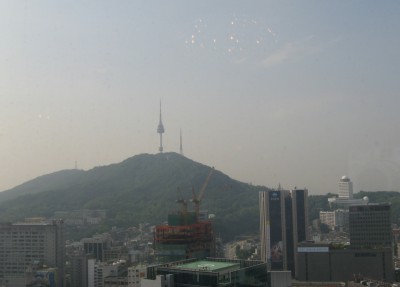 The spring ISO meeting is this year in Seoul, and this is actually the first time in the history of SC34 that it has a meeting in Asia. This was more than a little overdue, given that there has been heavy Japanese attendance at these meetings for more than a decade, and heavy Korean attendance for the last 4-5 years. Of course, I personally am also very happy to get a trip to Seoul, which is also a very interesting city. (More on this later, if possible.) ...
Read | 2006-05-30 07:34 | 0 comment(s)
One thing that's lacking in the current set of Topic Maps standards is defined identifiers for the Topic Maps constructs, like subject, topic, association, etc. The TMDM doesn't really need this for its own purposes, but it does mean that there are some semantics that aren't described as fully as they could be. There are also other standards (TMCL and TMQL) which could make use of such identifiers (with additional semantics). ...
Read | 2006-05-29 10:45 | 0 comment(s)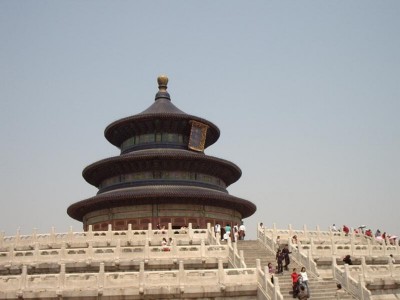 This week I am in Beijing to teach Topic Maps to the developers of a Chinese start-up company, which is developing a new product based on Topic Maps. I'll get back to the subject of the start-up and the training in a later posting. For now I'm so excited about being in China again that I'll confine myself to that subject. I was here for three weeks in 2004, and found myself absolutely fascinated, so I am more than happy to get another chance to visit. ...
Read | 2006-05-23 18:06 | 2 comment(s)
After I posted my blog entry on typed data in tolog Geir Ove had an interesting idea: why couldn't the type conversion predicates be dynamic? Dynamic predicates are something that, as far as I know, is unique to tolog. They are not predefined, and they are not user-defined, but are instead dynamically created from the structure of the underlying topic map. ...
Read | 2006-05-13 00:01 | 0 comment(s)
We've known for a long time that sooner or later we'd have to start supporting data types (numbers, dates, ...) in tolog, but so far we haven't done it. At the moment, the only way you can produce numeric data, for example, is through the count() aggregate function (almost true). All information retrieved from the topic map is either topic map objects or strings. The ironic thing is that the language (and implementation) actually supports typed data; it's the underlying Topic Maps implementation that doesn't support it. ...
Read | 2006-05-10 23:17 | 2 comment(s)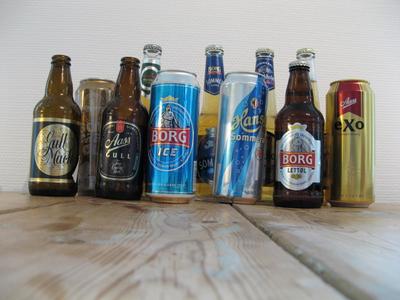 I've been reviewing beers on RateBeer.com for a while now, especially Norwegian beers, and thought it might be interesting to take a look at how the different Norwegian brewers have fared in my ratings. RateBeer allows premium subscribers to download a CSV file containing all their ratings, and so producing a table of Norwegian brewers ranked by average rating was a simple matter of a little Python programming. ...
Read | 2006-05-02 20:50 | 11 comment(s)
Tagging is an interesting and useful technique, but the way it's currently used lacks a lot, and I think Topic Maps are the perfect way to fill the gap between what tagging is and what it should be. ...
Read | 2006-04-06 21:37 | 4 comment(s)